Marcellus Pad Liner Recycling Program Underway
by Karen Boman
|
Rigzone Staff
|
Wednesday, August 22, 2012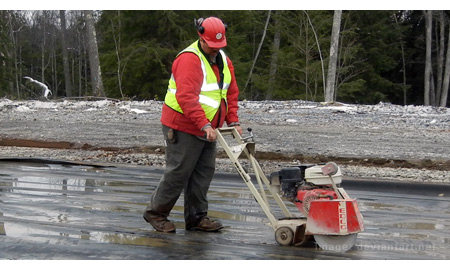 A new business partnership to collect and recycle plastic well pad liners from Marcellus shale gas drilling sites launched last month.
The first of its kind recycling venture will allow millions of pounds of marketable plastic to be reclaimed, slow the consumption of valuable landfill space, and reduce truck traffic around drilling sites, according to officials with the Pennsylvania Recycling Markets Center (RMC) and companies involved in the venture.
RMC formed the venture by bringing together Orwigsburg, Penn.-based WellSpring Environmental services and Portland, Penn.-based Ultra-Poly Corporation. Both companies are members of RMC's Center for Excellence, a network of recycled material processors.
The Marcellus shale gas drilling boom in Pennsylvania has created a need for this type of recycling program, as the plastic liners are difficult to recycle and proper management is required for successful recycling to take place.
An estimated 100 million pounds of high-density plastic were used for well pad liners by drillers in the Marcellus shale region in 2011. Currently, most of the material is disposed of in landfills when it needs to be replaced or removed.
An estimated 20,000 pounds of liner material per drilling site is used. Pennsylvania's Department of Environmental Protection issued 3,510 Marcellus shale well permits in 2011 and another 1,243 as of mid-May of this year.
Previously, excavators were used to rip well pad liners into large sections. To remove the material from the site, six to 10 trips by roll-off containers were needed to remove liners from a single site to a landfill.
To address this issue, Wellspring modified sod cutters that go onto a pad, slice the material, and clean and shred the material. Sections contaminated with hydraulic fracturing fluids or other fluids are separated out and sent to a landfill, but 95 percent of the material typically is good material.
This material is shredded in a mobile customized shredder.
"It surprised me that some kind of equipment hadn't been made to suit this material in these volumes, but there wasn't anything available," said Jonas Kreitzer, president of Wellspring.
By shredding the material, an entire well pad liner can be compacted and transported from the well site on one trip, Kreitzer said.
Kreitzer's experience running a residential waste and recycling business opened his eyes to the opportunity of the liner material being hauled away from gas drilling sites.
"I knew the material being buried in landfills was something valuable, if it could be cleaned and processed responsibly."
The recycling is not only good for the environment, but good for the financial bottom line as well through Wellspring's cost-effective process, said Kreitzer.
"We can do liner removal more efficiently, at less cost, while cutting down truck traffic, protecting the environment, and generating commercially reusable material."
Ultra-Poly, one of the largest recyclers of polyethylene and polypropylene plastic in North America, has developed a proprietary process for processing the liner material.
These operations will be conducted at a recycling plant, situated in an old building on a brownfields site, which was once used to make tanks and ammunition. The acreage has been leased from Berwick Industrial Development Authority.
After arriving at the plant, the shredded pad liner is processed through a trammel, a rotating cylinder, which shakes out the dirt and debris. It's then processed through another trammel to separate more rock from the plastic.
Once it's shredded down further, the liner is molded into plastic resin pellets. Ultra-Poly uses the pellets to make composite railroad ties, but also sells the pellets to plastic manufacturers.
The well liner material used by several of Ultra-Poly's existing customers who use the material for composite railroad ties and other building components, said David LaFiura, vice president of Ultra-Poly.
"The demand for this plastic has always been high, but a major challenge has been finding the scrap," said LaFiura. "Recycling the pad liners unlocks a huge resource of raw material for us."
The recycling industry has grown as the pressure and incentive to recycle grows.
"We think people are more aware of the environmental implications," Kreitzer commented. "The gas industry is not different. They understand there's a finite amount of landscape, and all the material involved in setting up and tearing down drilling sites chews up things quickly."
The Marcellus liner recycling program will also give a big boost the Pennsylvania's growing recycling industry, said Robert Bylone, executive director of the RMC.
The organization works with manufacturers to help them incorporate new types of recycled materials into their products and help them turn out new recycled-content product lines. Efforts to recycle all kinds of products in Pennsylvania have grown in the past 25 years, said Bylone. According to a 2009 economic study, Pennsylvania's recycling industry has an estimated valued of $22 billion.
Landfills are part of each Pennsylvania county's solid waste management plan, but when these plans were drawn up, the Marcellus shale gas boom was not factored into the plan.
The waste associated with the Marcellus activity is not eating up landfill capacity at the pace that would endanger the counties, as the amount of municipal waste going to Pennsylvania landfills has declined, said Michelle Nestor, chairman of the board of directors for the RMC.
However, a need for a recycling program exists due to the bulkiness of the liners themselves, which makes them hard to handle. Some Pennsylvania landfills won't accept the linders for this reason.
"It's like trying to smash a milk jug," said Nestor of efforts to compact the dense liners. "They just bounce right back again, and they eat up landfill space that could be better utilized."
The recycling process for the liners could also be used to recycle agricultural film plastic, which could have further value across the state.
To date, both companies have invested $4 million in research, development and start-up of the venture.
The Marcellus recycling venture also will create jobs, with 80 or more jobs being added at Ultra-Poly. The venture also will provide security for 180 existing jobs at Ultra-Poly and an estimated $1 million a year to state and local tax revenues.
Wellspring also will add another dozen employees and will expand its truck fleet to support the new venture. The company currently has 12 employees and 12 trucks.
Generated by readers, the comments included herein do not reflect the views and opinions of Rigzone. All comments are subject to editorial review. Off-topic, inappropriate or insulting comments will be removed.