Labor Crunch to Worsen for Australia's Burgeoning LNG Industry
by Quintella Koh
|
Rigzone Staff
|
Monday, August 20, 2012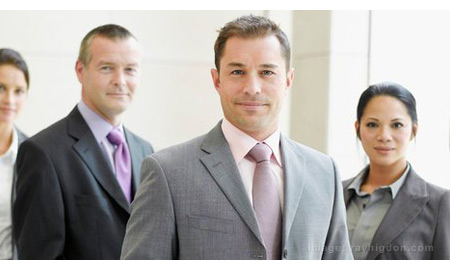 The world is entering a "golden age of gas" with Australia set to be a key contributor to it.
With seven world-scale liquefied natural gas (LNG) projects in the country currently under construction, it is clear that Australia is positioning itself to emerge as the leading player in the global LNG market.
Four of the projects draw from gas fields in Western Australia (Gorgon, Prelude, Wheatstone and Ichthys) and three are in Queensland (Queensland Curtis LNG, Gladstone LNG and Australia Pacific LNG).
Gorgon will have three trains producing 15 million tones per annum (mtpa) of LNG from 2014. Wheatstone will produce an initial 8.9-mtpa from 2016. Prelude will produce 3.5-mtpa, starting from 2016 to 2017. Ichthys will pipe Western Australian (WA) gas to a liquefaction plant near Darwin. It will produce 8.4-mtpa of LNG and is expected to start production in late 2016.
In Queensland, the three projects – Queensland Curtis LNG, Gladstone LNG and Australia Pacific LNG - have each made final investment decision for two production trains. Queensland Curtis will produce around 8.4-mtpa of LNG with the first train to start production in 2014. Gladstone LNG will produce up to 7.8-mtpa and Australia Pacific LNG will produce up to 9-mtpa; both of these projects are targeting first production in 2015.
A report released by The Economist Intelligence Unit (EIU) last week stated that "Australia could even displace Qatar as the number one LNG exporter by 2020." The report went on to add that "at the very least, Australia will surpass major LNG exporters such as Indonesia and Malaysia in terms of total liquefaction capacity."
Despite Australia's ascendancy in the global LNG sector, concerns about the country's ability to attract and retain a skilled and capable workforce have started surfacing.
Why Retaining Talent for Australia's New LNG Projects is Difficult
While Australia is blessed with prolific LNG resources, most of these resources are located in extremely remote locations, which means that exploration and development works are both difficult and costly.
Peter Kiernan, lead analyst of the energy team in the EIU, sheds light on the labor challenges that Australia's new LNG projects have to grapple with in an exclusive interview with Rigzone.
"Many of the LNG fields, especially those sited in Western Australia (WA), are in locations so remote that accommodation and facilities for the employees have to actually be built from scratch," Kiernan said. "For the offshore LNG projects, the companies have to spend massive amounts on transporting their employees onto and off the production platforms," Kiernan remarked.
Kiernan added that the remoteness of the LNG projects also means that operators find it fairly tough to retain employees for a long stretch of time. The labor shortage is so acute that the EIU actually pointed it out as a risk factor that could delay the timing of several of these projects.
Process Operators, Engineers and Geoscientists Needed!
For the Australian LNG sector – among the deck of skilled labor required – process operators, engineers and geoscientists appear to be high priorities in hiring.
In the case of process operators, the supply lag at present appears to be at a critical level. According to a presentation made by Australian Workforce and Productivity Agency board member Keith Spence in July this year, 2012 to 2015 is the crucial period for most of the LNG projects as they are moving into the construction phase. Spence's data shows that Australia needs to beef up the number of its current 180 to 200 process operators to 1,500 by 2017 to 2018.
Oil Basins Director and CEO Neil Doyle, a veteran in the oil and gas industry, agrees with Spence's opinion.
"It is very difficult to find skilled process operators in WA. And for a mammoth new LNG project, having highly experienced process operators is a must," Doyle told Rigzone in a telephone interview on Thursday.
Doyle went on to explain that skilled process operators are essential as having the right people makes all the difference between having an incident-free startup, or one fraught with accidents. Doyle's opinion is based on having worked with oil majors for several decades.
Shoring up on the number of process operators required will be no easy task for the LNG projects, considering the fact that the sector will experience labor competition of the same talent pool from the mining and infrastructure sectors, which are also expanding at equally robust rates.
Meanwhile, the country is also facing a shortfall of 1,700 engineers and 3,000 geoscientists over the next five years, data from a paper presented by GE Australia and New Zealand's industry Skills Development Leader Stuart Manifold in July this year showed. Manifold's paper stated that Australia is not producing enough engineering graduates to keep pace with the expansion of its energy resources projects.
Manifold had said that Australia needs to step up on its efforts to retain its engineering graduates as the engineering skills shortage issue is a global one. This means that emerging regions, such as Africa and Southeast Asia, which are embarking on new LNG and mining projects, will also be eying Australia's engineering talent.
But it is not just the emerging economies that are showing an interest in poaching Australia's engineers. Graying economies, such as Japan, are also on the lookout for young engineering talent, KPMG's Migration Services Partner Jason Berry said in a presented paper in July earlier this year.
Doyle was quick to caution on the tendency of industry watchers to over-emphasize the labor shortage situation plaguing Australia's LNG industry.
"When we speak of a labor shortage, we are referring to manpower with specialized skills. Generalist skills – such as commercial managers – are relatively easy to come by," Doyle said.
The Short-term Solution
In the near-term, Australia is bridging the demand and supply gap by flying in employees for the LNG projects. A paper presented by GE Oil & Gas' Regional Executive David Leslie in July showed that employer-sponsored (457) visas have leapt up from 2,260 in 2003-2004 to 7,940 in 2010-2011. The figure is set to rise, Leslie stated.
Increasing wages and poaching a small pool of experienced operations personnel is also a commonplace short-term approach that LNG project operators are taking, Spence's presented paper showed.
While neither of the solutions are sustainable in the long-term, Kiernan is of the view that these approaches are inevitable.
"The LNG projects pretty much reached the final investment decision stage in the 2009 to 2012 period, which is pretty much all at the same time. When that much capacity is scheduled to be built at the same time, labor bottlenecks are bound to happen," Kiernan said.
Government and Industry-led Initiatives
Australia has started to implement long-term solutions to address the labor crunch in its LNG industry.
The Western Australia (WA) Government has provided seed funding to Engineers Australia and the Association of Professional Engineers, Scientists and Managers Australia (APESMA) to engage in early identification of potential work packages for the local industry.
In addition, the WA Government has also started a "dollar-for-dollar" financial assistance to local companies to help improve their ability to compete for work on major resource projects. The initiative – known as the Industry Facilitation and Support Program (IFSP) – has seen 73 companies receiving a total of $1.5 million from the WA Government in 2011. The second round of IFSP applications will start in the fourth quarter of this year.
Moving beyond government-led initiatives, Spence suggested that LNG industry players should band together to address the manpower shortage issue. He noted that companies involved in similar new projects could get together and set up a kind of informal collaboration in terms of addressing their hiring needs.
Leslie's presented paper showed that GE Oil & Gas is actively looking to increase it skilled workforce through three avenues – graduates, women and Australia's indigenous population. To attract graduates to pursue a career in the LNG industry, GE Oil & Gas has started working with schools to provide summer internships. The company also provides scholarships for indigenous Australians. In terms of talent retention, GE Oil & Gas has launched a program entitled "GE ANZ Woman's Network Group" to allow women in the organization to meet and form their own support groups. Leslie also mentioned that GE Oil & Gas has started to look into flexible work practices to cater to its women employees.
The Long-Term Sustainable Solution
Australia's industry players have started partnering with technology institutes to offer practical training programs geared specifically towards training a skilled LNG workforce.
The Australian Centre for Energy and Process Training (ACEPT) is an example of a pioneer institution that was formed in 2007 through a public-private partnership with the industry to train and groom a sustainable talent pool for the LNG sector. The institution trains its students using a hands-on approach, where its students work on an actual operational process plant and methanol distillation tower on the campus. Its students are schooled in the Honeywell, Yokogawa and Emerson process operations.
"The ACEPT's process plant and the distillation tower are designed with transparent material, so that our students can see the actual internal process of how a plant works," ACEPT's School of Applied Engineering Greg Guppy described in a paper he presented in July this year.
Oil and gas companies that are in partnership with ACEPT include Woodside, Shell, Conoco Phillips, Honeywell, BP, Aker Solutions, Vermillion Oil & Gas, Clough AMEC and Apache.
Citing Woodside as a case study, Guppy said that the company sends around 180 of its employees each year to ACEPT to receive technical, apprentice and skills recognition training. Woodside also sends its employees on ACEPT's graduate training programs.
Australia's Road Ahead
The looming manpower concerns would likely hobble Australia's ambitions to become the global LNG powerhouse by the end of this decade. Education and training, targeted immigration and work policies, employee retention initiatives must converge in a multi-prong approach to the problem.
In a speech made by WA's Minister for Finance, Commence, Small Business Simon O'Brien in July, he summed up the country's sentiment as such, "Australia is on course to overtake Qatar as the world's top exporter by the decade and to supply one-fifth of global LNG supply by 2020. It is an amazing growth story and an exciting time for us."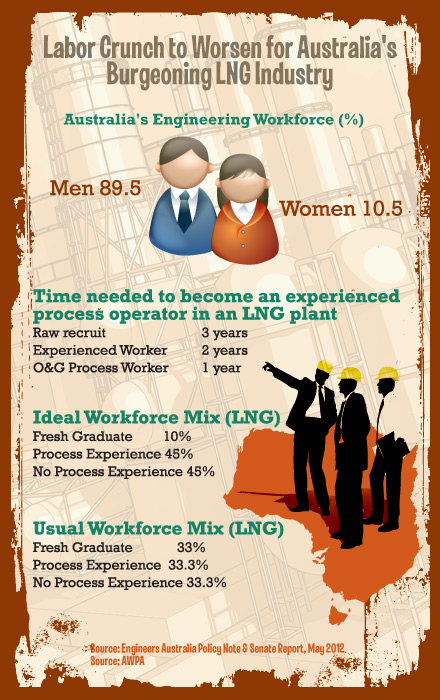 Generated by readers, the comments included herein do not reflect the views and opinions of Rigzone. All comments are subject to editorial review. Off-topic, inappropriate or insulting comments will be removed.