BSEE Issues Final Safety Drilling Rule
|
Thursday, August 16, 2012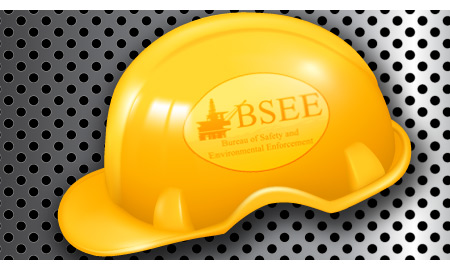 The Bureau of Safety and Environmental Enforcement (BSEE) on Wednesday issued a final drilling safety rule that BSEE said would strengthen requirements for safety equipment, well control systems, and blowout prevention practices on offshore oil and gas operations.
The Drilling Safety Rule was initially issued under an emergency rulemaking process to implement urgent safety measures immediately following the Deepwater Horizon incident in April 2010. The Final Rule issued includes refinements to the rule based on consideration of public comments made on the interim rule.
"The administration's priority is continuing to expand offshore oil and gas development, while ensuring that drilling operations in our oceans continue to be the safest in the world," said BSEE Director Jim Watson in a statement on Wednesday.
"This rule makes final important standards that were put in place shortly after the Deepwater Horizon oil spill and is based on input from stakeholders and recommendations from the numerous investigations related to that tragedy," Watson commented.
The Final Rule changes the Interim Final Rule by enhancing the description and classification of well-control barriers, and defines testing requirements for cement to be considered a barrier.
It also revises requirements from the Interim Final Rule on the installation of dual mechanical barriers in addition to cement for the final casing string – or liner if it is the final string – to prevent flow in the event of a failure in the cement.
For the final casing string, an operator must install one mechanical barrier in addition to cement, to prevent flow in the event of a failure in the cement. The final rule also clarifies that float valves are not mechanical barriers.
Under the final rule, operators will be required to perform a negative pressure test only on wells that use a subsea blowout preventer stack or wells with a mudline suspension system instead of on all wells, as was provided in the interim final rule.
The final rule also states that an operator must have two barriers in place before removing the blowout preventer, and that the BSEE District Manager may require additional barriers.
Additionally, the final rule extends the requirements for blowout preventers and well-control fluids to well completion, well workover, and decommissioning operations.
BSEE said the new Drilling Safety Rule improves upon pre-Deepwater Horizon regulations by establishing new standards for casing and cementing, including integrity testing requirements and third-party certification
Oil and gas companies have effectively complied with the new regulations for nearly two years, during which time more than 750 drilling permits for shallow water and deepwater activities in the Gulf of Mexico have been approved, BSEE said in a statement.
"We are reviewing the rule and hope that they carefully considered the language used in the document to allow certainty and clarity for the industry. Our number one priority is safety," said American Petroleum Institute spokesperson Reid Porter in a statement.
"Safe, responsible development of our offshore oil and natural gas is critical for U.S. energy security, and it provides U.S. families and businesses with affordable and reliable energy for our future," Porter said.
API and other industry associations expressed concerns over the wording of the interim final rule. API and other groups in a December 2010 letter urged the Bureau of Ocean Energy Management and Regulatory Enforcement (BOEMRE) to immediately issue a final rule that clarified that BOEMRE would not attempt to read the word "should" as "must", revising more than 14,000 discretionary, non-mandatory provisions in 80 API standards without any review by BOEMRE as to the effects of its actions.
"There is no regulatory basis for adopting a blanket requirement for all discretionary language to become mandatory," the groups said in the Dec. 13, 2010 letter.
In their letter, the groups urged BOEMRE to open its regulatory process to the public, and asked for BOEMRE experts to participate in API's open standards-setting process.
A Joint Industry Task Force was formed in May 2010 in response to the Deepwater Horizon incident to identify best practices in offshore drilling operations and equipment with the ultimate goal of enhancing safety and environmental protection.
The task force was formed to make recommendations in response to the request of the Secretary of the Interior, according a May 2010 white paper from the American Petroleum Institute.
The task force focused on six areas of offshore operating procedures, including:
Health, safety and environmental case
Procedures related to mechanical loads, cementing practices, barriers, and well displacement procedures
Secondary Blowout Preventer (BOP) Control Systems
BOP Testing and Test Data
Acoustic Systems and other Secondary Control Systems
Remotely Operated Vehicles
The increase in regulations governing offshore oil and gas exploration and production in the Gulf has presented a challenge for producers. French health and safety consulting firm Bureau Veritas said earlier this year it was helping oil and gas operators navigate the new regulatory environment.
Despite increased regulations, oil and gas operators are still showing significant interest in the Gulf of Mexico. In June, 56 companies participating in the first central Gulf of Mexico lease sale since the Deepwater Horizon incident in 2010 offered over $1.7 billion in high bids.
Deepwater exploration and production worldwide, including the U.S. Gulf of Mexico, remains strong, despite uncertainty over energy prices and recent economic turmoil, with a scarcity of deepwater equipment anticipated, Dow Jones reported on Thursday.
Generated by readers, the comments included herein do not reflect the views and opinions of Rigzone. All comments are subject to editorial review. Off-topic, inappropriate or insulting comments will be removed.