Musings: Early Active Storm Season Means Forecasts Had To Increase
by G. Allen Brooks
|
Parks Paton Hoepfl & Brown
|
Wednesday, August 15, 2012
The 2012 tropical storm season began before June 1st, the traditional kick-off to the season, and has remained more active than virtually all forecasters had expected when they introduced their initial forecasts. In those earlier forecasts the theme underlying them was that the development of El Niño and cooling sea surface temperatures (SST) in the Atlantic basin would limit the formation and strengthening of tropical storms. In their April forecast, Phil Klotzbach and William Gray, the forecasting team at Colorado State University (CSU), said the climate dynamics would lead to "reduced activity." At the start of June when the CSU team issued its updated forecast, it still characterized the 2012 storm season as having "below average activity" although it had increased the projected number of named storms, hurricanes and storm days.
In the CSU's August forecast update, they wrote, "We anticipate a slightly-below average remainder of the hurricane season this year due to an anticipated weak El Niño event and a tropical Atlantic that is less favorable than in the past two years. This forecast is a slight increase from activity predicted in early June, due to a slower-than-anticipated onset of El Niño and a somewhat more favorable tropical Atlantic than observed earlier this year. We expect a slightly below-average probability of United States and Caribbean major hurricane landfall." This view was echoed by the recently revised 2012 hurricane forecast issued by the National Oceanic and Atmospheric Administration (NOAA) last week. While they increased their projected number of storms for 2012, NOAA stated its new forecast still indicates a 50 percent chance of a near-normal season, but they increased the chance of an above-normal season to 35 percent and decreased the chance of a below-normal season to 15 percent.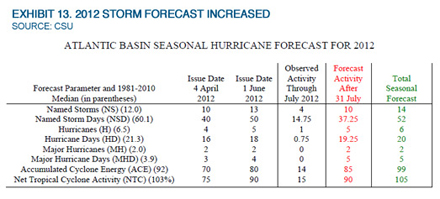 So far this year, the Atlantic basin has had six named storms with one becoming a category one hurricane immediately before making landfall on Mexico's Yucatan peninsula. As of last Saturday morning, a seventh tropical depression had formed in the Atlantic but had not grown beyond that status. If we look at these changed forecasts, we find they have only marginally increased their estimates, largely to reflect the greater number of early season storms and the possibility that El Niño, a limiting force for tropical storms, may not develop quite as early in the storm season as originally anticipated.
The latest CSU forecast calls for one additional named storm and hurricane. The greater increase in their storm activity forecast occurred between their April and June projections. NOAA has boosted its forecast to a range of 12 to 17 named storms, five to eight hurricanes and two to three major hurricanes. The primary increase in the NOAA forecast was for the number of named storms going from 9-15 to 12-17. The agency only boosted the bottom of its forecast range for hurricanes and major hurricanes by one.
CSU is the lone forecasting team that has a model to predict the odds of tropical storms making landfall on the U.S. coastline and in the Caribbean islands. For the post July 31st time period, the CSU team projects the odds of landfall anywhere on the U.S. coastline are 48 percent compared to the historical average of 52 percent. Landfall odds for the East Coast, including the Florida peninsula, are 28 percent (31 percent) and the Gulf Coast odds are 28 percent (30 percent). The August forecast report issued by CSU contained a table, which we have produced in Exhibit 14, showing the landfall probabilities for each coastal state for the balance of the 2012 season. The primary states at risk of being hit by a hurricane or major hurricane are Florida, Texas, Louisiana and North Carolina. These states are not a surprise as they are the primary targets each and every tropical storm season.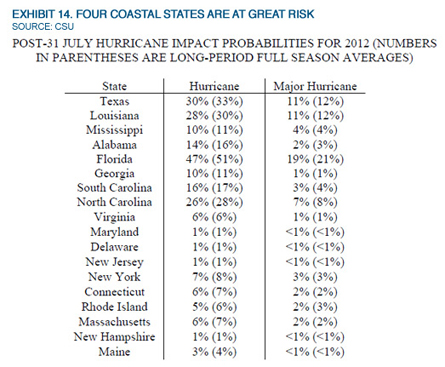 While focusing on the various tropical storm forecasts is interesting, one can never lose sight of the fact that it takes only one storm, and it doesn't have to be a hurricane or even a major hurricane, for people to experience significant damage and personal loss. Both the CSU team and NOAA make that point and it is probably the most important point to come from these forecasts.

Generated by readers, the comments included herein do not reflect the views and opinions of Rigzone. All comments are subject to editorial review. Off-topic, inappropriate or insulting comments will be removed.