Norwegian Strikes: More Trouble Ahead?
by Jon Mainwaring
|
Rigzone Staff
|
Tuesday, August 14, 2012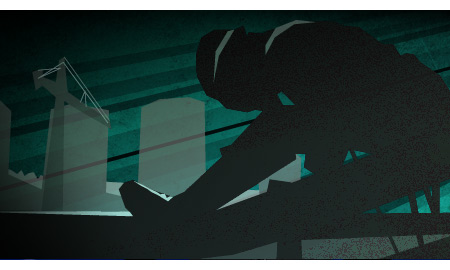 While southern Europe is currently embroiled in widespread protests and industrial action amid the Eurozone debt crisis, many could be forgiven for thinking that all is fine and dandy in Europe's northern states.
Yet, in spite of having an AAA credit rating, little debt when compared to many other European countries and even its own sovereign wealth fund, Norway has had its own bouts of industrial unrest in recent months. In particular, the country's offshore oil industry has been affected by two industrial disputes: a threatened strike among Baker Hughes workers and a wider ranging strike that lasted 16 days and which cost the country's oil sector an estimated $500 million.
The strike that began in late June was soon brought to an end by Norway's Minister of Labor, Hanne Bjurstrøm, who used emergency powers to rule that all the parties involved should move to a compulsory arbitration process after the oil industry itself threatened to begin a lockout of 6,500 offshore energy workers and shut down production.
Earlier in June, Norway's SAFE union warned that its members who work for Baker Hughes in the Norwegian offshore oil sector were prepared to "strike for weeks, months and years if necessary" over a dispute that emerged after Baker Hughes' takeover of BJ Services and BJ Process & Pipeline Services.
SAFE accused Baker Hughes of financing its acquisition of these businesses by reducing workers' benefits.
However, after SAFE and OLF agreed a new deal within the oil services sector, the Baker Hughes strike – which had threatened to shut down at least five oil and gas rigs offshore Norway – was called off in mid-June.
Pension Problems
The more recent strike concerned a range of issues, but chief among these was the removal of an additional pension arrangement that was introduced for offshore oil workers in 1998. This arrangement allowed offshore workers to retire at 62 – three years ahead of the age of retirement for oil workers in general, and some five years ahead of Norway's official retirement age.
In 2011, Norway made the early retirement pension arrangement available to workers across all sectors, but pensioners (retirees) would receive reduced benefits.
Speaking to Rigzone, Jan Hodneland, the chief negotiator for the Norwegian Oil Industry Association (OLF), explained that the oil companies just want to bring pension rights for offshore oil workers in line with those arranged for other kinds of workers.
"We are now able to take part in the general [settlement] in Norway and therefore the companies would like to adjust to the norms and practices for all the industries in Norway," he said.
"It will also bring to an end an imbalance between offshore oil workers and onshore oil workers."
Roy Alexandersen, the vice chairman of the SAFE union, sees it as a more cut-and-dried issue.
"Back in 1998 we got an agreement with the companies to allow an extra pension and that's what they now want to take back," he said in a brief telephone call with Rigzone.
SAFE and the other unions involved in the recent strike are now waiting for Norway's National Wages Board to facilitate the compulsory arbitration. Hodneland expects a ruling on the pension issue, as well as decisions about other grievances that the unions were striking about, to be made by October.
"It will start up some time in September, and then it will be probably a week's proceedings and then there will be a decision. So, maybe before the end of September there will be a ruling," he said.
An outside observer could be forgiven for thinking that the compulsory arbitration process means the end of strikes in Norway for a long while, particularly since the unions are now banned by law from striking about the pensions issue or any other issue relating to the recent strike for a period of two years.
Further Strikes?
However, new complaints from workers about employment conditions could lead to other strikes while existing disputes unrelated to the recent strike could also mean further industrial action offshore, according to Hodneland.
For instance, OLF is currently talking to the Industri Energi union about arrangements relating to wage demands for workers on permanent rigs, but the recent strike was not about these arrangements.
"So, they might be on strike if we do not succeed in finding a solution for them," said Hodneland.
There are also negotiations going on that relate to wage increases for workers in the oilfield services sector that could lead to industrial action if they break down.
Some observers of the Norwegian oil sector might wonder whether further threatened strikes are a problem at all for the industry considering the government's recent willingness to play the compulsory arbitration card. However, the incumbent Labor government could see itself losing support from traditional supporters if it continues to use such a measure to prevent workers from striking.
"There has been quite some debate in Norway relating to the use of compulsory arbitration because the current Labor government is supposed to be on friendly terms with the unions. So, they are a bit reluctant to use compulsory arbitration unless they see that there is no other way to find a solution," said Hodneland.
In a recent interview with Norwegian leftwing newspaper Klassekampen, Auden Lysbakken – the leader of Norway's Socialist Left Party – accused the rival Labor Party of making "a fool of itself" when it stopped the oil strike and has called for the scrapping of laws allowing compulsory arbitration.
But for now, the focus will be on what Norway's National Wages Board in September determines is a fair settlement between employers and offshore oil workers when it comes to pension entitlements.
Beyond then there is "still the possibility for further strikes offshore" according to Hodneland, the negotiator who concedes that he is likely to be very busy in coming months.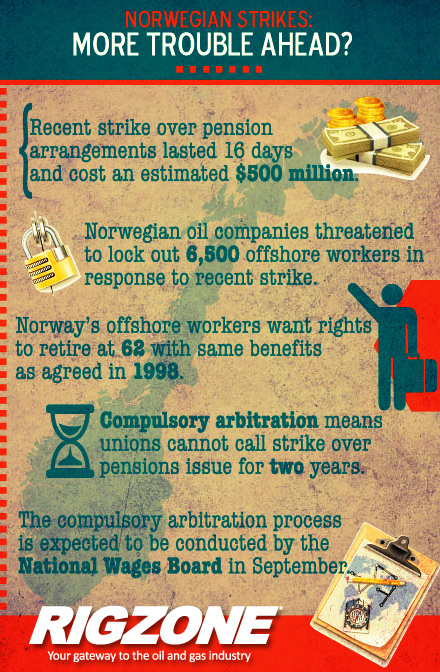 Generated by readers, the comments included herein do not reflect the views and opinions of Rigzone. All comments are subject to editorial review. Off-topic, inappropriate or insulting comments will be removed.