Interior to Open More of National Petroleum Reserve for O&G Development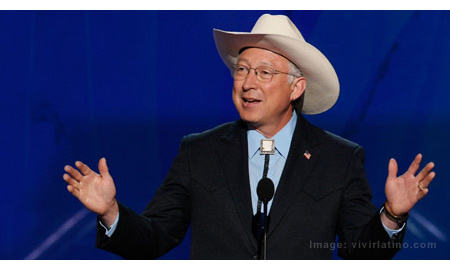 Secretary of the Interior Ken Salazar on Monday outlined a proposed plan to open additional acreage in the National Petroleum Reserve in Alaska (NPR-A) for oil and gas development.
The proposed plan would make approximately 11.8 million acres available for leasing. Salazar said the move would make the vast majority of projected oil resources in the NPR-A available for leasing.
In March, Interior released the draft Integrated Activity Plan and Environmental Impact Statement (IAP/EIS), which included four future management alternatives for the NPR-A.
The Interior Department decided to modify Alternative B of that plan after receiving over 400,000 public comments on the IAP/EIS and feedback from a wide variety of stakeholders, including Alaska Native tribal governments, corporations and other Native organizations, local, state and government agencies, conservation groups and business and industry organizations.
The proposal to open more acreage in drilling comes on the heels of President Obama's directive in May 2011 for annual oil and gas lease sales to be held in the NPR-A. The U.S. Bureau of Land Management last December offered 3 million acres in a lease sale, which resulted in 17 winning bids covering over 140,000 acres. Another lease sale is scheduled to be held in the NPR-A this coming November.
Only exploration drilling had been conducted to date within the NPR-A. ConocoPhillips has been issued permits for future oil and gas production within the NPR-A.
According to the Department of the Interior, the NPR-A is estimated to hold approximately 549 million barrels of discovered and undiscovered economically recoverable oil and approximately 8.7 trillion cubic feet of discovered and undiscovered economically recoverable natural gas.
The preferred alternative plan allows for the possibility of pipelines and related infrastructure to be constructed in the NPR-A to accommodate future oil and gas production in the Chukchi and Beaufort seas.
It also will identify areas within the NPR-A that will receive special protection from development such as some coastal areas – including Peard Bay and Kasegaluk Lagoon – that serve as habitat for seas, polar bears and other marine mammals; the Colville River raptor nesting areas; calving areas for the Teshekpuk Caribou Herd and the Western Arctic Herd; and areas important for subsistence.
The final IAP/EIS is expected to be released late this year.
The announcement came as Salazar wrapped up his fourth trip to Alaska as Secretary of the Interior, meeting with North Slope officials.
Salazar addressed critics who said the NPR-A should be opened without restriction, noting the costs associated with restoration efforts make it critical for Interior to ensure the NPR-A environment and wildlife were protected in the process.
The secretary said his agency would "hold Shell's feet to the fire" to ensure the company abides by the regulations set in place to govern drilling activity in the Beaufort and Chukchi Seas.
While both seas currently have more ice than previously seen, Salazar said Shell's inability to get its oil spill response barge certified.
"The water of the Chukchi is already open," Salazar told reporters on a conference call as he wrapped up his fourth trip to Alaska as interior secretary. "They would already be up there today if they had [been able to wrap up the barge certification]," said Salazar.
Salazar said Shell is still moving forward with plans to get its containment vessel certified and moving forward with plans to drill an exploration well.
"Any decision made in association with a request by Shell to change plans must be based on the regulations and law to ensure the Arctic is being protected," Salazar said.
Larger questions need to be addressed regarding oil and gas development, including infrastructure and the ability of the U.S. Coast Guard to handle a spill in the Arctic.
"It's a very dynamic situation with conditions rapidly changing," said Salazar.
Salazar said he and President Obama were working to ensure the United States was leading the way in terms of research into exploring the Arctic as other countries, including Canada and Russia, move forward to pursue Arctic interests as well.
Generated by readers, the comments included herein do not reflect the views and opinions of Rigzone. All comments are subject to editorial review. Off-topic, inappropriate or insulting comments will be removed.
RELATED COMPANIES
Company: US Department of the Interior
more info