Lack of Diversity Prevents O&G Companies from Seeing All Risks
by Karen Boman
|
Rigzone Staff
|
Tuesday, August 07, 2012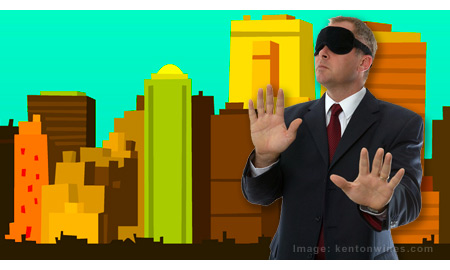 By not having a diverse board of directors or management team in terms of gender or ethnicity, oil and gas companies are hindered by not seeing all the risks, including human, social and environmental risks, that a company faces, said Paul Herman, CEO of San Francisco-based HIP Investor Inc., an investment adviser and wealth manager.
Diversity in management teams and boards makes it more likely that more women will be hired for executive and managerial roles, making a company more inclusive, Herman told Rigzone.
"This helps to strengthen the organization to meet the needs of its customers and its staff, helping to discover new markets and product innovations more attuned to the emerging needs," said Herman, citing his 2010 book "The HIP Investor: Making Bigger Profits by Building a Better World".
At HIP – which stands for human impact and profit – companies and equities are ranked by their sustainability, or HIP score, across human, social and ecological challenges in three areas – evaluating their products and services; analyzing their operating metrics and how they link to financials; and how decisions are made inside the company. The HIP scores are applied in investment portfolios to seek positive human impact as well as potential profit.
In its analysis, HIP found that the average score in equality metrics – such as Women on Boards, Women on Management Teams, Women in Workforce – for 272 oil and gas companies worldwide rated much lower than the equality metrics of 3,685 firms globally.
According to analysis by HIP, the oil and gas industry lags behind the global industry on board diversity, the HIP Equality score – which also looks at executive team, staff and suppliers – and the overall HIP Score, which measures all sustainability, including the factors of health, wealth, earth and trust as well as equality.
International oil and gas companies, such as Norway's Statoil and Sasol in South Africa, as well as Marathon Oil and Shell, tend to lead in terms of board diversity, HIP Equality Score and HIP Score overall. Oil and gas companies that that have the least diverse boards include companies such as National Oilwell Varco and Nabors Industries.
Herman noted that corporate cultures that aren't inclusive to women and other minorities can destroy shareholder value. For example, Mobil had a very progressive benefits structure for employees in the late 1980s that allowed benefits for same-sex partners. However, those benefits ended when Exxon acquired the company, said Herman. As a result, a number of workers departed the company.
Recent Initiatives Seek to Enhance Public Board Diversity
While the lack of women on boards of directors of publicly traded companies has been an issue for some time, efforts have increased in recent years to change this percentage.
The 30 Percent Coalition's letter is among recent initiatives to break the cycle of public company board of directors mainly having white males as members.
If the vast majority of public company boards are white males, they tend to pick other white males as board members, and it becomes a self-perpetuating cycle, Laura Hertzog, who teaches classes in the diversity and inclusion program at Cornell University's School of Labor and Relations.
When looking for new board members, boards tend to pick people from their professional lives rather than someone different.
"Once you're on a board, it's easier to get onto another board," said Hertzog. "If you look at the roster of large companies, there is quite a bit of overlaps," with the same people being members of multiple boards.
Women and minorities who are members of boards of directors tend to be on boards for non-profit organizations, which does not translate well for becoming a board member for a publicly traded company.
"It's not just a matter of being on a board, but the type of board you're on," said Hertzog, noting that a person becomes a known quantity if they become a board member for a publicly traded company.
To encourage increased representation of women and minorities on public company boards, the New York Stock Exchange in July launched the Board Diversity Initiative. Held July 18-19, close to 150 highly qualified women and minority candidates were nominated for the program.
"We believe that diversity of thought gives corporate boards the best chance to be effective and ultimately fosters companies that are more customer- and human-capital focused," said TK Kerstetter, president of Corporate Board member, in a July 16 statement.
"While we do not believe that one-size-fits-all regulatory mandates or quotas are the formula for preventing fraud or successfully building shareholder value, we do encourage companies to take a proactive stance with respect to building diverse boards and address any governance issues like this head on," said Kerstetter.
Corporate Board Member, a NYSE Euronext company, is an information and education resource for senior officers and directors of publicly traded corporations, large private companies, and Global 1000 firms. NYSE Euronext is a global operator of financial markets and provider of trading technologies.
In early May, WomenCorporateDirectors (WCD) launched the WCD Global Nominating Commission to encourage greater diversity on corporate boards, from Fortune 500 companies to the FTSE 100 and beyond. The Commission is a high-level task force of select nominating committee chairs and members from around the world, as well as CEOs, focused on proactively building divers boards and candidate slates.
"With greater demand on boards and from boards to increase diversity, the Global Nominating Commission will be an important center of influence for nominating committees worldwide," said Alison A. Winter, global co-chair and co-founder of SCD and a director at Nordstrom Inc.
The Commission's duties include:
Collecting and reporting business cases of effective approaches to building global, diverse boards
Developing matrices of skill sets needed for boards in 2012 and beyond, to be shared with corporate nominating and governance committees worldwide
Encouraging search firms to assure that every direct slate includes women and other diverse candidates from around the world
Correlation Seen Between Greater Diversity, Performance
A number of reports in recent years, including an August 2012 report by Credit Suisse Research Institute, show a correlation between companies with greater diversity of board members and stronger financial performance.
Credit Suisse's analysis of the financial performance of 2,360 global companies since 2005 found that companies with one or more women board members have delivered higher average returns on equity, lower gearing, better average growth and higher price/book value multiples over the course of the past six years.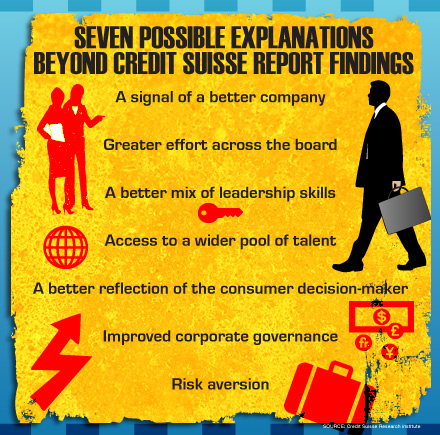 Credit Suisse decided to examine the role between board gender diversity and corporate performance due in part to the increasing proportion of women on boards for companies listed on the All Country World Index (MSCI ACWI) – which has grown from 41 percent at the end of 2005 – to 59 percent at the end of 2011.
The increase in government mandated quotas for women on boards– with seven countries passing mandates in the past five years and eight countries setting non-mandatory targets, also prompted the study.
"While it is difficult to demonstrate definitive proof, no one can argue that the results in this report are not striking," Credit Suisse said in the report, noting that a specific consequence of greater board diversity for shareholders is one of reduced volatility, manifested as enhanced stability in corporate performance and in share price returns.
As of year-end 2011, 7 percent of energy companies studied by Credit Suisse had three or more women on their boards, 18.1 percent had two women on their boards, and 28.1 percent of energy companies had one female board member. Of the energy companies studied globally, 46.8 percent had no women on their boards.
Credit Suisse found that sectors closer to final consumer demand, such as the health care and financial industry, tend to have a higher proportion of women on their boards, while the heavy industry and information industries, or sectors closer to the bottom of the supply chain, tend to have a much lower proportion of women on their boards.
European countries such as Norway tend to have relatively high ratios of women on their boards compared to regions such as Asia. In fact, the fastest rates of change in female representation have occurred in European countries due to mandatory and non-mandatory targets set for female board representation over the past five years, Credit Suisse reported.
According to the 2012 Thomson Reuters study of both major global and European indexes, "Women in the Workplace: Latest Workforce Trends in Gender Equality", companies that have at least 30 percent women among their managers and boards outperform companies with less than 20 percent women among managers and less than 10 percent women on boards during 2011, particularly in the latter three-quarters of the year, when financial markets were particularly volatile.
"To date, the rate at which progress has been made when it comes to gender equality in the workforce has been slow – but it has been moving in the right direction as more corporations recognize that greater diversity isn't just a branding exercise or a political exercise to bring about better societal outcomes, but one that can even bring about better company performance," said Thomson Reuters in the report.
While European companies are doing a better job than U.S.-based companies in terms of transparency regarding gender equality in the workforce, U.S.-based companies appear to have the edge in terms of women breaking through the glass ceiling, with women not only participating in the workforce but also making up an increasing part of management-level employees, Thomson Reuters said.
However, the fact that incomplete data is available on North American businesses may mean that than accurate picture of gender equality across the corporate landscape, Thomson Reuters noted.
The energy industry, health care and financial industry have all done better than most of their peers in terms of offering women managerial posts. Thanks to programs initiated by companies to address the under-representation of women in the exploration and production industry, the percent of women in managerial level positions grew from 14 percent in 2005 to 18 percent in fiscal year 2010, Thomson Reuters noted.
Making women aware of career opportunities in industries that traditionally have not had large numbers of women, such as oil and gas and investment banking, also is key to increasing the number of women in these industries, making it more likely women will advance through the ranks to management positions, Hertzog said.
Hertzog headed up a program at Credit Suisse First Boston, CSFB Explorer, which introduced women and minorities in their freshman and sophomore years of college to investment banking as a potential career path.
Studies show a correlation between greater diversity and stronger corporate performance as a 'glacial pace' of change has been for women on public company boards. Click here to read more.
Generated by readers, the comments included herein do not reflect the views and opinions of Rigzone. All comments are subject to editorial review. Off-topic, inappropriate or insulting comments will be removed.