Transocean CEO: Making Progress on Deepwater Horizon Resolution
by Dow Jones Newswires
|
Angel Gonzalez
|
Thursday, August 02, 2012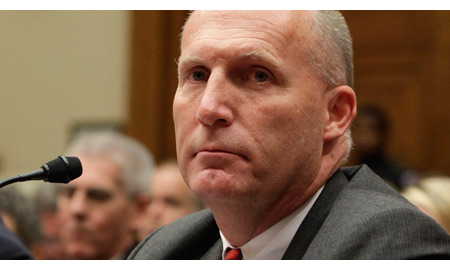 HOUSTON - Transocean Ltd. is making progress towards a settlement in the Deepwater Horizon case, Chief Executive Steve Newman said Thursday.
Transocean owned and operated the drilling rig that exploded in the Gulf of Mexico in April 2010, killing 11 people and sending massive amounts of crude oil into the U.S. Gulf of Mexico. The rig was leased by BP PLC.
A trial at a federal court in New Orleans is scheduled for January and "we are well prepared to defend the company in court if necessary," Mr. Newman said during a conference call to discuss the company's earnings. "At the same time, we continue to explore the possibility of a resolution."
When the company disclosed its earnings results late Wednesday, it said it set aside an additional $750 million in estimated loss contingency for Deepwater Horizon-related expenses, an amount that Mr. Newman said "reflects our efforts in this regard." Analysts with Tudor, Pickering, Holt & Co. said the Deepwater Horizon contingency estimates now total $1.95 billion.
Mr. Newman said he believes "we are making progress" in the negotiations.
The executive added that contract terms continue to improve for the company's deep-water rigs, in the midst of strong demand for offshore drilling equipment.
A Transocean executive said out-of-service days for the company's fleet, which have pressured earnings in recent quarters, are expected to reach a low level in the third quarter.
Generated by readers, the comments included herein do not reflect the views and opinions of Rigzone. All comments are subject to editorial review. Off-topic, inappropriate or insulting comments will be removed.
RELATED COMPANIES