Tropical Paradise or Powerhouse: Trinidad & Tobago Looks to Secure Future
|
Thursday, August 02, 2012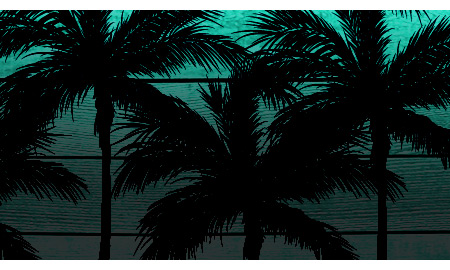 The Government of the Republic of Trinidad and Tobago announced a deepwater competitive bid round for six offshore blocks in the East Coast Marine Area and Trinidad and Tobago Deep Atlantic Area earlier this year. The bid round opened April 5, 2012 and the deadline is September 4, 2012. To stimulate interest, the Government reduced the petroleum profits tax from 50 percent to 35 percent. It also added 40 percent uplift and eliminated signature bonus payments as well as increased state participation.
According to the Ministry of Energy and Energy Affairs, the 2012 "bid round will be different from past rounds, taking advantage of revised contractual terms, a more transparent bid evaluation process, and fiscal incentives designed to attract potential investors while optimizing government revenues."
The blocks on offer are located in various water depths and hydrocarbon plays. The Ministry said that previously acquired 2D and 3D seismic as well as well penetration and location related to known hydrocarbon pools are available for review.
Recent activity
The country started producing oil and gas in 1908, but its energy program did not succeed until the 1970s. Drilling, producing and refining made major gains in the 1990s when exploration led to significant finds. Today petroleum makes up 42.5 percent of Trinidad & Tobago's gross domestic product.
According to the Central Bank's Mid Year Financial Stability Report,"Preliminary data from the Ministry of Energy suggests that, despite a substantial uptick in exploration activity, the energy sector may have contracted slightly in the first quarter of 2012," reported Caribbean 360.
A possible reason for the lower output, the report suggests, is bpTT--a major operator in the region--is undergoing maintenance operations, which has resulted in cutbacks in natural gas supply.
Crude oil production continued on a declining path, falling by some 13.8 percent from in the similar period in 2011, according to the report.
"However, natural gas output was roughly the same as in the year-earlier period."
It was only last year that the island rebounded from the global energy recession.
In fact, the Energy Chamber of Trinidad & Tobago reported that "upstream operators mobilized more rigs in 2011 and developmental and exploratory drilling reached its highest levels in three years."
The Energy Chamber quoted the Review of the Economy in 2011 document, which revealed that "the service contractor sub-sector had a 17.1 percent GDP growth outpacing the modest overall energy sector growth of 0.03 percent."
LNG
Though the United States receives the largest quantity of Trinidad & Tobago's LNG exports, more and more exports are shipped to Spain, South Korea and Argentina, the Energy Chamber reported.
Some of the biggest players in Trinidad or Tobago's offshore gas fields include British Petroleum (BPTT), British Gas (BG T&T), and Repsol YPF. Most of the gas produced goes to the Atlantic LNG plant in Point Fortin, Trinidad. According to Atlantic LNG Company of Trinidad and Tobago, it is one of the world's largest producers of LNG. The facility has four trains. The trains are owned separately, but a joint use and operating agreement among owners allows them to be run in combination, sharing common assets and costs. The company purchases gas from suppliers and sells freight from Trains 1, 2, and 3 from its Point Fortin port. Atlantic operates Train 4 as a processor of gas, Atlantic notes on its website.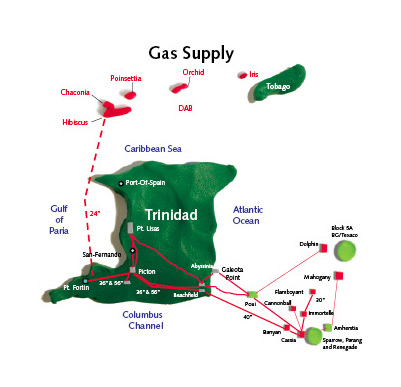 According to a Ryder Scott Audit released in August 2011, Trinidad and Tobago's existing reserves and resources are estimated at 53.1 trillion cubic feet (Tcf), while the country's total exploration resources amount to 25.9 Tcf, the Energy Chamber reported.
"The audit confirms the alarming trend of Trinidad and Tobago's proven natural gas reserves consistent decline since 2002," the Energy Chamber reported.
Rig Activity
The Energy Chamber reported an upswing in rig and drilling activity in 2011 with 4Q 2011 seeing 13 new wells started by Petrotrin, EOG Resources and Bayfield Energy.
Currently, there are four offshore rigs in Trinidad & Tobago waters. These rigs include:
Thus far in 2012, Petrotrin completed 3D seismic survey studies, Niko and Centrica started seismic surveys off the North Coast, and BP started seismic work in the area as well. Trinity started the year with a 22-onshore well and 8-offshor well drilling plan. Bayfield also planned to drill seven exploration wells.
Minister of Energy and Energy Affairs Kevin Ramnarine spoke at an Energy Chamber breakfast in 2Q 2012. He said that Trinidad & Tobago "must move quickly to maximize on the high oil prices both from a WTI and Brent perspective."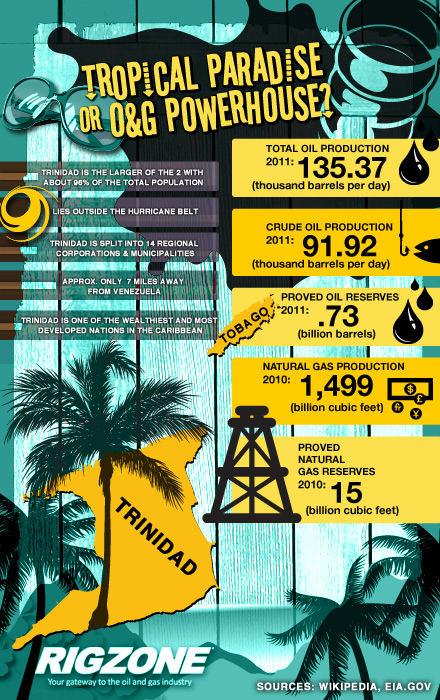 Ramnarine noted work that BP is engaged in off the twin islands. According to the Minister, BP will drill three wells in Immortelle, seven at Amherstia, five at Mahagony and two at Cassia.
"In addition, next year BG will start work on the development of Starfish and that will kick off a period of heightened activity for BG which will also see infill drilling on the Dolphin Field," Ramnarine said.
The Minister also noted that Niko spud its first offshore well this year. The Rowan Gorilla III drilled a well at the Stalin prospect, "which is the first of three wells planned for Block 2ab. This is a brief but forward looking picture of the major projects in the upstream sector in 2012," the Ramnarine said.
Generated by readers, the comments included herein do not reflect the views and opinions of Rigzone. All comments are subject to editorial review. Off-topic, inappropriate or insulting comments will be removed.