Students Explore Career Options at Marcellus Camp
by Matthew V. Veazey
|
Rigzone Staff
|
Friday, July 27, 2012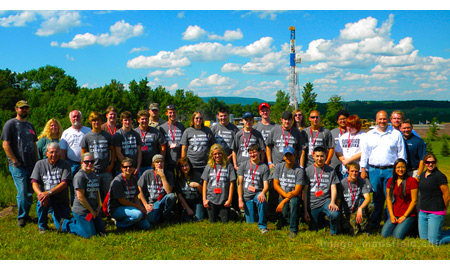 Twenty-one high school students from Pennsylvania and New York recently participated in a different kind of summer camp experience. Rather than go on hikes, paddle canoes and tell ghost stories around a campfire, the teenagers learned about career paths in the shale gas industry while attending the inaugural Marcellus Camp 2012 at Mansfield University of Pennsylvania.
"This camp was designed to teach high school students about the development of shale gas resources in our region and the career and educational opportunities available after high school," said Lindsey Sikorski, interim director of The Marcellus Institute at the university, which is located in Tioga County, Pa.
"To our knowledge we are not aware of any other organization or university offering a Marcellus Camp, which is why we decided to offer the opportunity."
Mansfield University, which offers shale gas-focused academic and workforce training programs, co-sponsored the July 8-10 summer camp with the Pennsylvania College of Technology and the Marcellus Shale Education and Training Center.
Open to students in grades 10 through 12, the event exposed campers to some of the 150 occupations available within the industry. Faculty from various educational institutions taught water quality and mudlogging sessions, and industry professionals took time to interact with the campers. Moreover, attendees visited a Chesapeake Energy well site and received safety orientation training from SeaTrax, Inc. Mansfield University subsidized the supply and instructor costs. A number of high schools and school districts throughout the Marcellus Play also provided support for the camp. The fee for each camper was $50, which defrayed room and board costs.
"Many of the campers had not been near a rig site before and got to experience what a site looks and sounds like," said Sikorski. "We really worked to make this experience well-rounded for a high school student who is the slightest bit interested in the natural gas industry."
"The camp was not an opportunity to necessarily network for jobs but learn about what kind of education is required for job X, Y, or Z within the industry," added Sikorski. However, the institute will hold a Marcellus Family Career Night in September to provide networking opportunities.
Although many of the campers had no previous exposure to the natural gas industry, Sikorski pointed out the participants exhibited a high level of interest in the sessions.
"I was really impressed and excited with how much the campers learned this first year," Sikorski said. "Mansfield University's administration and faculty has been extremely supportive of offering community outreach activities related to the Marcellus Shale in our region and fully embraced this summer camp."
Sikorski said that plans are already underway for next year's Marcellus Camp, which may be expanded to offer more learning sessions in safety management and other areas. She also welcomes more involvement from industry players active in the Marcellus.
"We would welcome participation from anyone with industry and we would be happy to build interested organizations/companies into our 2013 schedule appropriately," Sikorski concluded. "We are especially looking to build in more sessions where the campers get to experience hands-on activities. Viewing and touching any equipment or uniform equipment would be a nice addition."
To learn more about taking on an industry role at next year's Marcellus Camp, you can find Sikorski's contact information on the Marcellus Institute's website.
Generated by readers, the comments included herein do not reflect the views and opinions of Rigzone. All comments are subject to editorial review. Off-topic, inappropriate or insulting comments will be removed.