Aker Solutions' Recruitment Drive in Oilfield Services
by Jon Mainwaring
|
Rigzone Staff
|
Wednesday, July 25, 2012
Norwegian oilfield services firm Aker Solutions is currently in the midst of a recruiting drive due to what the firm describes as "growth in all oil and gas markets worldwide".
"Based on today's market and the growth that we foresee in the coming years we've identified a growth target for our solutions as a whole worldwide of nine to 15 percent per year from 2011 to 2015," Aker spokesman Endre Johansen told Rigzone in a recent interview.
Johansen pointed out that the company is seeing a lot of growth in the North Sea due to the maturity of oil and gas fields on the UK and Norwegian continental shelves.
"We're seeing significant growth there in what we call life-of-field services, such as platform upgrades, modification jobs on offshore platforms, well intervention services and so on," he said.
Aker has won a series of contracts in the UK and Norway in recent months. For example, in June it signed major deals with Exxon and Statoil to work on their assets in Norway. The firm also renewed two contracts with fellow oilfield services firm Island Offshore to provide well-intervention services to Statoil in the North Sea.
In order to support the growth in its business, Aker announced at the start of June that it would be expanding the number of people that it employs at its London engineering hub from 400 to 1,700 between now and 2015.
London: "A Huge Engineering Market"
The expansion of the London hub was part of a landmark energy partnership between the UK and Norway that saw Statoil promising to invest a further $18.5 billion in the UK's Mariner-Bressay North Sea oil fields, along with a deal between Statoil and Centrica, which saw the two firms agree to cooperate on gas supply and exploration.
At the time, Aker Executive Chairman, Oyvind Eriksen, explained why the firm needs to expand its engineering base in Chiswick, west London.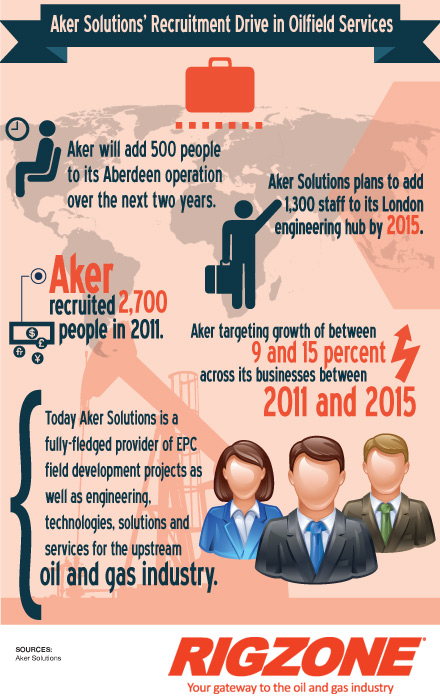 "Oil and gas engineers in London are typically experienced, highly competent and they have an international mindset. By combining our own experience with this expertise we can offer our customers engineering related to field architecture, products and technologies both in the North Sea and internationally," he said.
Johansen describes London as a "huge engineering market with a lot of competence" that will not only help Aker service its North Sea customers, but also supply the firm's expertise internationally.
"The location of London in terms of access to other international markets is absolutely perfect. As an example of that is our well-intervention services business. They have chosen London as the hub for their international operations. They can reach all corners of the world very quickly out of London," he pointed out.
Of course, another major center of operations for Aker is Aberdeen in Scotland.
"Aberdeen is really our biggest UK hub. We have today about 2,700 employees in Aberdeen. So, actually Aberdeen is the largest base for our solutions worldwide outside of Norway. Obviously Norway is our biggest base, but Aberdeen is our second biggest," said Johansen.
The increase in Aker's activity in the North Sea means that its Aberdeen operation is continuing to expand.
"We have an objective to hire an additional 500 people there over the next two years," added Johansen.
"Growth in All Segments"
In Norway, new discoveries such as Statoil's Johan Sverdrup discovery last year and increasing hydrocarbon exploration activity in the Barents Sea are helping to drive business. But Johansen insists that the main growth there is being driven by the same factors that are driving growth in the UK.
"It's a mature continental shelf with huge investment levels going into extending the life of platforms and further developing oil and gas fields," said Johansen, who explained that out of the 2,700 new employees that Aker Solutions hired in 2011, just more than 1,000 were hired by the firm's Norwegian business.
"There is growth in all segments, including subsea, drilling technologies and MMO [maintenance, modification and operations]. Maintenance and upgrades on North Sea oil platforms to extend their field life," he added.
Meanwhile, the rest of the world is also responsible for a lot of activity currently taking place at Aker's engineering centers in London, Aberdeen and at various locations in Norway.
"We also have to remember that our operations in Aberdeen and Norway are also exporting a lot of technology and products to developments all over the world: West Africa, Gulf of Mexico and Asia. For example, in our subsea controls business in Aberdeen around 50 percent of its activity is for international export."
With Aker's belief that the strong growth in the oilfield services sector is set to continue, suitably-qualified engineers and technicians (particularly those based near London, Aberdeen and in Norway) might want to consider getting in touch with the business.
Generated by readers, the comments included herein do not reflect the views and opinions of Rigzone. All comments are subject to editorial review. Off-topic, inappropriate or insulting comments will be removed.
RELATED COMPANIES