US Coast Guard Approves Evaluation Standards for Response Vessel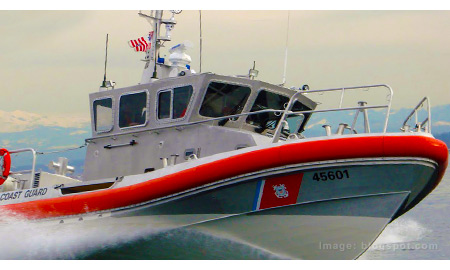 The U.S. Coast Guard has approved Shell's request to change the standards for evaluating the readiness of the emergency response barge, the Arctic Challenger, which is under construction and expected to be on hand when Shell drills offshore Alaska this summer, a Shell spokesperson confirmed to Rigzone on Friday.
Shell had originally asked the Coast Guard to evaluate the vessel using standards for floating production installations that are anchored in one place for long periods of time and must be able to withstand hurricanes and 100-year storms. However, Shell recently asked for the Arctic Challenger to be classified as a mobile offshore drilling unit, since the barge would move to escape storms or respond to an oil spill.
"We are pleased with the progress we are making on the containment system," said Shell in a statement. "Our priority remains the safety of our people and integrity of the assets we deploy in support of our operations."
"We will ensure the Arctic Challenger is ready to perform perfectly before it departs for Alaska," Shell commented.
While the Coast Guard has accepted Shell's proposal for the use of the 10-year return standard associated with MODU [mobile offshore drilling unit] classification, the vessel is far from being ready to receive a certificate of inspection from the U.S. Coast Guard, said Christopher O'Neil, commander of the U.S. Coast Guard and chief of media relations.
"At the same time we accepted the proposal we requested Shell provide calculations demonstrating compliance with that standard. Those calculations will need to be reviewed as part of the process," O'Neil said.
O'Neil noted that construction on the vessel is not complete. Major safety and operational systems are still being installed, tested and certified, precluding the possibility of certifying the vessel at this time.
"In addition, Shell must still submit and update numerous engineering plans and equipment for review and verification by the Coast Guard and American Bureau of Shipping (ABS)."
O'Neil said the Coast Guard is in regular daily contact with Shell and the ABS to ensure that Coast Guard reviews are completed promptly as work is completed by Shell and their shipyard.
The shipyard is working rapidly to install and test systems. As such, the list of systems which have not yet been certified is a moving target. The shipyard and vessel operator notify the Coast Guard and ABS when the equipment is available for inspection and certification. Coast Guard inspectors have been working closely with the yard to ensure their availability as needed.
As of July 17, major safety systems such as the primary and emergency power, fire detection and fire extinguishing systems have not been completed. The shipyard and vessel operator are responsible for ensuring that the equipment is installed, tested and certified prior to their desired completion date.
Shell's plans to drill in the Arctic waters offshore Alaska later this summer has met with challenges. This week, the Noble Discoverer (mid-water drillship), one of two rigs Shell will use in its drilling program, drifted off its moorings toward land while anchored off Dutch Harbor, Alaska, Dow Jones reported on July 16.
The company still needs approval from the U.S. Environmental Protection Agency for revised air permit request for its Chukchi drilling program. Shell submitted an application in late June to revise the permit after testing of the Noble Discoverer showed that the current NOx and ammonia limits are not feasible for the drilling program, and that the NOx emission limit be revised and the ammonia limit be removed.
"We are working with the company and are confident that, using the tools we have under the Clean Air Act, we can protect air quality while providing the EPA approvals required for Shell to operate this summer," the EPA told Rigzone in a statement Friday.
Shell's drilling plans continue to face opposition from conservation groups. Alaska Wilderness League, Greenpeace and other groups told EPA Region 10 Regional Administrator Dennis McLerran in an email that EPA should decline Shell's proposal to negotiate a compliance order that would authorize it to operate this year under a permit it will violate.
"Shell's application reveals the company's intention to emit pollution in excess of its current permit limits during this year's drilling season," said the groups in the email. "Moreover, the application contradicts Shell's representation that a modified permit "will not affect compliance with ambient air quality standards."
Shell in early July also submitted an application for a minor permit modification for the Kulluk drilling rig, the second rig Shell will use in its Arctic drilling plans.
Generated by readers, the comments included herein do not reflect the views and opinions of Rigzone. All comments are subject to editorial review. Off-topic, inappropriate or insulting comments will be removed.