Is East Africa the Next Major Oil and Gas Region?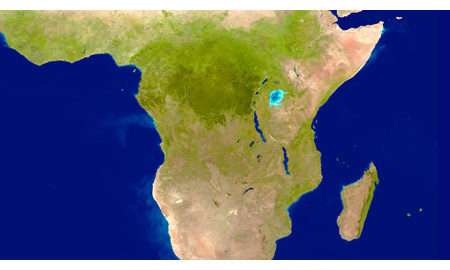 Rigzone Looks Back: The summer of 2012 saw the end of a major takeover battle between Royal Dutch Shell plc and Thailand's PTT Exploration and Production for Mozambique-focused Cove Energy plc. The two firms were fighting over a slice of the vast gas reserves in East Africa, which promises to be one of the world's next major hydrocarbon regions. In this article, Rigzone took a look at the opportunities and activity going on in Mozambique, Kenya, Tanzania and Somalia.
The recently-ended takeover battle between Royal Dutch Shell and Thai state-owned exploration and production firm PTT Exploration and Production (PTTEP) for Mozambique-focused Cove Energy has served to highlight the growing interest that the energy industry has in East Africa.
With East Africa having been ignored for a very long time by oil and gas majors, companies are now scrambling for a piece of the action as the vast reserves of gas there become key to plans to use LNG (liquefied natural gas) as a way of ensuring increased demand for fossil fuels is met during the next few decades.
No company is more conscious of the need to be able to provide gas (the fossil fuel with the lowest carbon emissions) than Shell. At a presentation made earlier this year at Shell's Rijswijk technology center in the Netherlands, Rigzone heard Marjan van Loon, vice president for LNG at Shell Projects and Technology, point out that this year will see the firm turn from being an oil company to a gas company because more than half of its portfolio will be comprised of gas projects.
After recently extending its date for Cove's investors to accept its $1.8 billion bid for the business to July 25, Shell finally gave up on trying to take the company over on July 16 because it was unwilling to match the $1.9 billion that Thailand's PTTEP has made. But given that Shell has already embarked on building a presence in East Africa, where it holds assets in Tanzania, the firm is likely to cast its eye over other potential gas projects in the region.
Mozambique's Rovuma Basin is an offshore zone that looks very rich in natural gas resources. Anadarko, Cove's partner and operator of the Mozambique Offshore Area 1 license, speculated in mid-June that the Rovuma Basin could contain as much as 100 trillion cubic feet of gas after its Atum well made a new discovery there.
No wonder then that both Shell and PTTEP were both keen to get their hands on Cove's 8.5-percent stake in the Rovuma license.
Opening up the Rovuma Delta
Shell and Anadarko are not the only major Western oil and gas companies operating in East Africa. For example, UK gas major BG Group is active in Kenya and Tanzania.
BG Group entered Kenya in 2011, acquiring an interest in two offshore exploration blocks: L10A and L10B. The firm is to be the operator on both blocks, which cover around 4,000 square miles of the southern portion of the Lamu Basin, and it holds equity interests of 40 percent in L10A and 45 percent in L10B. Cove Energy and Premier Oil also hold stakes in these blocks.
2D and 3D seismic surveys over the two blocks were completed in January this year and data from these surveys is currently being processed, with interpretation and mapping scheduled to be completed by the end of 2012.
Two years earlier, BG Group farmed into exploration blocks 1, 3 and 4 in Tanzania. Combined, these blocks cover some 8,000 square miles.
BG Group is the operator of the blocks and has a 60-percent stake in them, with its partner Ophir Energy holding the other 40 percent.
So far, the focus in Tanzania has been on Block 1 and Block 4. In Block 1, BG Group has made discoveries at its Mzia-1, Jodari-1 and Chaza-1 exploration wells, while in Block 4 the firm has made discoveries at Chewa-1 and Pweza-1.
The most recent discovery, Mzia-1, not only found gas resources estimated at between two and six trillion cubic feet, but also opened up what BG Group and its partner Ophir describe as the Rovuma Delta Upper Cretaceous intra-slope play. Overall, Ophir estimates that there is upwards of 30 trillion cubic feet of gross un-risked prospective resources of gas in Tanzania.
"This play-opening result, and other recently announced drilling, have now proven the Upper Cretaceous slope play on the Tanzanian side of the Rovuma Delta and de-risked an inventory of adjacent prospects of similar age. The success at Mzia-1 is a major step towards a Tanzanian LNG hub development in Block 1," Ophir CEO Nick Cooper said in a statement at the time of the discovery in mid-May.
Courtesy of Africa-focused super-independent firm Tullow Oil, China's CNOOC and France's Total are now involved in Uganda's Lake Albert Rift Basin.
Tullow has been active in exploring the Lake Albert Rift Basin since 2007, and early this year, after it signed two production sharing agreements with the Ugandan government, it successfully completed a partial farm-down of its acreage there to CNOOC and Total for $2.9 billion.
Total is operating Exploration Area-1, with Tullow operating Exploration Area-2. In the former Exploration Area-3A, CNOOC is operating the new Kanywataba license and the Kingfisher production license.
With 1.1 billion barrels of oil equivalent (on a P50 basis) already discovered in the Lake Albert Rift Basin, Tullow believes the basin contains significant further resource potential.
Meanwhile, Tullow is also active in Tanzania, Kenya and Ethiopia in East Africa as well as in the East African island nation of Madagascar.
Ngamia Well Impresses
In Kenya, Tullow signed agreements with Africa Oil and Centric Energy in 2010 to gain a 50-percent operated interest in five Kenyan licenses, covering the Turkana Rift Basin – which is similar in character to the Lake Albert Rift Basin.
Tullow began drilling its first well on Block 10BB of the Kenyan basin in January this year before reporting in March that this well – Ngamia-1 – had discovered more than 65 feet of net pay. In May, Tullow announced the well exceeded expectations and had encountered further oil and gas shows over a gross interval of around 450 feet at a deeper depth.
Oil analysts who follow the company from London were impressed. In early July, a Morgan Stanley research note on Tullow described the fact that the Ngamia well had encountered two very thick oil-bearing intervals as having "materially exceeded expectations and significantly derisks the basin's wider potential".
Morgan Stanley pointed out that Tullow has identified more than 100 additional targets throughout seven nearby basins, each of which has the potential to surpass one billion barrels of oil equivalent.
While Tanzania has been described as "the jewel in the crown" among Ophir Energy's assets, the independent oil firm has also become active in Kenya. It is likely to begin drilling there in the first quarter of 2013 after carrying out 3D seismic in the country this year.
Meanwhile, East Africa is not just the preserve of majors and large independents. A number of junior oil and gas explorers are active in the Puntland region of Somalia.
Horn Petroleum, Range Resources and Red Emperor Resources are three juniors that are currently drilling in the region.
In May, Horn announced that it had encountered further oil at its Shabeel-1 well in Puntland, with oil analysts who are following its progress arguing that it raises the potential of the well being a commercial discovery. In June, Horn reported that it had spud a second well, Shabeel North, in the region.
Although the Shell/PTTEP takeover battle for Cove is now over, further major discoveries in East Africa will likely drive plenty more majors and national oil companies to become involved in consolidating the region's oil and gas sector in the near future.
Generated by readers, the comments included herein do not reflect the views and opinions of Rigzone. All comments are subject to editorial review. Off-topic, inappropriate or insulting comments will be removed.