Brazil Berates Chevron for Frade Oil Spill, But Production to Restart
by Dow Jones Newswires
|
Brian Asher
|
Thursday, July 19, 2012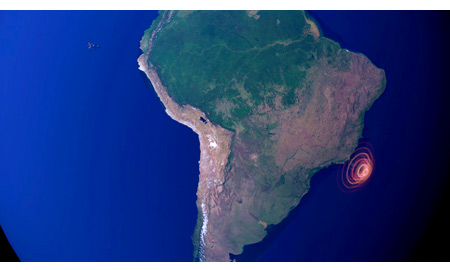 RIO DE JANEIRO - Brazil's oil regulator on Thursday laid heavy criticism on U.S. oil company Chevron Corp. for an oil spill at an offshore field last November, but said it has no objections to the firm restarting production.
Some 3,700 barrels of crude oil leaked from the Frade oil field as a result of an accident which could have been avoided had Chevron followed its own safety procedures, Magda Chambriard, head of the National Oil Agency, or ANP, told reporters at a press conference.
The size of the spill was higher than the ANP's previous estimate of 3,000 barrels. Chevron has said that the spill amounted to 2,400 barrels.
The director general spoke at the publication of the ANP's final report into the spill at Frade, which lies in Atlantic waters of Brazil's southeast coast. The report has been delivered to Chevron and to Brazil's government-run oil company Petroleo Brasileiro SA, a partner in the Frade field, and will be released to the public on Friday, Chambriard said.
Chevron will be fined close to the maximum 50 million Brazilian reais ($25 million), said Chambriard, although she reiterated her regret that rules don't allow for heftier fines. The total fine for 25 infractions will be determined within 30 days, she said.
The ANP is discussing possible reform to the system of fines with the Mines and Energy Ministry, she said.
Chambriard said Chevron will present its request to restart production at Frade on July 27, and the regulator said she has no objection. The firm had asked ANP to be allowed to suspend production in March after a second leak was discovered close to Frade.
But water injection into the Frade well remains suspended, as does further drilling, Chambriard said. To resume those activities, Chevron must show it understands causes of accident and has taken measures to limit risks of future accidents, she said.
The official said the ANP is still investigating the March incident, and that more fines could be applied relating to that case.
Meanwhile, Chambriard said that it found no fault with the steps taken by drill rig operator Transocean Ltd., and it hasn't taken any measures against the company.
Chevron and are facing civil and criminal lawsuits for their roles in the incident at the Chevron-operated Frade offshore oil field. Both companies have denied any wrongdoing.
Generated by readers, the comments included herein do not reflect the views and opinions of Rigzone. All comments are subject to editorial review. Off-topic, inappropriate or insulting comments will be removed.