Antenna Heat Fuels Oil Sands Recovery Process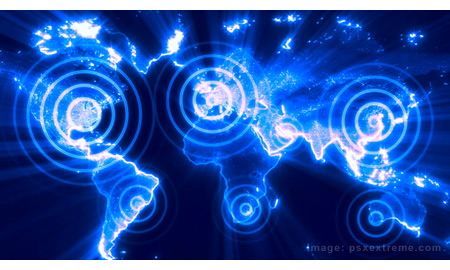 A new process that uses antenna heat to enhance oil sands recovery has been successfully tested by a consortium that includes Laricina Energy, Nexen, Suncor Energy, and Harris Corporation, with plans for a pilot project to be conducted next year.
Global communications and information technology company Harris Corp., which has been mostly focused on providing communications to a number of industries, including oil and gas, aerospace and defense, unveiled this new application of technology at the Global Petroleum Show in Calgary in June.
The electromagnetic heating technology was first evaluated and tested in Florida, then moved to Fort McMurray for the proof-of-concept field testing. The test took place at Suncor's Steepbank mine facility north of Fort McMurray.
Technology Discovered by Accident
Harris was working on a project for a horizontal directional drilling company when a drilling company consultant asked if the ground could be heated using some of Harris' antennas.
"We do it by accident all the time," said Travis Berrier, who works in business development for Harris.
The consultant suggested Harris talk to Canadian oil sand producers, including Laricina, Suncor and Nexen, who were seeking to enhance oil sands recovery while reducing greenhouse gas emissions and operating costs.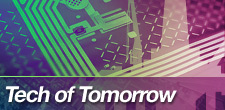 Learn More
After determining that propane or methane be used as a solvent to make the bitumen flow through the ground once it was heated, officials from Harris and the oil sand consortium "had a epiphany" about using radio frequency and solvents together to heat and move the bitumen, said Derrick Ehresman, project manager for Harris in Alberta, in an interview with Rigzone.
The project was formed in 2009 to meet a challenge put forward by the Climate Change and Emissions Management Corporation (CCEMC) for developing a new recovery method for oil sands that was more efficient and environmentally responsible than existing processes. The consortium is providing 50 percent of the funding for the $33 million program, with CCEMC funding the other half.
Alberta-based CCEMC is a non-profit, independent organization mandated to expand climate change knowledge, develop new clean technologies and explore practical ways of implementing them. The organization identifies technology areas that need to be addressed in both the renewable and non-renewable energy industry fund new, novel technology processes to help reduce or eliminate greenhouse gas emissions.
"ESEIEH is a key project for the CCEMC and Alberta, and offers the potential to reduce greenhouse gas emissions during oil sands production. The ESEIEH team is making excellent progress and we look forward to the upcoming pilot project," said Eric Newell, Chair of the CCEMC, in a statement.
How It Works
The radio frequency emitted from the antenna preheats the bitumen, allowing the solvent to dissolve the bitumen more quickly, said Dr. Mark Trautman, chief technologist for the project team. The combination of the two causes a large reduction in the oil's viscosity.
By using this method, the formation does not have to be brought up to steam temperature. By not having to bring the formation up to steam temperature, it allows for reduced greenhouse gas emissions. In fact, it can be a greenhouse gas emission-free process if the power source comes from a wind power source, said Mark Blue, a system engineer for the project.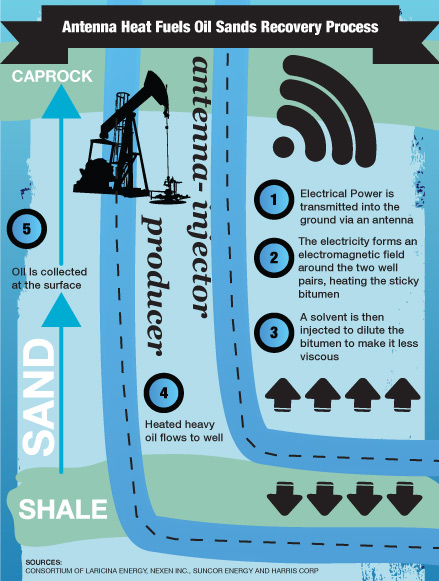 The technology can also lower costs because of a smaller initial capital investment is needed versus the cost of steam systems, which could mean some pay zones that are not economically feasible to produce with existing methods could now financially be within reach.
"Because it's electrically based, the technology is scalable, meaning a smaller oil field can be produced," said Blue.
The "elegant" form of heating allows for a level of temperature control and depth of penetration not available with steam processes, said Berrier.
While Harris can't release details, the economics of the technology look good enough for the consortium to advance to the next stage of testing, said Travis Berrier, head of business development for the project team.
The company is primarily focused on the technology's application for in situ oil sands mining. Approximately 1.6 million barrels per day of crude oil are currently being produced through surface mining and in situ recovery processes in Alberta. In situ processes, including steam assisted gravity drainage (SAGD) and cyclic steam stimulation (CSS) now contribute roughly half of the total daily production from the Canadian oil sands.
Mining and in situ processes use hot water or steam to separate bitumen from the sands, requiring both water and energy. These two key factors affect environmental performance and associated capital and operating costs in oil sands development.
However, the technology could also be applied to a wide array of heavy oil plays in Canada and the United States, allowing oil and gas companies to produce oil remaining in wells considered depleted.
Harris also provides the radio emergency response system for the Alberta province, and provides communications services to the oil and gas industry through Harris Caprock Communications. Harris Caprock is the second largest consumer of satellite bandwidth after the U.S. government; much of that bandwidth is used by oil and gas producers.
Generated by readers, the comments included herein do not reflect the views and opinions of Rigzone. All comments are subject to editorial review. Off-topic, inappropriate or insulting comments will be removed.