First Ladies of O&G: Frontline Females Retrace Steps Forward
by Robin Dupre
|
Rigzone Staff
|
Thursday, July 12, 2012
In the southern part of the United States, past the bayous and swamp lands, lies an offshore world that was once only too familiar to men. An offshore oil rig is home, for a short period of time, to many men and women working in the energy industry.
These cramped quarters, where men and women live together for weeks at a time forces them to mesh, complement and live as one. But what many newcomers fully don't comprehend is what it took – mistakes, experiences and life changing events – for the gender differences to become obsolete in the eyes of the roustabouts and roughnecks manning the drill.
"I have no clue what it is like for women in the oil field today," stated Martha Scott, a retired oil rig worker. "For me, one of the female pioneers in the oil field, I believe it could be summed up as respect and forgiveness. It was new for all of us… and there needed to be a respect to the new ground that we were treading, as well as forgiveness for transgressions that might occur while learning the way of this new path."
In 1964, the federal government passed the Civil Rights Act prohibiting employment discrimination based on race, color, religion, sex and national origin. A year before, the Equal Pay Act of 1963 was entered, protecting men and women who perform substantially equal work in the same establishment from sex-based wage discrimination.
These two laws helped pave the way for Martha Scott and Valerie Hensley, two best friends that met on an oil rig in a male-dominated industry with the same goal in mind – to make a good living working hard in the oil and gas industry, just like everybody else.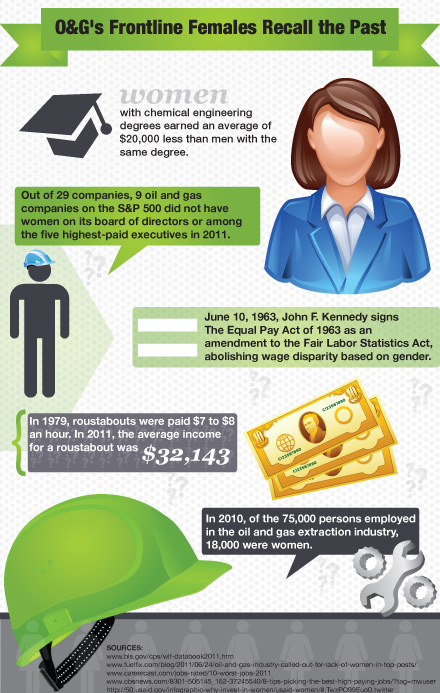 "I went to the Mobil office in Houston around January/February 1979 and filled out an application for one of their offshore divisions," recalled Martha Scott. "I was called to interview and told they would be having a new platform they would be manning but it would be three to four months before they were ready. And the rest, as they say, is history."
As for Valerie Hensley, she also was looking to enter the oil field. When probed as to why, she simply stated, "why, the money, of course. As a roustabout, the companies were paying $7 to $8 an hour, more than double the minimum wage back then."
She had interviewed and field tested at several plants in the Corpus Christi area but did not get a call back. As with any new hire, knowing somebody in the inside is a big help in landing an entry-level position in this tight-knit industry. Her father worked for Mobil Pipeline and got her an interview with the hiring manager at Mobil Oil.
"I don't know how it is now, but in those days, there was hardly anyone, man or woman, who was not blood related to someone who worked in the industry. Around these parts of the world, it seems oil pays for the food on our tables and places the roof over our heads," Hensley said.
It is no secret that the energy industry--still one of the hardest for women to break into--is largely dominated by white men. The energy industry is one of the few with less than 25 percent of female representation. And women today still face more challenges than most men when it comes to pay raises, promotions and career growth.
But for these two ladies, they entered a world not familiar to anyone around them. Expectations weren't involved and there weren't issues to over come, they were pioneers.
"What you need to understand is that I was working with not only the new generation, my generation, but with the 'old timers' – the guys who'd been in the oil field for many years," claims Scott. "Some that had been working since they were 16 and from the 50s era and they were now approaching their elder years. When I started in this industry, you didn't see what you see now with women holding executive positions and having lives outside of the home, there was a whole generational change taking place. The young were moving in and would soon be taking the place of those that were going to retire. And, as is nature, with the new people came new ideas and changes."
Dr. Zara Khatib, Shell's technology manager in United Arab Emirates and an expert on technical matters in the oil and gas industry, shared the same sentiments. Working as an oil and gas engineer in the 1980s required her to venture to places where no woman had set foot before.
"Men didn't know how to react and behave with women around them, because neither their mother or sister or wife worked," Khatib said. "So they've never been in a working environment with women working alongside them. When I used to go offshore, on the first day… they were scared…not only the fact that I am so knowledgeable but that I am a woman. The second day they started realizing I'm competent, I know what I'm talking about, I'm trying to help them. The third day, they work with you."
Regardless of age or when they entered the industry, many women--and men--respect the pioneering women who created today's working environment.
"We weren't resentful at all," stated Alan Goodnight, an oil rig worker. "What was hard was the adjustment to treating the women like one of the guys, without going too far for fear of sexual harassment. But really, I was young then and I never thought there was anything wrong with women working offshore."
Randy Kell, a fellow oil rig worker that worked with Hensley and Scott, commented, "I thought it took a lot of chutzpah to spend half of your life living among a bunch of oil field men at a time when every offshore shop had a rigid pipe calendar on the wall. To put up with the innuendos and catty comments took a special type of woman. Most of us respected them because they did the job they were there to do. I don't remember ever having to operate because they couldn't. I might have been called to fix something for them, but never to operate something for them."
However, Hensley recalled something slightly different, "I [once] sat a co-worker down that didn't like me and I talked to him. I told him that the government mandated that women be in this workplace and I would fight to stay. If he succeeded in running me off, he might just get a replacement that he liked less than myself. I think the old guy got a kick out of the conversation, that I had spunk to approach him and validate his feelings. This man was close to 60 years old."
"Some of those older guys felt indignant about sleeping in the same room as a 21-year-old-woman; they felt it was inappropriate – their wives felt it was inappropriate. No other arrangements were possible and no one cared how these older guys felt about the sleeping arrangements. The younger guys, of course, had no problem with sharing a room," she added while laughing.
Linda Adamany, a retired group vice president for Commercial Directorate and Business Support, Refining and Marketing at BP, stated that "While at times I did have to overcome obstacles that were more challenging than they needed to be, these were the exception rather than the norm. And I suspect most people will experience the same 'unfair' challenges at some point in their career, regardless of employer or gender or race or religious belief or sexuality."
"Overall, I still believe that competence, confidence, hard work, and collegial attitude will win the day. Tough - absolutely. Sacrifices will need to be made, especially in terms of time commitment and career/home life balance. But if one is willing and able, I believe the door is wide open," Adamany added.
This article is the first of a three-part series focusing on women pioneers in the petroleum industry. Check back next week to view the second article.
Generated by readers, the comments included herein do not reflect the views and opinions of Rigzone. All comments are subject to editorial review. Off-topic, inappropriate or insulting comments will be removed.