Australia's LNG Industry Confronts Issue of Rising Project Costs
by Quintella Koh
|
Rigzone Staff
|
Wednesday, July 11, 2012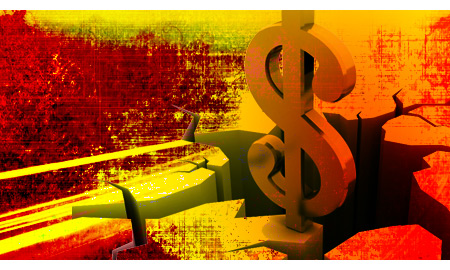 Australia, taking advantage of its proximity to Asia, is home to more than 70 percent of liquefied natural gas (LNG) projects under construction worldwide, putting it on course to become the epicenter of LNG production from 2016 onwards.
As of February 2012, several new Australian projects have been approved at a rapid pace, with six being kicked off in the past 18 months, bringing the total to seven world-scale projects being sanctioned or commencing construction.
But LNG operators have now discovered that building a world-scale LNG plant at present will not come cheap.
A string of announcements released over the last few weeks throws light on the challenges that LNG operators are facing when piloting new projects in Australia, with budget-blowouts as the overwhelming headache plaguing industry players.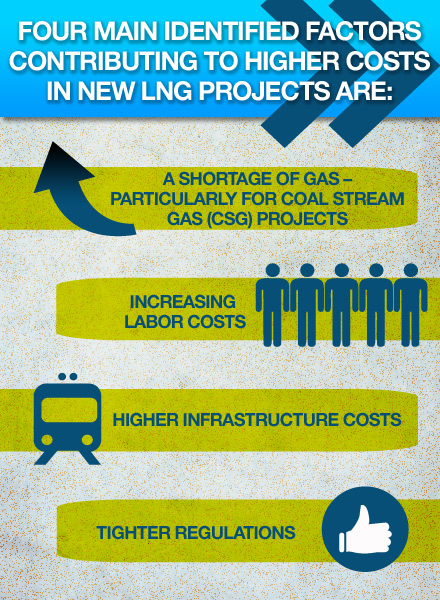 Addressing the issue of gas shortages, Peter Kiernan lead analyst of the energy team in Economist Intelligence Unit told Rigzone that for CSG projects, the problem lies with an under-estimate of the number of wells that a project needs to drill in order to meet its contracted supply.
This appears to be the problem that Australia's Santos is grappling with. On June 28, 2012, the company said in a statement that it would bring forward a $2.5 billion expenditure which was initially slated to be spent after 2015. Santos had acknowledged in its announcement that its Gladstone LNG (GLNG) project will increase by 16 percent to $18.5 billion and that it needs to scour for more gas ahead of its planned 2015 start-up in Gladstone.
Santos' GLNG project was conceived to convert coal stream gas (CSG) to LNG in the Bowen and Surat Basins. The project involves the construction of a 260-mile (420-kilometer) gas transmission pipeline from the gas fields to Gladstone. The Gladstone plant will consist of two LNG trains and port development infrastructure.
Commenting on the problem of increasing labor costs, Kiernan said that the issue lies mostly with a "skills bottleneck". "There are so many projects going on in Australia, so there is keen competition for skilled labor," Kiernan explained. "The new LNG projects have kick-started demand for everything from front-line managers to engineers," said the Australian Petroleum Production & Exploration Association via Immigration Solutions Australia's website.
Meanwhile, there is also the issue of construction costs to grapple with. According to a published report by Australia's Bureau of Resources and Energy Economics (BREE) on June 11, 2012, construction costs are relatively higher in Australia compared with other regions due to the remote locations of offshore gas reserves in the country. BREE pointed out that the Gorgon and Wheatstone projects have a capital cost of around $3 billion per million tonne of annual capacity, while the Ichthy project has a cost of $4 billion per million tonne of annual capacity. By comparison, the Angola LNG project in southern Africa has a capital cost of below $1.7 billion per million tonne of annual capacity.
On the regulatory front, the Queensland and New South Wales government recently introduced policies to ensure the protection of prime agricultural land, BREE said. The Queensland government introduced a Strategic Cropping Land Policy Framework to protect prime agricultural land while allowing development of the CSG industry. The New South Wales Government has implemented a Gateway Process, which requires CSG development proposals with 1.2 miles (2 kilometers) of strategic agricultural land to be assessed by an independent expert panel prior to proceeding with development applications.
The operators behind two high-profile LNG projects made recent moves to raise funds, likely in part to deal with the challenges of managing labor, construction and regulatory-compliant costs.
The first project involves Australia's BG Group, while the second project concerns U.S. major ConocoPhillips and Australia's Origin Energy.
Australia's BG Group said in a statement on June 20, 2012, that it has committed to $2.07 billion worth of hybrid bonds in part to fund its Queensland Curtis LNG (QCG). In early May, BG Group had revealed that it would need to spend $5.4 billion more than it had originally estimated for its LNG project in Queensland, taking the expected project cost up to $20.4 billion. Later in the month, the company sold its 40-percent equity interest in two gas-fired power generation plants in the Philippines for cash proceeds of $360 million, and 60.1 percent of its holding in Brazil's Comgás for $1.7 billion.
The QCG project involves expanding the company's CSG production in the Bowen and Surat Basins. The project will also see a 336-mile (540-kilometer) pipeline built and a LNG plant on Curtis Island, near Gladstone.
Determined not to fall behind, U.S. major ConocoPhillips and Australia's Origin Energy had also moved in quickly to shore up on the Australian Pacific LNG (APLNG) project funds. The two companies announced in separate statements on July 4, 2012, that they had diluted their stakes in the Australian Pacific LNG (APLNG) project by allowing China's Sinopec to increase its interest in the project. The agreement signed between the three companies saw Sinopec raise its ownership in the APLNG project from 15 percent to 25 percent, while Origin and ConocoPhillips will each see their individual stake reduced to 37.5 percent.
In addition, Origin also made its intent to further dilute its stake in the APLNG project apparent.
"Origin's remaining funding requirement for its 37.5 percent of APLNG for the period from July 1, 2012, to first production from both LNG trains is approximately $3.7 billion. Any dilution of Origin's interest in APLNG below 37.5 percent will improve this funding position," Origin said.
The APLNG project, which involves developing the Bowen and Surat Basins, aims to convert CSG to LNG. A 323-mile (520-kilometer) gas pipeline will link the gas fields to the two-train LNG facility in Gladstone. APLNG's Gladstone plant will house two 4.5 million tonnes per annum (mtpa) CSG-to-LNG trains. The first train will start its first LNG exports from mid-2015, while the second train is scheduled to commence its first LNG exports from early-2016.
Despite the current spotlight on the new CSG-LNG ballooning costs, Kiernan believes that industry watchers should not be overly-alarmed despite having to wrestle with increasing costs; the new CSG-LNG projects will eventually be completed as there is strong underlying demand from Asia.
BREE's published report also supports Kiernan's view. The bureau said being located at a shorter distance from key markets, such as Japan, South Korea and China, means that relative to LNG projects located in the Middle East or the Atlantic Basin, Australia LNG projects are more competitive because of the shorter shipping time required and lower costs associated with fuel and manpower.
"Growth in global demand for gas over the medium to longer term is expected to be robust, especially in emerging economies," BREE said. "Australia is well placed to continue to supply the large existing markets of Japan, South Korea as well as the growing Chinese market," BREE added.
Generated by readers, the comments included herein do not reflect the views and opinions of Rigzone. All comments are subject to editorial review. Off-topic, inappropriate or insulting comments will be removed.
RELATED COMPANIES