Arctic Dominates Debate at Russian O&G Summit
by Jon Mainwaring
|
Rigzone Staff
|
Monday, July 09, 2012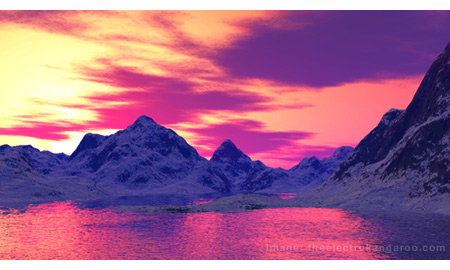 The Arctic region dominated discussions at the Next Generation Oil & Gas Summit Russia-CIS held in St. Petersburg last week.
Attended by Rigzone, the summit brought together exploration and production executives, suppliers to the upstream sector and energy academics.
Key issues discussed at the summit included the reliability of estimates of hydrocarbon resources and reserves in the Arctic region and the question of how soon these fields could be put into production. Meanwhile, an entire session was devoted to the logistical problems of operating in the Arctic.
Other Arctic themes included the potential for the militarization of the region and the need for cooperation and collaboration between states and between oil and gas companies.
At a session titled 'Outlook for the Development of Arctic Hydrocarbon Deposits' that kicked off the first day of meetings and workshops at the summit, Vladimir Pavlenko – director of the Arctic Research Center at the Russian Academy of Sciences – pointed out that both Russia and the United States believe there are vast amounts of hydrocarbons in the Arctic region.
For example, according to a 2008 U.S. Geological Survey report there are at least 90 billion barrels of undiscovered, technically-recoverable oil, along with 1,670 trillion cubic feet of recoverable natural gas north of the Arctic Circle. Meanwhile, Russian oil and gas major Rosneft believes there are 21.5 billion tons of oil equivalent (147 billion barrels of oil equivalent) in the four license blocks it owns in the Barents and Kara seas.
Pavlenko also pointed out the cooperation between Russian and Western companies. This includes Rosneft's collaboration with ExxonMobil in the Kara Sea and the two companies' establishment of the Arctic Research and Design Center for Offshore Developments in St. Petersburg.
Meanwhile, Pavlenko added, Russia has worked with Norway and other countries toward common solutions for Arctic problems, including "moving quite far along the road" in dealing with environmental issues in the region.
Militarization of the Arctic?
However, Pavlenko also raised the question of the potential for militarization of the Arctic, pointing out that senior figures in the U.S. defense establishment see the region as a potential theater of war. While conceding that Russia is also concerned with security issues in the Arctic, he made the point that, so far, there has been no build up of a military presence by the Russian Federation.
Responding to the question of Arctic militarization, Thomas Quigley of TNK-BP pointed out that 95 percent of projected reserves are within clearly defined national boundaries.
"The biggest dispute actually is between the USA and Canada. So, it's hard to imagine that they are going to militarize and go to war over their... Arctic reserves. Norway and Russia had a dispute that they've now settled. So people are coming together to resolve these disputes," he said.
"In terms of cooperation, there are multilateral bodies being formed. We've got the Arctic Council for example, which is encouraging people to cooperate on things like search and rescue operations in the Arctic and in [2008] there was something called the Ilulissat Declaration where all the parties with an interest in the Arctic agreed that they would settle disputes in a peaceful manner. So I think this idea of militarization – vast armies and military technology in the Arctic – is just crazy."
Quigley, a Russia oil and gas specialist who currently serves as vice president for Yamal-based oil and gas projects at TNK-BP, believes that the development of hydrocarbon fields in the Russian Arctic will take place in two phases.
"In terms of time frames, within… five years you will see a lot of onshore development: a lot of gas being brought to market and new pipelines being built. Offshore, it will be a longer time frame – five-to-10 years – before we see production," he said.
Also on the panel at the summit's first session was Sergiy Khafizov, GazpromNeft's first deputy director. Khafizov was concerned that not enough was being done to make public information about resources and potential reserves in the Arctic, so that companies could make better investment decisions.
"If we don't have recoverable reserves to extract there will be nothing for us to discuss and no one knows what is there yet," he said.
Logistics and the Northern Sea Route
The afternoon of the first day of the summit saw Mikhail Grigoryev – director of St. Petersburg's Geological Consulting Center and a scientific adviser to the Russian Federation – chair a discussion on the development of logistics for existing and planned hydrocarbon projects.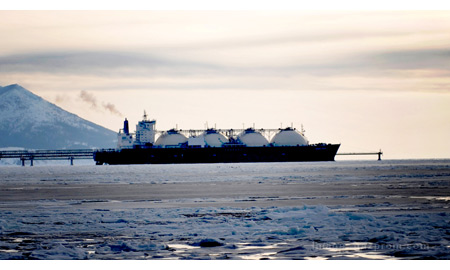 One of the key solutions for getting oil out of the Arctic and into markets where it is needed will be the increasing use of icebreakers in the region. This means the Northern Sea Route – from the Barents Sea via Siberia through to the Bering Strait – could be more easily used to access markets in the Far East rather than going the long way around the world via the Suez Canal.
Grigoryev pointed out that this month saw the Russian state atomic energy corporation, Rosatom, announce a tender for the construction of the world's largest nuclear-powered icebreaker. The 568-feet long and 112-feet wide vessel will be capable of breaking through ice up to 9.2-feet thick at a speed of two knots, and it is expected to be put into operation in 2017.
A new class of such icebreakers is expected to lead oil tankers through the Northern Sea Route.
Meanwhile, another important logistics issue is the limited search-and-rescue capability available currently in the Arctic region. Grigoryev pointed out that this means insurance premiums for commercial activities in the region are exorbitant, although some progress is being made in this area with May 2011's signing by Arctic states of an Agreement on Cooperation in Aeronautical and Maritime Search and Rescue at Nuuk, Greenland.
A major question regarding logistics is who will be responsible for Arctic supply bases for offshore projects in the region. Grigoriev explained that a key reason why the potentially 130 trillion cubic feet-containing Shtokman field, operated by partners Gazprom, Total and Statoil, has not yet been developed is because of the extreme conditions in the part of the Barents Sea where it is located.
While the Shtokman Development Company aims to avoid the problem of floating icebergs by using floating, removable platforms, there will also be a "tremendous investment" required to build and maintain supply bases in onshore areas close to these platforms, as well as roads to be built.
Marc Brenneiser, CEO of STS Logistics, warned that Russian oil and gas firms operating in the Arctic should not expect logistics providers to simply invest in the Arctic as they have done in other regions that are rich in oil and gas around the world, while Grigoryev wondered if operators might have to be responsible for their own supply bases.
Away from the Arctic, delegates at the NG Summit O&G Russia-CIS also witnessed more technical presentations by companies such as EvoLogics and NXT Energy Solutions.
Evologics CEO Rudolph Bannasch explained his company's marine biology-inspired communications technologies that are used in a number of deep sea and shallow water applications. Grafton Withers, vice president for marketing and sales at NXT, made a presentation about a "revolutionary" survey system, called Stress Field Detection, that NXT uses to remotely identify potential hydrocarbon traps and reservoirs.
Rigzone plans to publish articles that look into these two companies' technologies in the near future.
Generated by readers, the comments included herein do not reflect the views and opinions of Rigzone. All comments are subject to editorial review. Off-topic, inappropriate or insulting comments will be removed.