ONGC May Invest $8.8B to Acquire Assets Overseas by 2017
by Dow Jones Newswires
|
Rakesh Sharma
|
Friday, June 29, 2012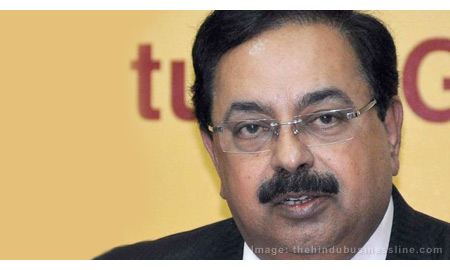 NEW DELHI - Oil & Natural Gas Corp. (ONGC) may spend as much as 500 billion rupees ($8.8 billion) over the next five years to buy oil and gas assets globally, Chairman Sudhir Vasudeva said told Dow Jones Newswires in an interview late Thursday.
The planned investment is part of the explorer's plans to boost production from overseas assets sixfold by 2030.
India's most profitable company may also sell a stake in domestic oil and gas blocks to ConocoPhillips to strengthen an existing alliance for shale gas and deepwater exploration in the country, Mr. Vasudeva said.
"In our 12th plan projection [through March 2017], we have outlined an investment of about INR900 billion for ONGC Videsh Ltd., of which about INR500 billion will be for acquisitions," he said, adding that the plan is provisional and can vary depending on the opportunities available.
ONGC Videsh is the company's wholly-owned overseas investment unit.
ONGC's domestic production has been weighed down by ageing oil and gas fields. The state-run company is also underexposed to alternative energy resources such as shale gas, oil sands and deepwater assets, compared with global peers.
Mr. Vasudeva said overseas assets account for about 15% of total production and the company aims to grow it to 45% by 2030. It is also considering a listing of ONGC Videsh to raise funds for expansion and overseas acquisitions. He didn't give a timeline for the listing.
ONGC Videsh has so far invested about INR668 billion to acquire and develop oil and gas assets in more than a dozen countries. Its share of production from these assets was 6.21 million metric tons of oil, or 124,200 barrels a day, and 2.54 billion cubic meters of gas last fiscal year ended March 31.
In the past few months, ONGC signed initial pacts with ConocoPhillips, China National Petroleum Corp. and Ecopetrol as a part of an expansion strategy.
ConocoPhillips will help ONGC expand its footprint in shale gas and deepwater exploration and CNPC in jointly acquiring overseas assets.
India has lagged China in acquiring energy assets worldwide and ONGC is now keen to collaborate with China in this area.
"We can't really compete with China. The best thing would be to collaborate with China," Mr. Vasudeva said.
ONGC and CNPC are in the process of forming teams that will jointly look for assets to meet the growing energy needs of India and China.
ONGC's aim to boost production from overseas assets sixfold is part of its strategy to double total output 2030.
Local production has been declining for the last five years and ONGC has been investing in small and marginal fields to boost output.
Mr. Vasudeva said 80% of the company's domestic production comes from 15 of 110 producing fields and all of them are 35-50 years old.
Production, including joint ventures, reached 26.92 million tons of oil, or 538,400 barrels a day, and 25.51 billion cubic meters of gas last year.
Mr. Vasudeva expects it to rise substantially from next year, when some new fields will come into production.
Generated by readers, the comments included herein do not reflect the views and opinions of Rigzone. All comments are subject to editorial review. Off-topic, inappropriate or insulting comments will be removed.
RELATED COMPANIES