Norwegian Workers Remain On Strike, Statoil Shuts Oseberg Platforms
by Quintella Koh
|
Rigzone Staff
|
Wednesday, June 27, 2012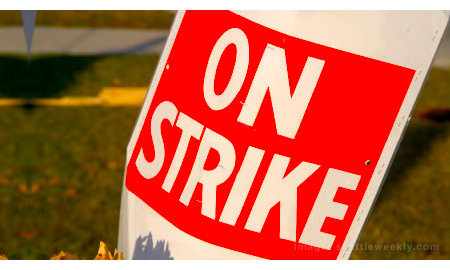 Norway's Statoil is forced to shut several of its key oil platforms in the North Sea due to a strike initiated by 708 workers on June 24, 2012, the Norwegian Oil Industry Association (OLF) said Tuesday.
Hopes of a quick resolution were dashed when the OLF reported Tuesday that the offshore workers have downed tools, resulting in a mass shutdown of the
Huldra
, the
Brage
, the Veslefrikk A and B, and the Oseberg C platforms. These platforms are tied back to the Oseberg field center in the North Sea.
"Since personnel at the field centre are on strike, transport of oil and gas from the surrounding platforms must also cease," Jan Hodneland, chief negotiator for the OLF in a statement.
The new shutdowns means that Statoil will stand to lose 52,000 barrels of oil and 2.8 million cubic feet of gas each day, Hodneland added.
Hodneland estimated that the strike is costing NOK 180 million ($30 million) per day. This is up NOK 30 million ($5 million) from his earlier estimate on June 24, 2012.
"Pension terms for all employees in Norway have been changed through the reform recently approved by the Storting (parliament). Everyone will have to remain at work longer. The offshore workers are placing themselves apart from the rest of society by demanding extraordinarily good pension terms from the age of 62," Hodneland said.
In addition to Statoil, the strike also involves employees of British oil giant BP's Norwegian division and ESS Support Service, owned by the British Compass Group. The BSS-ESS operated Skarv field is affected as well, as plans to start production on the field in the autumn will be delayed.
Oseberg is a Statoil-operated offshore oil field in the North Sea located 87 miles (140 kilometers) northwest of the city of Bergen. The Heidrun oil field is an oil and gas field located 109 miles (175 kilometers) west of Kristiansund while the
Skarv
field is sited 22 miles (35 kilometers) north of the
Norne
field and 28 miles (45 kilometers) south of the Heidrun field.
Oseberg is a critical oil field as crude produced from it forms part of the Brent Index. The index represents the average price of trading in the 21-day BFOE (Brent Blend, Forties, Oseberg, Ekofisk) market in the relevant delivery month as reported by the industry media.
News of production disruptions in Oseberg field have caused Brent futures to rally since the start of this week.
"There is a shortage of North Sea Brent in the spot market at present. The ongoing strike in Norway means that there will be a further upside for Brent futures. The possibility of Brent futures touching $99/barrel is very real," Newedge brokerage analyst Ken Hasegawa told Rigzone.
RELATED COMPANIES