Ensco Exercises Option for Ultra-Deepwater Drillship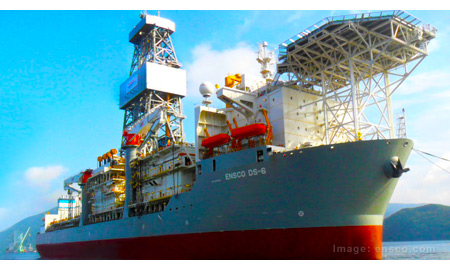 Rising customer demand has prompted London-based Ensco Plc to order its second ultra-deepwater drillship in the past three months.
Ensco said Tuesday it would exercise one of two options for the construction of an ultra-deepwater drillship based on the Samsung GF 12000 hull design.
The vessel, ENSCO DS-9, will be the seventh Samsung DP3 drillship in the Ensco fleet. The drillship will be built at Samsung Heavy Industries Co. Ltd. Shipyard in South Korea. Delivery is scheduled for the fourth quarter of 2014.
Ensco on April 5 ordered ENSCO DS-8, the first drillship based on the GF12000 hull design. Construction cost of the latest drillship ordered is expected to be comparable to the estimated cost of approximately $645 million for the ENSCO DS-8.
The new drillship will measure 755 feet in length and 125 feet in width, and offer a payload in excess of 22,000 metric tons and a 1,250-ton hoisting system. It will initially be outfitted for drilling in up to 10,000 feet of water, but will have advanced capabilities to meet the demands of ultra-deepwater drilling in up to 12,000 feet of water and drilling to a total vertical depth of 40,000 feet.
The drillship will also be outfitted with:
dynamic positioning in compliance with DP3 certification
six 5.5 MW thrusters for enhanced stationkeeping
expanded drilling fluids capacity
a 15,000-psi subsea well control system with six rams;
upgradable to seven rams and/or a second blowout preventer stack
burner boom for well testing and living quarters for up to 200 workers
"Customer demand has continued to rise and has become even more broad-based due to new discoveries in emerging basins," said Ensco Chairman, President and CEO Dan Rabun in a statement.
"The near term supply of deepwater rigs is limited and we believe supply-demand dynamics will continue to support favorable day rates, which have risen sharply in the past year," Rabun commented.
.
A fourth drillship, ENSCO DS-6 (UDW drillship), is undergoing pre-commissioning modifications in preparation for its first assignment, a five-year contract with BP. ENSCO DS-7 (UDW drillship) and ENSCO DS-8 (UDW drillship) are scheduled for delivery in the second quarter of 2013 and third quarter of 2014.
Generated by readers, the comments included herein do not reflect the views and opinions of Rigzone. All comments are subject to editorial review. Off-topic, inappropriate or insulting comments will be removed.
RELATED COMPANIES
Company: ENSCO International Incorporated
more info