O&G Producers Redeploy US Gulf Staff As Debby Declines
by Dow Jones Newswires
|
Angel Gonzalez
|
Monday, June 25, 2012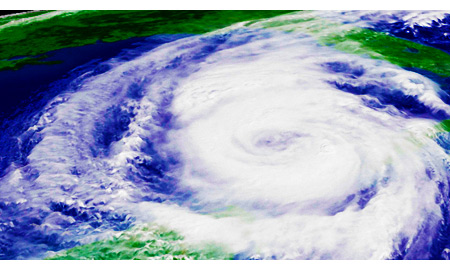 HOUSTON - Energy companies in the U.S. Gulf of Mexico moved to restaff their offshore operations as nearly half of the oil production and a third of the natural gas output in the region lay interrupted by an unusually early brush with a major storm.
The National Hurricane Center said Monday that Debby, the fourth named storm of the 2012 Atlantic hurricane season, was weakening on its way to the Florida Coast, away from the offshore facilities responsible for nearly a third of the oil produced in the U.S., and an eighth of its natural gas.
As of 12:30 p.m. EDT Monday, energy companies had shut in 608,025 barrels a day of crude, or 44.1% of the area's total oil production, and 1.565 billion cubic feet a day of natural gas, or 34.8% of the Gulf's output, according to the U.S. Bureau of Safety and Environmental Enforcement. About 31.7% of the Gulf's offshore platforms were evacuated, the agency said. But several companies, including top producer BP PLC, said they were beginning to send personnel back to the Gulf and resume operations.
Debby came much earlier than expected, as the average fourth named storm in the Atlantic arrives around Aug. 29, said William Gray, co-author of the widely followed Colorado State University storm season forecast. Nevertheless, it won't alter the university's previously stated predictions of a slightly below average storm season this year. On June 1, the university said it expected 13 named storms, including five hurricanes.
Mr. Gray attributed the unusual early activity to the El Nino phenomenon, which is characterized by warmer-than-average temperatures in the Pacific Ocean. He also said that recent advances in technology allowed for named storms that would have previously remained undetected.
"We're two months ahead," said Mr. Gray in an interview. "It is early, but it doesn't mean anything for what the main part of the season is."
The shut-in figures reported Monday constitute a significant increase from the 23% of both oil and gas production shut in disclosed Sunday. Gulf of Mexico federal offshore production accounts for 29% of oil and 12% of gas production in the U.S., according to the U.S. Energy Information Administration.
BP, the largest oil and gas producer in the Gulf, said, because the latest forecast showed a steady decline in strength, "we will begin today redeploying personnel to certain BP-operated offshore facilities."
The restaffing process will begin with the western-most facilities operated by BP and "continue in the coming days," the company said on its hurricane hot line. The U.K. oil giant, which in 2010 produced 410,000 barrels of oil equivalent of oil and gas in the area, had said earlier that its entire production in the Gulf would be shut in by mid-Sunday.
Royal Dutch Shell PLC said Monday it had begun redeploying staff to its operations in the U.S. Gulf of Mexico as Tropical Storm Debby appears to head away from offshore oil-production facilities and toward Florida.
"Shell is in the initial stages of redeploying staff to its operations across the Gulf," Shell said.
Only two nonproducing platforms were evacuated fully, the company said in a posting on its website. Restart has begun of a "minimal" amount of oil and gas production that was shut in and all operations will be "back to normal" by the end of Tuesday, the company said.
Anadarko Petroleum Corp. said it believes conditions allow for a safe return of essential workers to its Marco Polo and Constitution platforms in the central part of the Gulf, "with plans to restart production at these facilities following comprehensive inspections."
The company said it expects to restaff the Independence Hub and Neptune platforms with essential personnel Monday afternoon.
Chevron Corp., also a major Gulf producer, said that some of its production had been affected by the storm, and that non-essential personnel had been evacuated from some facilities. "Chevron continues to monitor closely" the projected path of the storm, the company said.
Exxon Mobil Corp. said its Gulf of Mexico offshore operations and coastal facilities "are resuming normal operations."
"Operations crews are returning to facilities that were evacuated in advance of the storm," an Exxon spokesman said in an email. On Sunday, Exxon said it had shut in less than 1,000 barrels of oil a day and seven million cubic feet of natural gas a day.
The Louisiana Offshore Oil Port said it's in the process of restarting its marine operations, with tanker offloadings resuming Monday afternoon.
BHP Billiton said it has begun restaffing its Gulf platforms and production there is expected to resume Tuesday.
The National Hurricane Center said the center of the storm is about 50 miles south-southwest of Apalachicola, Fla., with maximum sustained winds of 45 miles an hour.
Generated by readers, the comments included herein do not reflect the views and opinions of Rigzone. All comments are subject to editorial review. Off-topic, inappropriate or insulting comments will be removed.
RELATED COMPANIES