Record High Bids Seen in First Central Gulf Sale Since Deepwater Horizon
|
Wednesday, June 20, 2012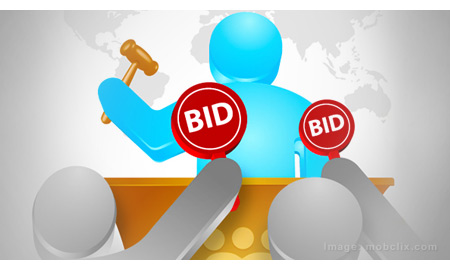 The first central Gulf of Mexico lease sale since the Deepwater Horizon incident in 2010 generated over $1.7 billion in high bids, the fourth highest amount of high bids in the history of leasing in the central Gulf, and total bids of over $2.6 billion, said Bureau of Ocean Energy Management officials on Wednesday.
Fifty-six companies participating in the sale offered 593 bids on 454 tracts encompassing over 2.4 million acres. A total of 7,434 tracts encompassing over 39 million acres were offered for bidding. This acreage was located over 230 miles offshore Louisiana, Mississippi and Alabama.
The central Gulf's deepwater acreage attracted significant interest from companies, who offered 146 bids valued at more than $1.4 billion for blocks in water depths greater than 5,249 feet. Acreage in less than 656 feet of water attracted the most number of bids with 193 bids totaling over $103 million.
Statoil Submits Highest Bid
Norway-based exploration and production company Statoil placed the highest bid at $157.1 million for Mississippi Canyon Block 718. The company also had the highest bid per acre for the same block with $27,276.22.
Statoil was the high bidder on 26 leases. With these additional leases, Statoil will control more than 350 leases in the Gulf of Mexico, Statoil said in a statement.
"This addition of leases allows us to further build upon our broad-based strategy for exploration in the Gulf of Mexico and further upgrades our core position in this prolific and proven basin," said Erik Finnstrom, Statoil senior vice president of exploration for Statoil in North America.
Statoil has been a partner in several major discoveries, including Jack/ St. Malo, Julia, Vito and Logan, and has six producing fields and eight fields under development. Statoil currently is drilling the Bioko prospect at Keathley Canyon Block 698 in the central Gulf with Transocean's Discoverer Americas (UDW drillship).
Statoil also plans to drill two to three more wells within the next year in the Gulf and will participate in an additional two to three wells drilled by partners.
BP, Shell Among Top Bidders
BP Exploration & Production submitted the second highest bid, $110.3 million, for Keathley Canyon Block 745. Shell Offshore Inc. offered the third and fourth highest bids in the lease sale with a $66.1 million bid for Mississippi Canyon Block 768 and a $61.46 million bid for Garden Banks Block 962.
Statoil rounded out the top five bids with its $61.4 million bid for Keathley Canyon Block 384.
Five of the top ten single highest bids made by companies were for blocks in the Mississippi Canyon area. Mississippi Canyon Block 162 received seven bids, the greatest number of bids for any block offered in the lease sale.
The focus on Mississippi Canyon blocks in bidding "reflects the industry's focus on the most prospective areas of the central Gulf," said Bureau of Ocean Energy Management (BOEM) Director Tommy Beaudreau.
Lund Block 965, located in 10,045 feet of water, was the deepest block receiving a bid.
Shell topped the list of companies based on sum of high bids submitted with 24 bids totaling $406.5 million. Statoil came in second with 26 bids of $333.3 million. BP submitted 43 high bids valued at $239.5 million, followed by Chevron with 29 bids totaling $189.6 million and ExxonMobil with 22 bids of $91.1 million.
Apache Corp. submitted 61 high bids, the highest number of total high bids submitted, followed by BP with 43, Chevron with 29, Apache Deepwater with 29, and Statoil with 26.
Lease Sale Bidding 'Robust'
The robust level of bidding seen "reflects the industry's commitment to domestic offshore production," Beaudreau told reporters in a conference call on Wednesday.
"The reason we're in the position we are to have had such a strong lease sale in the central Gulf is because of the enormous strides made in improving the safety of offshore oil and gas drilling and strengthening oversight," Beaudreau said.
Secretary of the Interior Ken Salazar and BOEM officials discussed the results at the Delta Wildlife Refuge, located 90 miles southeast of New Orleans. The lease sale was held earlier Wednesday at the Louisiana SuperDome in New Orleans.
Salazar toured the refuge to see progress made in restoring the Gulf Coast following the Deepwater Horizon incident. Salazar said he was impressed by the conditions of the Gulf, seeing no remnants of the oil prevalent other times he had visited.
"I want to make sure the restoration efforts of the Gulf of Mexico continue and that BP and other parties responsible for Macondo are held accountable in providing the needed funding stream to restore the Gulf Coast," said Salazar.
Salazar said the lease sale was part of President Obama's all-of-the-above energy plan for the United States, adding that domestic oil and gas production has grown since Obama took office, while the amount of foreign oil imported into the United States has decreased.
Louisiana Department of Natural Resources Secretary Scott Angelle said Wednesday that the lease sale is proof that energy exploration and production companies are prepared to invest in developing Gulf of Mexico resources and realizing the potential for the Gulf to provide jobs, energy and economic growth.
"We have been telling federal regulators that companies have the desire and the resources to invest in the Gulf of Mexico, and the recent progress we have made in improving the pace of permitting, although we are not yet where we want to be, is the best way to express confidence to the marketplace," Angelle said.
Central Gulf Lease Sale 213, held in March 2010 and the last central Gulf sale prior to Deepwater Horizon, generated $949.2 million in high bids and $1.3 billion in total bids. Sixty-seven companies submitted 642 bids on 468 tracts offered, with a total of 6,958 tracts offered.
Generated by readers, the comments included herein do not reflect the views and opinions of Rigzone. All comments are subject to editorial review. Off-topic, inappropriate or insulting comments will be removed.