Central Gulf Lease Sale Marks First Since Deepwater Horizon Incident
|
Wednesday, June 20, 2012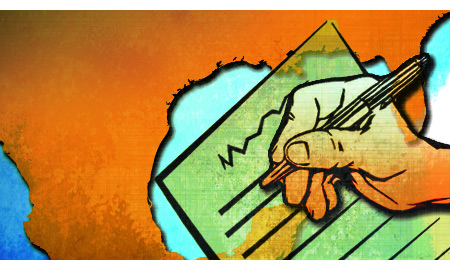 The Bureau of Ocean Energy Management (BOEM) on Wednesday will hold the first Central Gulf of Mexico lease sale since the Deepwater Horizon incident in April 2010.
More than 39 million acres are up for bidding in Lease Sale 216/222 – a consolidation of Lease Sale 216 and Lease Sale 222 – and are estimated by the Bureau of Ocean Energy Management (BOEM) to hold undiscovered, technically recoverable reserves of close to 31 billion barrels of oil and 134 Trillion cubic feet (Tcf).
BOEM officials last month estimated the sale – which includes acreage over 230 miles offshore Louisiana, Mississippi, and Alabama -- could result in production of over 1 billion barrels of oil and over 4 Tcf of natural gas.
BOEM has received 593 bids on 454 tracts out of 7,434 offered from 48 companies, with significant interest seen in the central Gulf's deepwater and shallow water acreage.
BOEM reported Tuesday that 146 tracts receiving bids are located in water depths greater than 5,249 feet, while 75 tracts are located in water depths between 2,624 feet and 5,249 feet. One hundred and 93 tracts are located in water depths of less than 656 feet.
The first lease sale since Macondo will feature a number of changes, including an increased minimum bid for deepwater to $100 per acre, up from $37.50, a move that will ensure taxpayers receive "fair market value for offshore resources and to provide leaseholders with additional impetus to invest in leases they are more likely to develop," said BOEM in a May 17 statement.
A BOEM analysis of the last 15 years of lease sales in the Gulf indicated deepwater leases that received high bids of less than $100 per acre--adjusted for energy prices at the time of each sale--experienced virtually no exploration and development drilling. No deepwater royalty suspension provisions will be offered for leases issued from the sale.
Additionally, bids on blocks near the U.S.-Mexico Maritime and Continental Shelf Boundary could become subject to the agreement between the United States and Mexico regarding transboundary hydrocarbon reserves. The agreement was signed on Feb. 20 of this year, but has not yet been bilaterally approved.
Secretary of the Interior Ken Salazar will also tour the Breton National Wildlife Refuge and Delta National Wildlife Refuge, where early restoration projects are underway as part of efforts to repair and restore the Gulf after the Deepwater Horizon oil spill.
Four national environmental groups filed in federal court Monday challenging the lease sale, saying that BOEM officials violated the federal National Environmental Policy Act by not determining the effects of the Deepwater Horizon spill on wildlife, saying BOEM used incomplete information to rewrite an environmental impact statement.
Expanded Five-Year Offshore Plan Needed
While the sale will help the United States develop its offshore oil and gas resources, an expanded five-year offshore plan is needed to allow the nation to reach its goal of a stronger energy future, said Erik Milito, director of upstream and industry operations for the American Petroleum Institute, in a statement on Tuesday.
"The Obama administration's proposed five-year offshore leasing plan for 2012 through 2017 would limit offshore development in the Gulf of Mexico and offshore Alaska and would restrict opportunities when it should be expanding them," Milito said, noting that it can take well over a decade from the time a five-year offshore plan is issued to when production actually begins.
"The proposed Department of the Interior five-year plan is insufficient, and each year we implement it, we will we will fall further behind what we really should be doing," Milito said, adding that the administration should begin working on a new plan immediately.
NOIA President 'Cautiously Optimistic' on Sale
Randall Luthi, president of the National Ocean Industries Association (NOIA), said Tuesday he expected to see "pent-up demand" in bidding at the lease sale as it remains unclear when the next central Gulf lease sale will occur, and heavy interest in deepwater and shallow water blocks, thanks to big discoveries in recent years such as Chevron's Hadrian discovery and McMoRan's Davy Jones discovery.
"On the other hand, increased development costs, higher minimum bids, longer permit approval times and concern over litigation may steer companies toward bidding on fewer leases, and leases in which there is a high confidence level where oil and gas may actually be found," Luthi said, adding that successfully purchasing a lease provides no guarantee of a successful well.
GOM Technical Staff in Demand As Lease Sale Approaches
Demand for geologists, geophysicists and technical staff for Gulf of Mexico operations has escalated over the past 18 months as oil and gas companies continue to pursue deepwater exploration and production in the region, according to an executive with engineering service and specialist staff support solutions provider NES Global Talent.
Bidding activity in Wednesday's Central Gulf of Mexico Lease Sale 216/222 -- the first central Gulf sale since the Deepwater Horizon incident in 2010 -- will likely be intense as companies are approaching the lease sale with more information than ever, said Katie Potter, division lead for exploration and production at NES, in an interview with Rigzone on Tuesday.
"Even though companies weren't drilling [during the moratorium], they could still study seismic data, said Potter. "The moratorium just gave them longer time to look at data and rework seismic."
The demand for technical experts has become more critical as advances in deepwater technology have made exploration possible where, 10 years ago; it would not have been economically viable, said Potter.
Generated by readers, the comments included herein do not reflect the views and opinions of Rigzone. All comments are subject to editorial review. Off-topic, inappropriate or insulting comments will be removed.