IHS: Unconventional Gas Activity to Fuel Future U.S. Job Creation
by Karen Boman
|
Rigzone Staff
|
Wednesday, June 13, 2012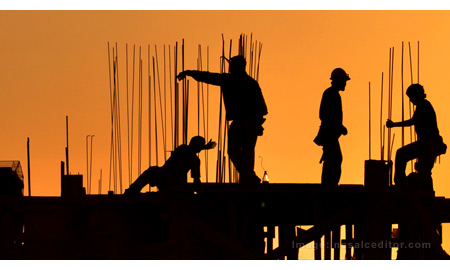 The number of jobs supported by unconventional gas activity in the United States will grow to nearly 1.5 million in 2015 and over 2.4 million jobs in 2035, according to a recent report by IHS, "The Contributions of the Natural Gas Industry to the U.S. National and State Economies."
The study assessed the economic impact of 58 unconventional gas plays – including shale gas, tight sands, and coalbed methane -- across the lower 48 states. By 2015, unconventional gas production will represent 67 percent of U.S. gas production, and by 2035, will represent 79 percent of U.S. gas production.
"The rapid growth in unconventional gas has been one of the most significant energy developments in decades," said John Larson, vice president at IHS and lead author of the study during a conference call with reporters on Wednesday.
For the study – a companion to a December 2011 IHS survey into shale gas economic and employment contribution to the United States on a national level -- IHS examined the number of jobs created by unconventional gas activity in 20 producing states, or states with existing and new well completion and production activities, and 28 non-producing states and the District of Columbia. Unconventional gas activity supported over 1 million jobs in 2010.
Unconventional gas activity will contribute nearly 1.2 million jobs in 2015 to the economies of 20 producing states, up from the more than 826,000 jobs that unconventional gas activity generated in these states in 2010.
In non-producing states, unconventional gas development will support 270,000 jobs, meaning that one in five jobs supported by unconventional gas development will be in states that don't have production activity.
While the number of direct jobs such as roughnecks has grown, the rapid development of unconventional shale gas has pulled expertise not just for direct jobs, but indirect jobs in supply chains for piping, steel and iron that support overall activity, Larson said.
Unconventional gas development will support growth in supply chain jobs in non-producing states. The number of induced jobs, or jobs supported by wages from direct and indirect employment in the oil and gas industry on things such as housing, utilities, travel and sundries, also will rise due to unconventional gas development, said Larson.
The top 10 producing states – Texas, Louisiana, Colorado, Pennsylvania, Arkansas, Wyoming, Ohio, Utah, Oklahoma and Michigan – will see a compound annual job growth rate of nearly 8 percent between 2010 and 2015.
Pennsylvania and Colorado are expected to lead in employment contribution growth between 2010 and 2015, experiencing compound annual growth rates of approximately 14 percent and 10 percent respectively, while total U.S. employment is expected to grow at an average 1.6 percent during the same time period.
The top 10 non-producing states in terms of jobs growth due to unconventional gas development in 2015 are projected to be California, Florida, Georgia, Missouri, North Carolina, Indiana, Wisconsin, Minnesota, Tennessee and Maryland.
Even Vermont, where a moratorium on hydraulic fracturing activity, is impacted by unconventional shale gas activity growth, with the number of jobs supported by this activity growing from 900 jobs in 2010 to 1,300 jobs in 2015, Larson noted.
"While the study clearly shows that producing states have a large share of the benefits from gas production, it really is for all Americans to enjoy," said Larson.
The study was conducted using conservative estimates with a defensible approach, and did not include production and investment activity from plays not yet discovered or in states such as New York, which had a moratorium on unconventional gas activity when the study was being conducted. While the study was commissioned by America's Natural Gas Alliance, Larson said the study is IHS; independent assessment.
The tremendous opportunity presented by unconventional shale gas development for job creation and economic growth across the United States is the real story coming out of the study, especially given the uncertain global economic outlook.
"Our unemployment rate is set to be 7 percent in 2015," said Larson, noting that the natural rate of unemployment of around four percent. Any opportunity for job growth is important as the United States faces a slow, painful recovery over the next few years.
Nearly $3.2 trillion in investments in unconventional gas development will fuel an increase in gas production from 2010 and 2035. By 2015, unconventional gas activities will contribute nearly $50 billion in federal, state and local government tax and federal royalty revenue, the study found.
Between 2010 and 2035, continued development of unconventional gas will generate a cumulative total of nearly $1.5 trillion in federal, state and local tax and royalty revenue.
Generated by readers, the comments included herein do not reflect the views and opinions of Rigzone. All comments are subject to editorial review. Off-topic, inappropriate or insulting comments will be removed.
RELATED COMPANIES