EIA Lowers Oil Price Estimate, Posts Gulf Hurricane Shut-in Estimates
by Karen Boman
|
Rigzone Staff
|
Tuesday, June 12, 2012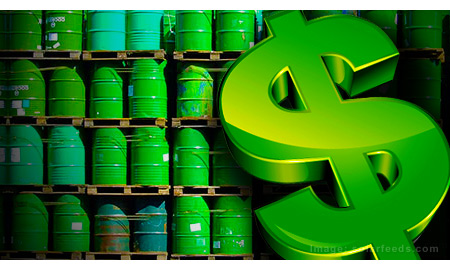 The U.S. Energy Information Administration (EIA) on Tuesday lowered its estimate of the average price of West Texas Intermediate (WTI) crude oil to about $95 per barrel for the second half of 2012.
The WTI spot price fell from $106 per barrel on May 1 to $83 per barrel on June 1 due to recent concerns about world economic and oil demand growth, according to EIA's June edition of its Short-Term Energy Outlook.
EIA forecasts crude oil prices to remain relatively flat for 2013, the agency said in a statement.
"The recent economic and financial news that points towards weaker economic outlooks could lead to lower economic growth forecasts and further downward revisions to EIA's crude oil price forecasts," EIA noted.
Total U.S. oil production is expected to average 6.3 million barrels of oil per day (bopd) this year, an increase of .6 million bopd from last year and the highest production level seen since 1997, EIA said. U.S. crude oil production is expected to rise to 6.7 million bopd in 2013.
EIA: Gulf Hurricanes Could Shut In 4.5M Barrels of Oil, 9.5 Bcf Gas This Year
The 2012 hurricane season could shut-in 4.5 million barrels of oil and 9.5 billion cubic feet (Bcf) of natural gas production in the federally administered United States Gulf of Mexico, the U.S. Energy Information reported Tuesday.
EIA's estimate is based on the results of a Monte Carlo hurricane outage simulation using information from the National Oceanic and Atmospheric Administration (NOAA) in its Atlantic Hurricane Season Outlook.
The NOAA report, released on May 24, predicted that the Atlantic Basin would likely experience near-normal tropical weather during this year's hurricane season, which kicked off on June 1 and lasts through Nov. 30.
The simulation results indicate an approximate 40 percent probability of offshore crude oil or gas production experiencing outages during the 2012 season that are equal to or larger than the production shut-in during the 2011 hurricane season.
NOAA forecasts that nine to 15 named storms will form within the Atlantic Basin during the 2012 hurricane season, including four to eight hurricanes, of which one to three will be intense.
The Atlantic Basin experienced above-average hurricane activity during the 2011 season, consistent with NOAA's updated 2011 outlook, with 19 named storms passing through the region. These storms included 12 tropical storms and seven hurricanes, including four hurricanes classified as intense.
"Although hurricane activity in the entire Atlantic was above normal, activity in the Gulf of Mexico during the 2011 hurricane season was relatively normal," said EIA in the 2012 Outlook for Hurricane-Related Production Outages in the Gulf of Mexico. "Four tropical storms and two moderate hurricanes passed through the Gulf of Mexico, but only two storms threatened offshore energy production."

Generated by readers, the comments included herein do not reflect the views and opinions of Rigzone. All comments are subject to editorial review. Off-topic, inappropriate or insulting comments will be removed.
RELATED COMPANIES