Ohio Governor Signs Law Updating Energy Regulations
by Karen Boman
|
Rigzone Staff
|
Tuesday, June 12, 2012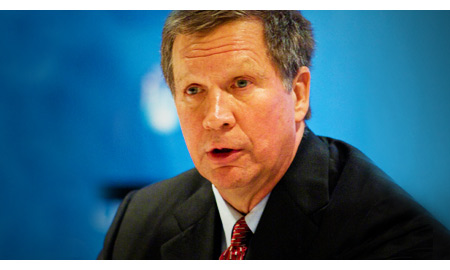 Ohio Governor John Kasich on Monday signed legislation updating Ohio's energy and natural resources laws and related programs.
S.B. 315, one of three bills signed by Kasich on Monday, is the result of the Kasich's effort to develop a comprehensive energy policy for Ohio that will encourage job creation and economic growth in the state.
The legislation includes a number of updates to the state's exploration and production laws, a move needed since the surge in activity surrounding exploration and production of Ohio's shale plays.
"In order to ensure economic stability and move toward energy independence, Ohio must develop a comprehensive energy policy that includes a diverse mix of sources available at low cost," according to a statement from the governor's office.
S.B. 315 updates the Ohio Department of Natural Resources' (ODNR) health and environmental regulations to keep pace with the advancements in drilling technology that have made shale exploration and production possible. The regulatory updates include additional safeguards by upgrading procedures for properly constructing a well, including:
a requirement that well construction materials used must comply with industry standards for the type and depth of well being drilled
a requirement that ODNR must be notified prior to a well being cemented to protect ground water, and;
cementing records must be submitted for agency analysis.
The new rules take effect on Aug. 1.
The bill also builds on previously-approved upgrades to well-construction standards, and requires the sharing of chemical information, including trade secret formulas, with doctors. Medical professionals may share even proprietary chemical information with the patient and other medical professionals directly involved in treating the patient.
Other requirements of the bill include:
Requiring well operators to take water samples within 1,500 feet of a proposed horizontal well and disclose the results in their permit applications;
Well operators must disclose the proposed source of water used in the well drilling and completion process;
Well operators who violate safety and environmental regulations are subject to mandatory daily fines.
Rules for disposing of waste water through underground injection are strengthened to ensure protection of health and environment
The legislation also includes an update of Ohio's Environmental Protection Agency regulations, including:
New regulations to encourage wastewater treatment and recycling technologies in order to conserve water resources ad reduce Ohio's reliance on underground injection wells for wastewater disposal
The lengthy oil and gas operations permitting process also will be streamlined from months to days – with the same high standards for safety and responsibility still maintained – due to improved internal agency operations that will allow for more efficient operation.
S.B. 315 also updates Department of Commerce regulations for gas processing facilities by consolidating and streamlining the multiple construction and occupancy reviews of these facilities.
Additionally, the state's Department of Transportation regulations will now include a new model road use agreement to serve as a template for counties and towns and oil and gas companies to determine what roads will be used, how they will be maintained and who will pay for maintenance costs.
The bill also allows the state to work with its regional workforce development partners to maximize job training opportunities around shale.
The update of Ohio's energy policy also addresses regulations governing power generation capacity, coal, cogeneration/waste heat recovery, compressed natural gas and alternative fuels, energy efficiency, renewables, and regulatory reform.
The update to the state's energy regulations are the result of the Mid-Biennium Review conducted by Kasich's administration of state government operations. Kasich and his administration decided to move forward with a second major reform package of state regulations in 2012 following efforts in 2011 to create a budget that cut taxes, streamlined operations, and reformed government.
Kasich and staff used ideas and strategies gathered at the Governor's 21st Century Energy and Economic Summit held last September to help craft the comprehensive energy policy.
Generated by readers, the comments included herein do not reflect the views and opinions of Rigzone. All comments are subject to editorial review. Off-topic, inappropriate or insulting comments will be removed.