Norway Parliament Warns About Signing Oil Contracts Early
by Dow Jones Newswires
|
Kjetil Malkenes Hovland
|
Monday, June 11, 2012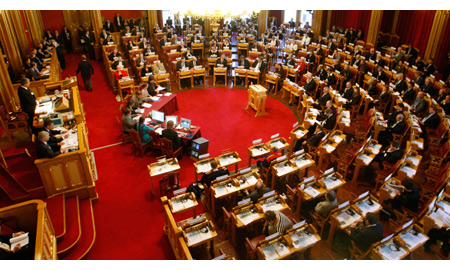 Norway's Parliament warned Monday that oil and gas companies acted "at their own risk" when signing contracts before Parliament had approved projects, and said it would not take such investments into account.
Oil and gas companies investing billions of kroner before a decision is made could add pressure to approve projects, and should not become a common practice, lawmakers told Dow Jones Newswires.
On May 3, Swedish independent oil and gas exploration and production company Lundin Petroleum AB awarded a NOK 8 billion ($1.39 billion) contract to the Norwegian company Kvaerner ASA to build the topside for the Edvard Grieg platform, even though Parliament didn't approve the Edvard Grieg oil field until today.
"Plans for development and operation are not approved until they are approved here," said Erling Sande, leader of the Parliament's standing committee on Energy and the Environment, representing the Centre Party, one of three parties in Norway's coalition government. "We don't want a practice where project costs are used as an argument to avoid plans to be changed in Parliament.
Lundin spokeswoman Maria Hamilton said the contract with Kvaerner had been awarded, but that it was subject to Parliament approval of the operator's plan for development and operation.
"I feel a need to underline that Parliament is sovereign in handling these cases," said Marianne Marthinsen from Labor, another government party, speaking in Parliament on behalf of the committee.
"Due to the pressure in the market, we entered into this contract to ensure the quality and timing of the project," said Ms Hamilton, adding that the company did not do it to pressure the Parliament.
Lundin got approval from Norway's Minister of Petroleum and Energy Ola Borten Moe, also from the Centre party.
"Prior to the Parliament approval of the plan for development and operation, the department is allowed by law to approve contracts of a certain size. We chose to do that this time," said Minister of Petroleum and Energy Ola Borten Moe, adding that Parliament was correct in noting that the contract is the operator's responsibility. "We can approve such a contract, but it's not binding to the Parliament."
In 2009, Norwegian environmentalists criticized the Italian company ENI SpA for entering into deals for its Goliat project in the Barents Sea before Parliament approved the project, possibly adding pressure to approve it.
Companies must be aware that the Parliament makes its own decisions, and shouldn't add pressure by investing early, said the Labor party's Eirin Sund.
"Things should happen in the right order," she said. "Something could suddenly show up and make us turn the project down. That the company has already started shouldn't bind politicians to make decisions we wouldn't otherwise have done."
The Norwegian Parliament Monday approved the plans for development and operation for Lundin's Edvard Grieg field and Total SA-operated Martin Linge field in the North Sea, holding a combined 372 million barrels of oil equivalent and requiring investments of NOK 50 billion ($8.3 billion).
Generated by readers, the comments included herein do not reflect the views and opinions of Rigzone. All comments are subject to editorial review. Off-topic, inappropriate or insulting comments will be removed.