Russia Eyes Giving Up Rosneft Control by 2016
by Dow Jones Newswires
|
Ira Iosebashvili
|
Thursday, June 07, 2012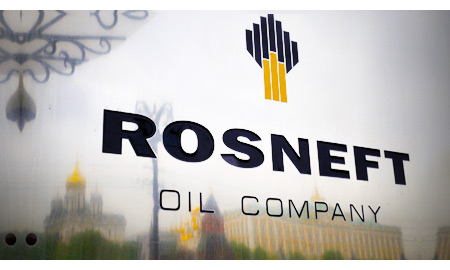 MOSCOW - Russia should give up direct control in state-owned oil champion Rosneft by 2016, Prime Minister Dmitry Medvedev said Thursday, however Igor Shuvalov, a first deputy prime minister, said there was no need to rush the move.
"The list [of companies to be privatized] includes some of the largest energy and oil companies, very solid manufacturing companies, including Rosneft, which must be removed from direct state control by 2016," Mr. Medvedev told a government meeting on privatization.
Rosneft is one of the most important state-owned companies that Russia--the world's second largest energy producer--has on its privatization list, which is seen as a key step in improving corporate transparency and increasing shareholder value in the country's corporate sector. The sale of all or some of the Russian government's 75.2% stake in Rosneft would be seen as a key bellwether of its seriousness.
Russia has been plagued for months by high levels of capital flight, first due to political uncertainties and, more recently, by a sharp fall in global risk appetite due to the worsening euro crisis.
Deputy Prime Minister Igor Shuvalov recently acknowledged that both domestic and foreign investors "don't have enough trust in us at the moment."
But the government has given mixed messages in recent months regarding asset sales in Rosneft and other key companies in the oil and gas sector.
Last month, Mr. Putin ordered the government to prepare plans to privatize stakes in Rosneft and gas giant OAO Gazprom held by a government holding company, OAO Rosneftegaz, between 2013 and 2015 depending on market conditions. Earlier in the week, he signed an order that made Rosneft a strategic company, thus mandating that the state keep at least one share.
But last month's decree also authorized Rosneftegaz to buy up shares of other state-owned energy companies that had been earmarked for privatization. Mr. Putin said the company would be allowed to buy the shares through the end of 2014 and would hold the stakes temporarily to allow them to be sold later at higher prices.
Thursday, Mr. Shuvalov said: "We won't rush. If we have good deals, very good terms for Rosneft and we are in a condition to have the deal come through as a good one, then we will have it come through. If not...there is no sense."
Russia plans to triple its volume of privatization in 2012 to 300 billion rubles ($9.17 billion), from RUB100 billion last year, Economy Minister Andrei Belousov said at the meeting.
The state is still looking for an opportunity to sell a planned 7.6% stake in banking giant Sberbank, Mr. Belousov said.
Generated by readers, the comments included herein do not reflect the views and opinions of Rigzone. All comments are subject to editorial review. Off-topic, inappropriate or insulting comments will be removed.
RELATED COMPANIES