Paper: US LNG Export Benefits Outweigh Modest Impacts on Industrial Output
by Karen Boman
|
Rigzone Staff
|
Wednesday, June 06, 2012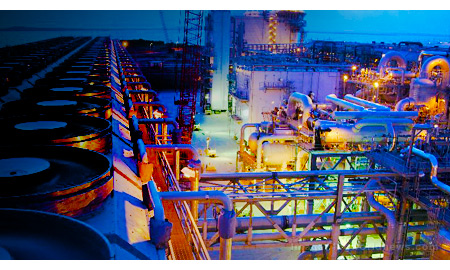 Liquefied natural gas (LNG) exports from the United States will create substantial gains that outweigh the modest impacts on industrial output due to higher gas prices, according to a recent public policy proposal for U.S. LNG exports.
The U.S. Department of Energy (DOE) should approve existing permits for liquefied natural gas (LNG) export terminals while retaining the existing permitting process, said Michael Levi, the David M. Rubenstein Senior Fellow for Energy and the Environment at the Council on Foreign Relations (CFR) and is director for CFR's program on energy security and climate change.
The impact of U.S. LNG exports on U.S. industrial output is modest, as most U.S. industries are not particularly energy intensive. Some parts of the chemical industry that rely on natural gas liquids – ethane in particular – could benefit, as U.S. natural gas production is expected to rise to meet LNG export demand, said Levi.
"When you really drill down to EIA [Energy Information Administration] modeling, you see NGL supply growing as increased production in response to exports," Levi told Rigzone.
While some jobs may be lost due to high gas prices, jobs may also be created because natural gas producers are buying more steel or cement, Levi said.
The increased revenues from increased shale gas production and LNG exports would create additional tax revenue that could be used to support energy assistance programs, addressing concerns that higher natural gas prices will negatively impact lower income U.S. consumers, Levi said.
A number of the LNG export projects proposed would not begin operations until 2015 or later, meaning that the environmental concerns related to increased shale gas production to meet LNG export demand could be addressed in plenty of time, Levi noted.
"We're not talking about a big increase in production overnight," Levi said, who believes that environmental concerns can be addressed through better industry self-policing and stronger regulation and stricter enforcement.
LNG exports from the United States also could serve as a bargaining chip for U.S. foreign trade policy with countries such as Japan, whose reliance on LNG has increased following the 2011 earthquake and tsunami, which damaged a significant amount of Japan's nuclear power generating assets.
"A lot of other countries want access to U.S. LNG exports, and they want to be in the first category in which permits are approved automatically," said Levi during a conference call with reporters on Wednesday. "We have something that others want, so why shouldn't we try and get something for it?"
In his paper, Levi argues that instead of taking an absolutionist position on U.S. LNG exports, the decision should be assessed in six basic areas: macroeconomic, distribution, oil security, climate change, impact on U.S. foreign and trade policy, and impact on the local environment. LNG export projects should then be approved, so long as they meet the corporate and safety elements that need to be assessed.
Levi is not advocating that the U.S. export LNG, but that DOE should approve permits and let the markets determine whether an LNG project makes economic sense.
"I have a difficult time seeing how you could implement it in practice," said Levi of proposals to approve certain LNG export projects and not others. "I suspect that particular line of interest that has risen recently will likely peter out once people try to see what it would take to implement it."
Banning LNG exports from the United States also could upset potential customers, and could strengthen other countries restrictions on exports to the United States, such as rare mineral exports from China. Restrictions on mineral exports from China would also create an economic problem for the United States, said Levi.
Restricting U.S. natural gas from moving to other countries also would require the United States to restrict pipeline exports to Canada, which would have negative implications for relations with Canada and Mexico.
"If there are greater prices to be realized overseas, there will be different attempts to take advantage of it," said Levi. "There are ways to interfere, but they would have far-reaching consequences."
Michael Greenstein, director of The Hamilton Project, a public policy initiative by the Brookings Institute, said it is not logistically feasible to restrict exports without a massive change to the way the system works.
"Exports would leak out regardless," Greenstein commented. "They would just be called Canadian or Mexico exports."
The U.S. shale gas boom resulted in abundant new gas supply that has depressed U.S. natural gas prices, but natural gas prices in overseas markets such as Asia continue to trade at a premium versus the United States.
As a result, a number of companies have filed applications with DOE to export LNG to take advantage of higher overseas prices. The DOE currently is sitting on a large number of applications. In April, the Federal Energy Regulatory Commission approved Cheniere Energy's plan to export domestically produced natural gas at its Sabine Pass LNG terminal in Louisiana.
Many of these companies are also filing to export LNG to countries that do not have free trade agreements with the United States. The countries that do have agreements with the United States are not big LNG consumers.
The application approval process for countries with no FTA agreements is not as straightforward as for countries that do, said Levi.
The prospect of U.S. LNG exports has raised concerns about the impact of LNG exports from the United States on gas prices and consumers, the U.S. petrochemical and other industries, and the environment. Earlier this year, Rep. Ed Markey (D-Mass.) filed two bills – one that would prevent the approval of LNG export terminals until 2025, the other that would require gas produced on federal lands only be offered for sale domestically.
Levi's paper, "Strategy for U.S. Gas Exports", will be released on June 13 in conjunction with an event at Stanford University, New Direction for U.S. Energy Policy: A Hamilton Project Forum.
Generated by readers, the comments included herein do not reflect the views and opinions of Rigzone. All comments are subject to editorial review. Off-topic, inappropriate or insulting comments will be removed.