ExxonMobil to Invest in Australia Coal Seam Gas Venture
by Dow Jones Newswires
|
David Winning
|
Wednesday, June 06, 2012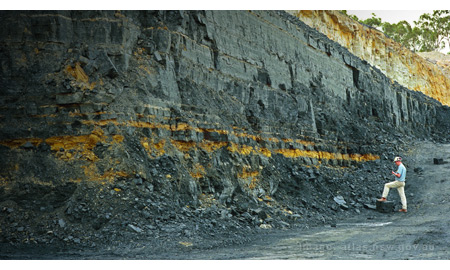 MELBOURNE - ExxonMobil Corp. is taking an initial 10% stake in a joint venture to explore for gas trapped in Australian coal seams, placing a bet on an unconventional fuel that has attracted billions of dollars of investment Down Under and become one of the world's hottest energy plays.
Exxon's Esso Ventures unit is teaming up with closely-held Ignite Energy Resources Ltd. to explore and potentially develop reserves of methane gas occurring naturally in more than 16 billion metric tons of brown coal in the Gippsland Basin of southeast Victoria state.
International energy companies like Exxon are placing bets on unconventional fuels such as coal seam gas in Australia and shale gas in the U.S., after finding themselves increasingly locked out of easy-to-access oil and gas fields in countries like Russia, Saudi Arabia and Venezuela.
Australia's close proximity to fast-growing energy markets in Asia, a stable political system, and its transparent regulatory regime make the country appealing to investors.
More than 20 billion Australian dollars (US $19.6 billion) was spent in 2008 on coal seam gas deals in Australia alone by companies including Royal Dutch Shell PLC, ConocoPhillips and BG Group PLC of the U.K. in northeastern Queensland state.
However, the coal seam gas industry has faced a backlash from some politicians and environmentalists in Australia due to leaks at wells in Queensland, worries over the safety of new drilling techniques and potential contamination of groundwater supply, and some resources companies accessing private land without permission.
The Victorian state government this week committed to national rules covering unconventional gas industries, designed to protect underground water sources used by farmers. The rules were formulated in February by the federal government and states with more mature industries such as Queensland and New South Wales.
Houston, Texas-based Exxon is one of Australia's largest energy investors, owning a refinery in Victoria and several big conventional oil and gas fields. These include a 25% stake in the A$43 billion Gorgon gas project, the country's largest gas resource.
Exxon's drilling for conventional oil and gas in the Bass Strait, a stretch of water between Victoria and the island state of Tasmania, over nearly 50 years enabled it to build up a big store of geological data that convinced it of the area's potential for coal seam gas output.
Roughly two-thirds of the Gippsland Basin is in the mainly shallow waters of the Bass Strait, with the remainder extending onshore in southeast Victoria.
"Over the next 12-18 months ExxonMobil and Ignite Energy Resources will work together to evaluate and assess the natural gas potential in the deeper coal seams of the license and determine whether it can be commercially produced," the companies said in a joint statement Wednesday.
Ignite Energy Resources, which was advised by Citigroup, will be the operator in the first phase of the work program to explore the EL4416 onshore tenement covering over 1,460 square miles.
Exxon's venture with Ignite Energy Resources is small compared with the billions of dollars spent by peers elsewhere in Australia. That's largely because coal seam gas exploration in Victoria is in its infancy, whereas Queensland's coal seam gas industry is well-established and accounts for 90% of the state's gas demand.
The biggest Queensland projects also involve the construction of liquefied natural gas terminals to feed Asia's gas demand.
Coal seam gas exploration may attract less opposition in Victoria compared with elsewhere in the country because the state lacks the resource wealth of Western Australia and Queensland, and few new conventional gas discoveries are being made in its traditional supply hub of the Bass Strait.
Much of Victoria's power supply comes from burning dirty coal, so switching to gas has some environmental benefits.
Exploration in the Gippsland Basin is expected to involve minimal or no 'fraccing'--a controversial drilling technique that shatters rock to stimulate the flow of gas--while water contained in the coal seams has low levels of salinity.
Sydney-based Ignite Energy Resources also has interests in biofuels and mineral sands, and an agreement to supply TRUenergy, a unit of Hong Kong-listed CLP Holdings Ltd. with upgraded energy products such as synthetic crude oil for use in the Yallourn power plant in Victoria.
Generated by readers, the comments included herein do not reflect the views and opinions of Rigzone. All comments are subject to editorial review. Off-topic, inappropriate or insulting comments will be removed.
RELATED COMPANIES