API/ANGA Study: Methane Emissions of Fracked Wells Half of EPA Estimates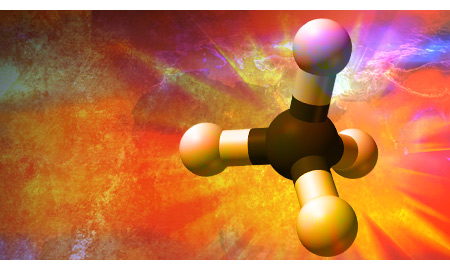 Methane emissions from hydraulically fractured wells are 50 percent lower than estimates found in a 2010 study by the U.S. Environmental Protection Agency (EPA), according to survey results released Monday by the American Petroleum Institute (API) and America's Natural Gas Alliance (ANGA).
The API-ANGA study found the venting of methane into the atmosphere during liquids unloading – a technique to remove water and other liquids from the wellbore to improve the flow of natural gas -- is 86 percent lower than EPA's estimates.
EPA had estimated that liquids unloading accounted for 51 percent of EPA's total "Natural Gas Systems" methane emissions in the 2010 inventory. Applying emission factors based on ANGA/API data reduces the calculated emissions for this source by 86 percent, from 4.5 million metric tons to 637,766 metric tons of methane.
The level of emissions from well re-fracturing, also known as a workover, were found to be 72 percent lower in the API-ANGA study versus the EPA estimates, and well re-fracture rates to be significantly lower than EPA estimated. Data was gathered for re-fracture rates for unconventional wells in two phases, with the first phase collecting data for all well types, while the second phase targeted unconventional wells.
Both phases of the survey data show significantly lower rates of well re-fracturing than the 10 percent assumption used by EPA. EPA had estimated the re-fracture rate at 10 percent of active wells, but the API-ANGA study found the actual rate ranged from .7 percent to 2.3 percent.
The use of re-fracture rate data from this second phase of the ANGA/API survey reduces the national emission estimate for this source category from 712,605 metric tons of methane to 197,311 metric tones of methane, when compared on an equivalent basis.
One concern the report raises is the U.S. government's lack of a single coordinated and cohesive estimate of well completions and well counts. While the 2010 national greenhouse gas emissions (GHG) inventory appears to under-represent the number of well completions according to the numbers reported through both the API/ANGA data and IHS-CERA, differences in national well data reporting systems make it difficult to accurately investigate well completion differences with any certainty.
"The EPA inventory, which uses data from HPDI [Inc.], and the Energy Information Administration in addition to privately sourced data, all report different well counts that do not consistently distinguish between conventional and unconventional wells," said API in a statement.
"Without a consistent measure for the quantity and type of wells, it is difficult to be confident of the accuracy of the number of wells that are completed annually, let alone the amount of emissions from them. Natural gas producers strongly believe that the effects of any possible underrepresentation of well completions will be offset by a more realistic emission factor for the rate of emissions per well."
Study 'Most Comprehensive to Date'
API and ANGA began the joint study on methane emissions – which API said is the most comprehensive estimate to date -- from unconventional gas operations in July 2011 as a way to provide additional data and identify uncertainty in existing data sets. The study examined well data gathered from ANGA members from 2010 and 2011 and compared it with the EPA study from 2010.
The survey examined data on 91,000 wells distributed over a broad geographic area and operated by over 20 companies. Howard Feldman, API director of regulatory and scientific affairs, told reporters in a conference call on Monday that the API-ANGA findings are more accurate because of the number of wells surveyed, compared with the EPA data, which was derived from 8,800 wells.
"The fact that these emissions are much less than earlier, more limited estimates and the fact that operators are already working to reduce emissions from natural gas production is good news for the future of U.S. natural gas development and the gamechanging benefits of job creation and economic growth that will come with it," said Feldman of the API-ANGA study findings.
API and ANGA said the study highlights the deficiencies in the more limited EPA data as well as areas where these finding and additional data will further improve estimates of methane emissions from natural gas production.
In 2011, EPA introduced a new calculation method that more than doubled the estimated emissions from natural gas production. EPA's estimates were based on a small set of data submitted by a limited number of companies. API and ANGA say that EPA's calculation method substantially overestimates the amount of methane emissions from hydraulic fracturing and other unconventional natural gas production activities.
API and ANGA say the EPA's use of data of greenhouse gas emission inventory from 2010, which was used to support development of its green completion rule, was used without the benefit of expert review. The industry groups say that EPA's key data sources are taken from an older Natural Gas Star sample that was never intended for developing nationwide emissions estimates.
API and ANGA took issue not just with the amount of data used by the EPA in its study to write the green completion technology rule, but also how data points were averaged, said Feldman. The timing of when the data was gathered also is factor, as it may not reflect newer industry technology to lower methane emissions, said Sara Banaszak, ANGA chief economist and vice president.
"The quality of life cycle analyses of domestic natural gas would be significantly improved with the more accurate data collected from the study," the study said. "Studies that have erroneously claimed emissions from unconventional natural gas production are higher relied on the flawed EPA emissions data."
In addition to the voluntary measures undertaken by industry, more data will become available in the future, the study found, noting that emission reporting requirements under Subpart W of the national Greenhouse Gas Reporting Program went into effect Jan. 1, 2011 with the first reporting due this fall. As implementation of the program progresses, the gas industry will report more complete and more accurate data.
"If EPA makes use of the data submitted and transparently communicates their analyses, ANGA/API members believe this will increase public confidence in the emissions estimated for key emission source categories of the Natural Gas Systems sector," the study noted.
Earlier this year, the EPA delayed requiring producers to use green completion technology to reduce emissions by January 2015 after public comments from API and other industry associations and companies said more time was needed for enough green completion technology to be produced to allow all oil and gas companies to comply.
The survey results show that the green completion technology rule is not as cost effective as EPA claims, said Feldman. API and ANGA have not yet made a decision as to whether they will challenge the EPA rule in court, Feldman said.
"The fact that these emissions are much less than earlier, more limited estimates and the fact that operators are already working to reduce emissions from natural gas production is good news for the future of U.S. natural gas development and the game changing benefits of job creation and economic growth that will come with it," said Feldman.
Generated by readers, the comments included herein do not reflect the views and opinions of Rigzone. All comments are subject to editorial review. Off-topic, inappropriate or insulting comments will be removed.
RELATED COMPANIES
Company: U.S. Environmental Protection Agency
more info
Company: American Petroleum Institute (API)
more info