Women in Oil & Gas: Starting Out with BP
by Jon Mainwaring
|
Rigzone Staff
|
Monday, June 04, 2012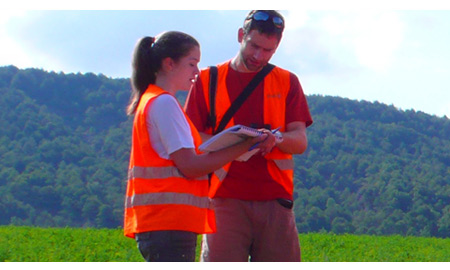 Geoscientist Sarah Marriott on a field trip with geophysicist Chris Hill
Ever since the financial crisis of 2008 getting your first graduate job in the UK, even for a high-achiever, has been a tough task. Of course, one sector where a bright university graduate stands a reasonable chance of finding employment is the energy industry.

But a relevant qualification is also important, as Sarah Marriott – a petroleum geoscientist who joined BP in 2010 – knows.

Marriott studied geology with chemistry as an undergraduate, where a project on renewable feedstocks for the chemical industry provoked an interest within her in renewable issues in the oil industry.

"I decided to use my geology to get into the oil industry," she says.

This led to her opting to take a master's degree in petroleum geo-science at Aberdeen University where, at the same time, she applied for BP's graduate recruitment program.

However, the making of this young geoscientist occurred much earlier, when Marriott was still at high school in Kettering, England.

"It was a teacher at school. We had a really good geology teacher and I was very lucky because they don't teach geology at many schools," she says. "He was a big inspiration and a lot of people from our geology class in our sixth form [12th grade] went on to do a geology degree and a lot of them now have jobs in the oil industry."

Even with a longstanding interest in geology, a degree in the subject and a place on an oil industry-focused master's course, getting onto BP's graduate recruitment program is not a foregone conclusion; this year, for instance, BP had more than 7,000 applications submitted for just 250 UK-based roles.
According to Marriott, the application "does take a bit of time to fill in" with "questions about yourself, about when you've worked in a team, what your big achievements are… how you've used your technical skills practically" and so on.

"After you've done an official online test they then invite you to interview," says Marriott. "And for me that was in Aberdeen, I went just down the road for that. I quite enjoyed the interviews, actually. There were a lot that were up to an hour-and-a-half, but they didn't feel it. And there were a lot of leading questions rather than harsh ones. They weren't aggressive at all, but it still felt like they really got all the knowledge out of you that they wanted to."

A comfortable interview process, then? "They got a lot out of you. They did interrogate you but in a tactful way. It wasn't intimidating," adds Marriott.
4D Seismic
Marriott has now been working at BP in Aberdeen for two years but is unlikely to remain there for long as her career at the company moves to the next phase.
"I've been working on the Schiehallion field for those two years but I've had one year doing geophysics and one year doing geology, and they will probably move me on to the London exploration team so that I'll see the other end of the business in September. That's quite common," she says.

Marriott has been working with 4D seismic on the Schiehallion field – which is located around 100 miles west of the Shetland Islands, north of Scotland. BP has also used the technique on other assets.

"Basically we shoot a 3D seismic survey every two years and we see what the differences are," she says. "Time is the extra dimension and it helps. The main thing that we use it for is for looking where the pressure and the saturations of hydrocarbons and saturations of water are changing. So, what part of the fields are being water swept and where the pressures are increasing or decreasing."

Such data from 4D seismic analysis helps BP with its reservoir management, so that the firm is able to maintain the field at its initial pressure.

"The main thing is that we have to be sure we do exactly the same thing every time. We have to do the same as what we did in 1996, the first time we did it," adds Marriott.

So, how often does Marriott get offshore herself? "I've been offshore three times to experience different platforms. I've been to a semi-sub rig, a drilling ship and a platform. And I will be going off on a seismic survey boat in July," she says.

"It's good because they try to get everyone off for at least 50 days even if your role doesn't involve being offshore. It's just so that you can see where the data comes from, what the problems are with collecting it, what issues they face when you ask for it and what hassle you're causing," she says, half-jokingly.

"It's a very different environment to get used to. It's quite interesting. It's okay for women, actually," adds Marriott. "I think a few years ago you'd struggle to be a woman going offshore but I haven't had any problems in the North Sea."
In good company
When it comes being a woman at BP, Marriott says she is in good company with plenty of other women in BP's geology department in Aberdeen. "I don't know what the exact percentage is but it feels like half and half," she says. "The geo-science part of the office doesn't feel male-dominated at all."

Why the industry as a whole has fewer women than men goes back to school, as far as Marriott is concerned. "The companies don't select to choose men; they just take whoever's qualified and done the appropriate degrees," she says. "So I think they need to start in schools really, getting people to enjoy the science subjects and to decide to take them at university."

Marriott herself believes that she has a long future ahead of her in the sector. "I think I'll definitely stick in the oil industry," she says.

"The good thing is that at BP they've introduced this 10-year development scheme for everybody… It means that you have training courses that you can do during your 10 years to help you to get to a certain level, and they plan out routes for you to get onto whatever career path you've decided. You get quite a lot of help to get to wherever you want to be in 10 years' time."

Of course, being with a global firm like BP could also mean working abroad. "I would be very happy to go abroad, after a bit of experience – maybe after five years in the oil industry – but Aberdeen is a nice place to live and I can imagine coming here later on in my career," says Marriott.
Generated by readers, the comments included herein do not reflect the views and opinions of Rigzone. All comments are subject to editorial review. Off-topic, inappropriate or insulting comments will be removed.