2012 Hurricane Season Predicted to Breeze By
by Jaime Kammerzell
|
Rigzone Contributor
|
Friday, June 01, 2012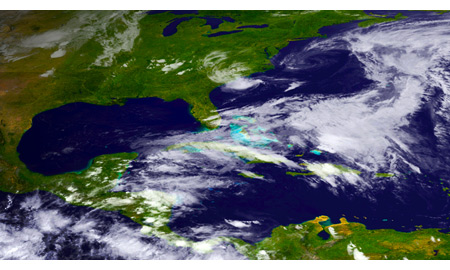 Three major hurricane forecasting teams have predicted a below-average to average hurricane season, which starts Friday, June 1 and runs through November 30.
However, Tropical Storm Alberto made an early appearance off the coast of Florida, Georgia and South Carolina on May 19--the earliest tropical storm since 2003. The storm never made landfall, but coastal residents experienced heavy rain and dangerous surf with maximum sustained winds of 50 miles per hour (mph). Soon thereafter on May 28, Tropical Storm Beryl dumped rain and blew up heavy surf from northeastern Florida to the Savannah River, which divides Georgia and South Carolina.
Needless to say, Gulf coast and East coast residents should prepare for an active Atlantic hurricane season, regardless of predictions.
According to the Weather Channel team, the U.S. Atlantic and Gulf coast will experience 11 named storms, of which six will become hurricanes and two will transition into major hurricanes (Category 3 or higher). However, AccuWeather forecast differs slightly with 12 named tropical storms, of which five will strengthen to hurricane status and two will become major hurricanes. And the Colorado State University team is predicting 10 named storms, four of which are expected to become hurricanes and two of those to become major hurricanes.
The above predictions fall near or below the long-term average (1950-2011) of 12 named storms, seven hurricanes, and three major hurricanes and far below the current active era (1995-2011) of 15 named storms, eight hurricanes and four major hurricanes, the Weather Channel reported.
Forecasters attribute the reduction in activity to the strong possibility of El Nino developing this summer.
"Typically, El Nino is associated with stronger vertical shear across the tropical Atlantic, creating conditions less conducive for storm formation," said Phil Klotzbach of the CSU Tropical Meteorology Project.
AccuWeather.com Expert Senior Meteorologist Dan Kottlowski said, "a shift into an El Niño pattern is expected by the peak of the Atlantic Hurricane Season, which occurs around Sept. 11. A change to El Niño forces the westerlies to migrate farther south, causing increased [wind] shear that will diminish or perhaps shut down further development beyond September."
Though Weather Channel Senior Meteorologist Stu Ostro points out that his team "cannot accurately predict critical details such as where or how many landfalls will occur," the Accuweather and CSU teams have published their predictions.
According to Accuweather.com long-range forecaster Paul Pastelok, "Fronts coming down during June and July could cause energy to break off and develop tropically."
"Another big storm is possible for the East Coast with heavy, flooding rain," Pastelok added.
According to a release from Colorado State University's forecast team, the probability for a major hurricane making landfall in the United States is:
42 percent chance that at least one major hurricane will make landfall on the U.S. coastline.
24 percent chance that a major hurricane will make landfall on the U.S. East Coast, including the Florida Peninsula
24 percent chance that a major hurricane will make landfall on the Gulf Coast from the Florida Panhandle west to Brownsville
34 percent chance of a major hurricane tracking into the Caribbean
In harm's way
Hurricane forecasters are quick to point out that they only predict the number of named storms, not the path of the storm or where it will make landfall. Depending on the hurricanes paths, 116 rigs will be in the Gulf of Mexico at some point during the June 1 to Nov. 30, 2012 hurricane season. Not all of them are currently in the Gulf and not all of them will be staying.
Jackups lead the market with 70 different rigs in the GOM during hurricane season. Hercules Offshore will lead the pack with 34 jackups in the GOM within the June 1 through Nov. 30, 2012 timeframe. Ensco will follow with 11 and Rowan has 9. Other rig managers with contracts include Diamond (5), Nabors (5), Noble (2), Spartan (3), and Perforadora Central (1).
A significant number of semisubmersibles will be in the GOM throughout hurricane season as well. Noble will lead the pack with seven semisubs in the GOM from June 1 to Nov. 30, 2012. Ensco will trail closely behind with six rigs, and Diamond and Transocean will each have five rigs scheduled to work within this timeframe. Other rig managers in the GOM during hurricane season include Atwood (1), Merlin Energy (1), Maersk (1), Seadrill (2), and Viking (1).
Drillships will also be in the GOM during hurricane season. Transocean will have 10 drillships in the GOM from June 1 through Nov 30, while Ensco will have two, and Noble, Pacific Drilling, Stena and Vantage will each have one.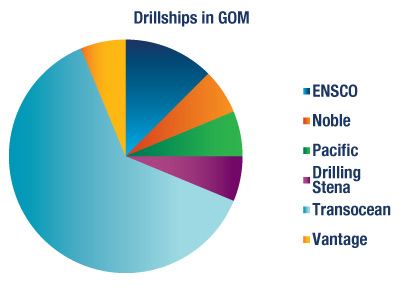 The rig managers and operators working in the Gulf this hurricane season have many years of experience under the unstable weather conditions in the GOM from June through November. Stronger mooring lines, GPS systems, and increased design and safety measures implemented over the last several years have added another level of security to their operations. In addition, the crews are well trained to secure wells far in advance of advancing hurricanes, move rigs out of the way until storms pass, and evacuate if necessary.
Generated by readers, the comments included herein do not reflect the views and opinions of Rigzone. All comments are subject to editorial review. Off-topic, inappropriate or insulting comments will be removed.