Texas Railroad Commission Seeks to Modernize Gas Flaring Rules
by Karen Boman
|
Rigzone Staff
|
Thursday, May 24, 2012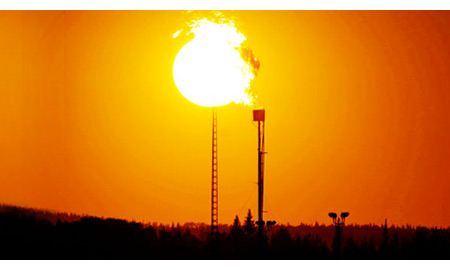 Texas Railroad Commissioner David Porter and the Eagle Ford Task Force have been evaluating "common-sense" solutions to reduce gas flaring and venting associated with oil and gas production, the Texas Railroad Commission (TRC) said in a statement on Wednesday.
Thanks to the exploration and production boom in plays such as the Eagle Ford in South Texas and the Permian Basin in West Texas, the state is now the top natural gas producing state in the United States and the largest natural gas employer with nearly 1.3 million direct and indirect jobs.
However, the rise in natural gas production has resulted in a rise in gas flaring.
"I have traveled the state extensively and seen first-hand that activity is outstripping capacity and awaiting pipeline infrastructure," said Porter.
Some initiatives being discussed include ensuring operators fully comply with current Commission flaring and venting rules, and amending TRC's flaring and venting rules to comport with increased shale play production in Texas. A similar effort is underway to amend the state's water recycling rules.
Other initiatives include:
Reviewing flaring technologies to encourage the use of efficient, environmentally protective and energy-saving flares;
Working in partnership with all other state regulatory entities to streamline air emission rules, monitoring and reporting;
Working in partnership with Texas electrical energy regulators to identify opportunities for using excess gas as a strategic source of power generation, especially with the threat of weather-induced power curtailment
Studying a pilot program to use gas as a source of power for on-lease operations in lieu of gas flaring
"We must proactively address flaring with fair, predictable, common-sense regulations based on science and fact," said Porter. "If we don't, we can expect the anti-fossil fuel folks including the EPA to once again attempt to curtail oil and gas production in our state by using politically motivated rulemakings to implement their political agenda – not what is best for the people of Texas."
Rep. Jim Keffer, chairman of the House Energy Resources committee, said he looks forward to working with Porter and examining the issues in the next legislative session.
Gas flaring is increasingly becoming an issue as natural gas production continues to outpace the capacity available to transport gas supply from production areas to market. In April, the TRC reported that the number of permits to flare natural gas from wells in Texas increased between 2009 and 2011.
The pipeline industry is building capacity at record pace, but ordering steel and constructing pipelines takes longer than drilling a well, said Thure Cannon, executive director of the Texas Pipeline Association.
"Our industry will continue to work hard to catch up with the bevy of new production," Cannon added.
Gas flaring releases both greenhouse gases and dioxins into the environment: When gas combusts, it emits large amounts of soot and carbon monoxide, said Andrew Schrage, co-owner of the website Money Crashers Personal Finance.
Communities near gas flaring projects are subject to a higher risk of asthma, cancer, and respiratory illness, and local crops are at risk of becoming contaminated by acid rain, said Schrage.
"Furthermore, black carbon is released into the environment during flaring, which contributes to global warming. In addition to the air pollution it causes, gas flaring is also a very loud process, contributing to noise pollution," Schrage commented.

Generated by readers, the comments included herein do not reflect the views and opinions of Rigzone. All comments are subject to editorial review. Off-topic, inappropriate or insulting comments will be removed.