Ecosphere Offers Chemical-Free Water Treatment for Hydraulic Fracturing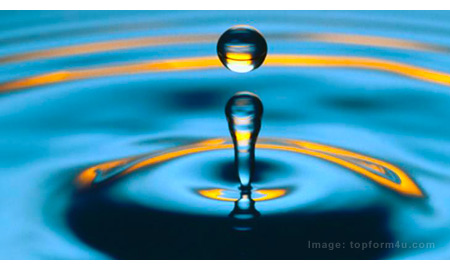 (This article is part 1 of a 3-part series on Fracking Water Treatment.)
The hydraulic fracturing process, which unlocked the United States' unconventional resource potential, has also placed new demands on the nation's water supply and created the need for water treatment solutions.
Stuart, Florida-based Ecosphere Technologies, a diversified water engineering, technology licensing and environmental services company, saw potential for its Ozonix water treatment solution in the oil and gas industry as it was searching for a new market for its product in 2008.
"We sought to enter an industry that had the appetite for the type of technology that Ecosphere provided and that had few barriers for entry," said Ecosphere Chairman and CEO Charles Vinick in a recent interview with Rigzone.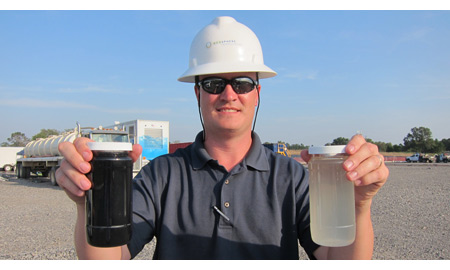 The appetite for water in the United States has grown considerably as oil and gas producers hydraulic fracture wells from the Marcellus and other shale plays. As the amount of hydraulic fracturing has increased, concerns also have been raised by government agencies, environmental groups and local citizens over the amount of water used in the process and the impact of the chemicals used in hydraulic fracturing on drinking water supplies.
Since its establishment over a decade ago, Ecosphere has been focused on identifying an environmental challenge facing industrial use of water and inventing and patenting a new technology to respond to that challenge.
These challenges have included inventing a 3-dimensional way to strip paint from ships developed by Ecosphere; the company sold the rights to this intellectual property in 2007 and retains those rights for other applications of paint stripping, such as cars and planes or physical objects such as water towers.
The company also has been involved in providing clean drinking water in disaster responses, as when it provided drinking water for residents in a Mississippi town following Hurricane Katrina in 2005. Ecosphere has provided cost-effective wastewater treatment solutions for a range of industrial, commercial and municipal industries.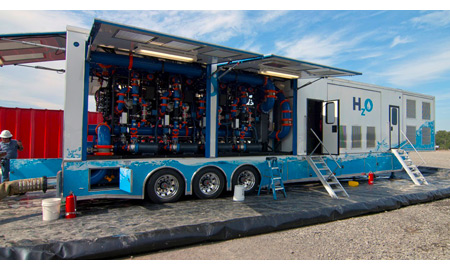 The Ozonix Process
The company's Ozonix process can be used to treat water at the front end of the fracking process, eliminating bacteria, biofilms and the food source for microorganisms without the use of biocides.
Biocides have traditionally been used to kill bacteria in fracking fluids prior to the fluids being pumped downhole. This process is done to reduce bacteria that can sour a well, cause corrosion and potentially make the well unusable, said Robbie Cathey, CEO of Arkansas-based Ecosphere Energy Services.
Instead of using liquid chemicals, Ecosphere uses an ozone-based system accompanied by cavitation. Ozone, an oxidant, can easily break down cell walls to destroy bacteria, Cathey said.
The Ozonix process is a single process that runs the water through four zones. Inside the machine, it's four steps, but for operators, it's just one step at a flow rate of 80 barrels per minute or approximately 3,360 gallons per minute.
In the first zone of the process, ozone, a powerful oxidizing agent, is combined with hydrodynamic cavitation to destroy highly-resistant microorganisms and oxidizes pollutants through the use of high intensity turbulence, sheer and fluid pressure fluctuations. Significant amounts of micro bubbles that implode and release energy are generated through a proprietary mixing process, and hydroxyl radicals are produced with an oxidation potential higher than chlorine.
In the second zone, the Ozonix process oxidizes iron sulfides and magnesium sulfates by ozone forming iron oxides and magnesium oxides, destroying the environment and food sources upon which bacteria depend for survival.
In the third zone, acoustic cavitation destroys complex and biorefractory chemicals present in water through the use of sound waves, causing micro bubble collapse. Ultra-sonic transducers generate localized high concentrations of oxidizing species, coupled with higher magnitudes of localized temperatures, pressures and the formation of transient supercritical water to destroy microorganisms. The use of multiple transducers gives a uniform cavitational activity distribution throughout the Ozonix process and increases the extent of degradation/disinfection.
In the last zone, electrochemical oxidation mineralizes non-biodegradable organic matter and eliminates nitrogen specific in the water. As organic matter is decomposed, electrodes produce hydrogen and residual chlorine which further aids in the oxidation of pollutants and improves water disinfection.
"Ecosphere's advanced oxidation process is very efficient at killing bacteria," said Cathey, adding that Ozonix is cost competitive with traditional chemical treatment.
"Combining ozone with hydrodynamic cavitation, acoustic cavitation and electro-oxidation increases the mass transfer rate of ozone appreciably, five times and substantially above," said Cathey. "Each of these processes increases the mass transfer rate of ozone, meaning less ozone can be used for increased disinfection of the water to the point where we are actually sterilizing it."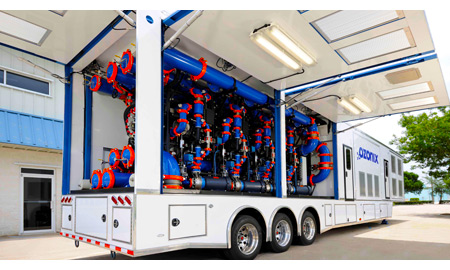 More Than 1 Billion Gallons of Water Treated Since 2008
The Ozonix technology has been used by Ecosphere and its licensee, Hydrozonix, to treat more than one billion gallons of water on approximately 500 oil and gas wells since 2008, said Vinick in a March 28 statement.
The Ozonix process is deployed in individual units that are capable of processing a certain number of barrels of water per minute. Ecosphere has deployed 33 Ozonix units to date that are servicing major oil and gas operators conducting hydraulic fracturing around the United States.
The technology can process up to 120 barrels per minute and can be scaled up or down to meet the producer's operations, which can have a larger footprint in areas such as Texas but smaller footprints in plays such as the Marcellus due to multi-pad operations or mountainous terrain.
The company is on track to deliver two Ozonix EF80 units, which are capable of processing up to 80 barrels per minute, to Hydrozonix every quarter, the company reported in its earnings update on May 7.
Six units are deployed by Hydrozonix, and the remaining units are operated by Ecosphere Energy Services. Units deployed by Hydrozonix are operating in the Eagle Ford and Permian Basin plays in Texas and in New Mexico, said Cathey.
O&G Companies Seeking Cost-Effective, Environmentally Friendly Solution
Ecosphere's customers include Southwestern Energy, which is using Ecosphere's technology to treat wells in the Fayetteville play in Arkansas, and Newfield Exploration, which is using the water treatment technology for its Woodford shale assets in Oklahoma. Ecosphere's technology is being used to treat water at up to 120 barrels a minute in the Fayetteville, said Vinick.
"Recycling is the trend driving interest from a cost standpoint and an environmental standpoint," said Cathey about the interest by oil and gas companies in new ways to treat produced water. "Companies also are looking for cost-effective solutions and ways to reuse as much produced water as possible in an effort to minimize the need for fresh water."
As produced water is reused, the need for and difficulty in treating water grows as the level of bacteria and heavy metals present in the water grows.
"Three or four years ago, most operations were using strictly fresh water from ponds, streams, which have fairly low levels of bacteria," said Cathey.
Besides the environmental and cost benefits, companies do not need to transport or store chemicals, helping eliminate heavy traffic and damage to roads leading to drilling sites, and a reduction in carbon dioxide emissions.
"Ozonix reduces costs in two ways by reducing the cost of sourcing fresh water and reducing the cost of disposal for produced and flowback water," said Cathey. "Some customers have reduced the amount of disposal by over 90 percent."
Using the Ozonix process also can reduce the need for deep well injection, which some studies have speculated may cause earthquakes due to the saturation of potential fault lines.
Besides Newfield and Southwestern, Ecosphere has worked with several mid-major and independent companies.
"We've found that folks like Southwestern Energy are very innovative companies that are willing to try new technologies and realize the cost benefits of using Ozonix," said Cathey.
The company in late March announced a letter of commitment with the Blackfeet Nation for Ecosphere Energy Services and Hydrozonix to be the exclusive provider of water treatment services to oil and gas companies targeting the Bakken shale play on the 1.5 million acre Blackfeet reservation in north-central Montana.
Newfield, Rosetta Resources and Anschutz Exploration have all secured mineral rights from the Blackfeet Tribe and are actively drilling vertical and horizontal wells to target plays in the Southern Alberta Basin, including the Bakken, Three Forks, Nisku and Lodgepole formation.
Besides the U.S. onshore exploration and production market, Cathey said Ecosphere feels that the company's technology is applicable for the offshore market. After being laser focused on onshore oil and gas since 2008, the company is in the early stages of growing its technology for use in other energy applications.
"We feel this technology is very applicable to power plants and other industrial applications in which large volumes of water are used. The need to recycle water tends to be an issue in many areas of energy, including power," Cathey noted.
Ecosphere and its majority-owned subsidiary Ecosphere Energy Services were also awarded Frost & Sullivan's 2012 North American Product Leadership Award in Disinfection Equipment for Shale Oil and Gas Wastewater Treatment.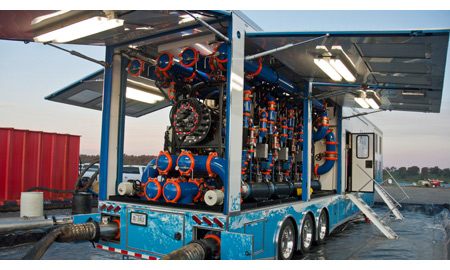 Growing Water Demand Illustrates Need for Water Treatment, Recycling
The need for treating produced and flowback water without harsh chemicals will become more critical as water demand grows worldwide not only for consumption in industry, but as the global population grows and citizens in emerging economies seek the quality of life seen in developed nations like the United States.
While water shortages are being reported in emerging economies such as Africa, water supply issues have been seen in the United States, including the drought that affected Texas last year. The drought, coupled with the demand placed on water supply by the oil and gas industry and other stakeholders such as cattle growers, illustrated how critical an issue water supply has become.
"It's not a new problem, but more of an acute problem as more people place more demands on resources," said Vinick, who joined Ecosphere in 2006 as a director through his 25-year friendships with the family of Jacques Costeau, and has served in executive positions in organizations established by Jacques or his son, Jean-Michel Cousteau, who serves as a director on Ecosphere's board.
These recycling efforts include grey and clear water systems in homes in which water from dishwashers, showers and other appliances can be reused to water lawns or treated for drinking water, depending on the types of soaps used and the right separation systems, Vinick noted.
Continue to Part 2: Water, Energy 'Inexorably Interlinked'
Skip to Part 3: Wastewater Market to Grow as Hydraulic Fracturing Activity Grows Globally

Generated by readers, the comments included herein do not reflect the views and opinions of Rigzone. All comments are subject to editorial review. Off-topic, inappropriate or insulting comments will be removed.