Bangladesh Says Finds Oil Reserves Worth $5.5B
by Dow Jones Newswires
|
Monday, May 21, 2012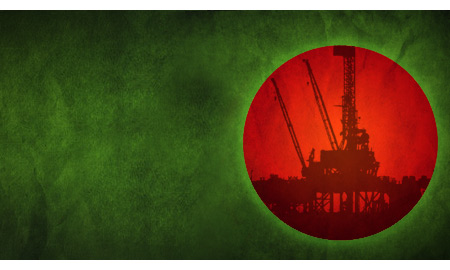 DHAKA, Bangladesh - Bangladesh has discovered oil in two old gas fields in the country's northeastern region with an extractable reserve worth $5.5 billion, the chairman of state-owned Petrobangla said Monday.
Hussain Monsur said the two finds at Kailashtila and Sylhet contain proven reserves of 137 million barrels of low sulphur crude oil, of which 55 million barrels can be lifted commercially.
Low sulphur, or "sweet," crude oil is highly sought after and is more easily processed into gasoline than high sulphur crude.
"In the current market price, the value of this extractable reserve of 55 million barrels is BDT450 billion ($5.5 billion). It's a very good news, coming at a time when are our oil import bill is growing fast," he said.
The impoverished nation spent about $5 billion to import crude and refined oil in 2011--up from about $4 billion in 2010--a large part of which was subsidized by the government, said state fuel importer Bangladesh Petroleum, known as Bapex, a subsidiary of Petrobangla.
Bapex made the accidental finding last week while analyzing 3D seismic surveys conducted last year in an effort to determine the size of remaining gas reserves in the two fields, which were discovered in 1962 and 1955.
Monsur said this was the first time that economically viable oil reserves have been found in Bangladesh. The country found a small oil reserve in the northeast in 1986, but could lift fewer than one million barrels of oil.
Bapex would start drilling wells in the next 18 months, Monsur said, adding the company would need foreign consultants as it hasn't made oil extractions on this scale before.
Bangladesh is one of the world's poorest countries, with a third of its 150 million people living below the poverty line.
Generated by readers, the comments included herein do not reflect the views and opinions of Rigzone. All comments are subject to editorial review. Off-topic, inappropriate or insulting comments will be removed.
RELATED COMPANIES