Cook Inlet Lease Sale Shows 'Positive Upturn' for Cook Inlet Exploration
by Karen Boman
|
Rigzone Staff
|
Friday, May 18, 2012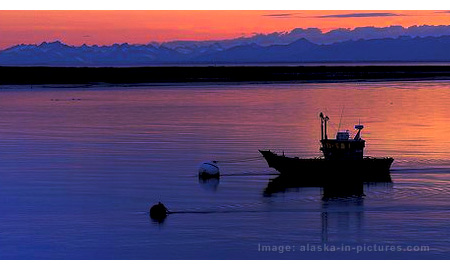 Preliminary results of the recent Cook Inlet Oil and Gas Lease indicate winning bonus bids of $6.8 million were received, making the sale the second largest Cook Inlet lease sale based on bonus bids since 1999, Alaska's Department of Natural Resources reported on Wednesday.
Fifty-two bids were made by Cook Inlet Energy, Hilcorp Alaska LLC, Apache Alaska, Buccaneer Alaska LLC and William Crawford, on 44 tracts encompassing approximately 197,795 acres.
The results "are in line with the positive upturn in exploration activity and lease sale bidding in the Cook Inlet hydrocarbon basin seen over the past two years," the Department of Natural Resources (DNR) said in a statement.
DNR noted it needed to verify the qualification status of the winning bidders and the validity of the bids.
"It is encouraging to see that our efforts to bring solid, factual information about the resources of Cook Inlet to industry have been effective," said Natural Resources Commissioner Dan Sullivan in a statement. "This basin continues to attract explorers on the basis of its hydrocarbon resources and the State offers these explorers some of the most generous financial incentives in the country."
These incentives include a tax cap on oil production at zero dollars and a production tax on Cook Inlet natural gas at $.18/Mcf for new production. Producers pay a low, 5 percent royalty on any new discovery in the inlet for the first 10 years.
Additionally, the state offers investment tax credits and, due to legislation passed in 2010, it offers a special incentive for the first three exploration wells drilled from a jackup rig.
Buccaneer Energy is one of the companies taking advantage of these incentives to explore Cook Inlet's potential, as reported by Rigzone last year.
"In the past year, we have seen old wells restarted, new exploration wells drilled, and seismic and geological work initiated to support future development," said Oil and Gas Division Director Bill Barron.
"Cook Inlet is an excellent example of how a combination of solid resource base and an attractive financial environmental encourages exploration and development," Barron added.
Generated by readers, the comments included herein do not reflect the views and opinions of Rigzone. All comments are subject to editorial review. Off-topic, inappropriate or insulting comments will be removed.
RELATED COMPANIES