Oil Traders Fear New Regulations Will Lead To Higher Costs
by Dow Jones Newswires
|
Sarah Kent
|
Friday, May 11, 2012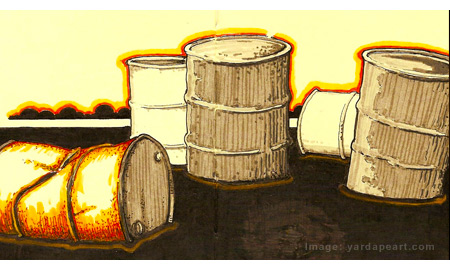 LONDON - The oil market is bracing itself for a wave of change as contentious regulations begin to come into effect this year, just as soaring oil prices shine a spotlight on the issue of market oversight.
High gasoline prices in the U.S. and Europe-the two regions seeking to undertake serious regulatory overhauls-have added weight to the push for tougher market supervision, which began in 2008 when prices spiked to record highs just as the financial crisis hit.
Proposed regulatory changes, some of which have already been passed into law, include restrictions on the size of investors' commodity holdings, tougher rules on transparency and insider trading and a push for more products not traded on exchanges to go through central clearing houses. These identify the obligations both sides of a trade have to a contract and also take on the credit risk.
However, market participants have raised concerns that restrictions on the size of holdings might discourage financial players from participating in the market, while more stringent regulatory obligations and a push to clear the majority of products could increase prices. The overall result, they say, may be less market liquidity and increased volatility-exactly the reverse of what was intended.
In the U.S., the role of speculators in the oil market is shaping up to be a major political issue in the run up to presidential elections at the end of the year.
President Barack Obama has been vocal in calling for tougher market supervision, pushing Congress to give the Commodity Futures Trading Commission new powers to direct exchanges to increase their margin requirements. Meanwhile, position limits have become the subject of debate in Congress, increasing pressure on the CFTC to move ahead promptly with its mandate to enforce these new rules.
Many say discussions over regulation have become too politicized and as a result several of the proposed changes could significantly alter-and potentially hamper-the way the market operates.
"When it gets politicized like this, it's not a good thing because emotion begins to drive people and you lose track of reality," says Tom Lasala, managing director and chief regulatory officer at CME Group Inc (CME), which owns the exchange where Nymex crude-one of the world's main oil benchmarks-is traded.
In the U.S., the CFTC is in the process of fine-tuning new rules that will apply to the oil market in the coming months, while the European Union is also discussing numerous regulatory changes, some of which are likely to be implemented as early as the end of this year.
In both cases, one of the most contentious areas is the big push to introduce rules limiting the size of positions financial players, like hedge funds, can hold in the market.
Politicians argue that these limits will be an effective way of preventing excessive speculation and price manipulation-a key reason, many say, for the current high oil prices.
But market participants say speculators provide valuable liquidity and aren't responsible for price fluctuations.
"Excessive speculation is very sexy to point to but-let's be sensible about it-the clear evidence of that has yet to come forward as far as we're concerned," says CME's Mr. Lasala.
In fact, some argue, position limits will prompt funds and other financial investors to leave the market, removing liquidity and thereby increasing volatility.
But regulators aren't convinced the industry's concerns are justified.
In some commodities markets in the U.S., position limits have existed for decades, says Steven Adamske, director of public affairs at the CFTC.
The grains market, which includes wheat and corn, has been subject to this kind of oversight since the 1930s, while in the U.S. speculative traders are already subject to limits set by the exchanges.
The industry argues that a more appropriate way to regulate the market is through position management, which would allow regulators to set position thresholds that would trigger alerts when exceeded, but wouldn't necessarily result in regulatory action. This is how many exchanges already operate.
"Position management is very granular and we monitor companies throughout the trading day," says Simon Martin, compliance and regulatory policy manager at ICE Futures Europe, where Brent, one of the world's largest oil futures contracts, is traded.
Market participants argue that this is the kind of oversight the oil market needs, but regulators remain concerned about the role speculators play in the market.
"It is important to be able to impose position limits, when necessary, when there are concerns in terms of market integrity or orderly functioning of markets," Chantal Hughes, spokeswoman for Michel Barnier, the European Commissioner for the internal market, said in a statement.
While the most vocal debate has been over position limits, the most significant change investors could be facing is in the cost of doing business.
A more rigorous reporting burden is set to increase the cost of compliance, while regulatory changes that would push most transactions currently executed off exchanges, or over the counter, through central clearing houses, could also increase prices, market participants say.
"There is quite a lot of concern in the marketplace generally that the requirements may well increase costs as well as potentially increase a lot of procedural complexity, and that could decrease liquidity," says Jayesh Parmar, lead partner at consultancy Baringa Partners' energy advisory practice.
Even regulations that aren't directly intended to affect the oil market could have a significant impact on costs, participants say.
Basel III, the new set of global banking regulations hammered out by the Bank for International Settlements and due for implementation over the next six years, is a particular concern. The rules call for an additional charge on banks taking counterparty risk on derivatives contracts of the kind oil consumers might use to hedge themselves.
"Basel III could lead to tremendous extra cost for the entire sector because of the additional capital requirements banks have to comply with," says Marc Schwabe, manager in the finance division of German airline Deutsche Lufthansa AG.
"Just from the capital requirement side it could lead to cost increases of 100-150%," he says, though not all analysts agree that the cost impact will be so high.
This is particularly significant for companies, like airlines, that use a lot of oil and use the oil markets to hedge their exposure to price fluctuations. Energy consumers and producers say some smaller businesses could struggle to operate in a more expensive market, damaging their ability to minimize the risk from price fluctuations.
Regulators say they carried out extensive research into the cost of proposed changes. "All the commission's proposals in this field were accompanied by in-depth impact assessments, which specifically took into account the impact of the proposals on SMEs, and proposals were tailored appropriately," said Ms. Hughes of the European Commission, referring to regulatory changes proposed by the EC.
Many of the regulations in question have yet to be fully formulated, but analysts say that while there is still wiggle room for industry to influence the shape of regulatory change, the time frame for companies to adapt once the new rules are brought into force will be short.
"At this stage, where the wise firms are looking is at the potential impact, and those that can afford to are beginning to look at their options," says Chris Collins, director in KPMG's regulatory change team.
"2012 is the critical year to get all this in place," he adds.
Generated by readers, the comments included herein do not reflect the views and opinions of Rigzone. All comments are subject to editorial review. Off-topic, inappropriate or insulting comments will be removed.