Union Calls for North Sea Helicopter Firm to Ground Fleet
by Dow Jones Newswires
|
Alexis Flynn
|
Thursday, May 10, 2012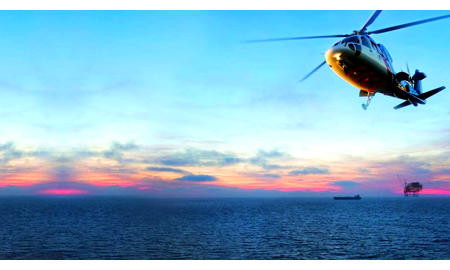 LONDON - The U.K.'s main offshore workers' union has called for all helicopters operated by Bond Aviation to be grounded pending an investigation into why an aircraft was forced to ditch into the North Sea earlier Thursday, and whether similar issues are affecting the rest of the fleet.
"While we are delighted that everyone on board is safe, there are obvious concerns when another Bond helicopter lands in the water," said RMT OILC regional organizer Jake Molloy.
Thursday's incident is the latest to affect a Eurocopter helicopter in the North Sea. Sixteen people died when a Bond Super Puma plunged into the sea while carrying men from BP PLC's Miller platform to Aberdeen in April 2009. Earlier that year, 18 people survived after a Bond helicopter ditched in the North Sea.
Molloy said he had heard anecdotal reports from union members of helicopter problems that had occurred in recent weeks that he said hadn't been reported to the Helicopter Safety Steering Group, which is part of the offshore workgroup comprising representatives from industry and the oil and gas workforce.
His concerns were echoed by fellow union Unite.
"Unite the Union is concerned that there have been problems with helicopter engines recently that haven't been reported to the Helicopter Steering Group," the union said in a statement. "Obviously the reason for the ditching has to be investigated, but Unite is calling for an urgent meeting of the Helicopter Steering Group to be convened."
Bond Aviation said there were no plans to ground its fleet of Eurocopters, which are manufactured by a unit of European Aeronautic Defence and Space Company NV.
"Right now, our priority is our passengers and pilots," said a Bond spokesman. "Of course, we will checking with the helicopter manufacturer to better understand what has happened," adding that the company implemented a strict maintenance program on its aircraft.
He wasn't immediately able to confirm whether any engine incidents had occurred in recent weeks.
The helicopter that ditched Thursday had been ferrying workers to ConocoPhillips Corp.-leased drilling rigs on the Jasmine field, a ConocoPhillips spokesman said.
ConocoPhillips wasn't immediately able to confirm whether the passengers onboard were employees of the U.S. firm or of third-party contractors working on their behalf. The workers were bound for the Ensco 102 jackup rig and the Maersk Resilient jackup rig, owned by Ensco PLC.
All 16 people onboard the helicopter are safe and accounted for, Grampian Police and the Coastguard have confirmed. A major rescue operation was launched after the aircraft, a Eurocopter EC225, descended into the sea around 25 miles off Aberdeen shortly after midday.
Generated by readers, the comments included herein do not reflect the views and opinions of Rigzone. All comments are subject to editorial review. Off-topic, inappropriate or insulting comments will be removed.
RELATED COMPANIES
For More Information on the Offshore Rig Fleet:
RigLogix can provide the information that you need about the offshore rig fleet, whether you need utilization and industry trends or detailed reports on future rig contracts. Subscribing to RigLogix will allow you to access dozens of prebuilt reports and build your own custom reports using hundreds of available data columns. For more information about a RigLogix subscription, visit
www.riglogix.com
.