Interior Approves Anadarko's Uinta Basin Project
by Karen Boman
|
Rigzone Staff
|
Tuesday, May 08, 2012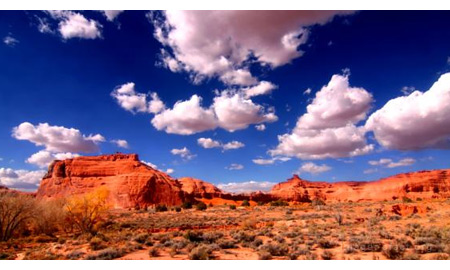 Secretary of the Interior Ken Salazar on Tuesday signed the Record of Decision (ROD) for Anadarko Petroleum Corp.'s proposed Greater Natural Buttes project, in which up to 3,675 new gas wells could be developed in the existing gas producing area of Uintah County, Utah over a 10-year period.
"The President is focused on expanding safe and responsible production of natural gas as part of an all-of-the-above energy strategy that's cleaner, cheaper and full of new jobs," said Salazar, who signed the agreement in a ceremony Tuesday at the Kern River Compressor Station in Salt Lake City.
The project encompasses approximately 163,000 acres, but will only disturb 5 percent, or 8,100 acres of land in area, due to the 1,484 well pads approved in the ROD. It will support 4,302 short-term jobs at peak development and an average 875 long-term jobs over the production life of the project.
The decision follows a landmark comprehensive public consultation and conservation stakeholder involvement effort "that resulted in a balanced approach to energy production and environmental protection that will boost America's energy economy," the U.S. Bureau of Land Management (BLM) said in a statement.
Salazar noted that the agreement "is a great example of how collaboration can allow us to uphold America's conservation values, while bringing growth to Utah's economy and further reducing our dependence on foreign oil by developing our resources here at home."
BLM prepared the Final Environmental Impact Statement (FEIS) for the project in coordination with the Bureau of Indian Affairs and Uintah County, which participated as formal cooperating agencies during the EIS process. The U.S. Fish and Wildlife Service and the Environmental Protection Agency also were involved to ensure their concerns were addressed.
As a result of a collaborative process among federal, state, local and tribal governments, Anadarko and the Utah conservation community, the project will implement best management practices in the project area to safeguard air quality and protect crucial big game winter range, sage-grouse and sage-grouse habitat, sensitive soils, visual effects and recreational use.
National and regional conservation groups, including the Southern Utah Wilderness Alliance, praised the agreement.
"We appreciate Anadarko's willingness to meet with us, listen to our concerns, and adjust its project to eliminate and mitigate impacts," said Stephen Bloch, energy program director for the Southern Utah Wilderness Alliance.
The company's final proposal eliminated several locations in the White River proposed wilderness area. Anadarko also acquired private lands along the river corridor for conservation purposes and is taking other steps to mitigate or eliminate the sight and sound of development for families and river runners on the White River.
"These kinds of compromise agreements confirm that Utah can have a robust energy sector while at the same time protect its wildest public lands," Bloch said.
Generated by readers, the comments included herein do not reflect the views and opinions of Rigzone. All comments are subject to editorial review. Off-topic, inappropriate or insulting comments will be removed.
RELATED COMPANIES