Crude Recap: Natural Gas Rallies, Wins Again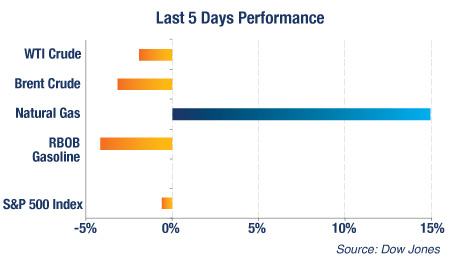 Natural gas was the big winner--gaining nearly 15 percent--over the past five days of trading. News early in the week that daily natural gas production for February in the lower 48 states dropped .6 percent provided an additional stimulus to a rally that had begun in the prior week. Opposite of natural gas, crude and gasoline prices pulled back with reformulated gasoline leading the charge lower.
Diary from last five days:
4/27/2012 – The natural gas rig count dropped to 613 by 18 rigs, according to Baker Hughes Inc., which was likely the catalyst for a near 3 percent rally on the day for the commodity.
4/30/2012 – Spain announced that its economy was in a recession.
5/1/2012 – ISM figures for April at 54.8 were above expectations and led to a rally across broader markets and the energy complex.
5/2/2012 – U.S. crude inventories announced a high not seen since 1990.
5/3/2012 – The Automatic Data Processing (ADP) jobs report at 119,000 new jobs was below expectations. The European Central Bank did not appear supportive of an additional stimulus. Both factors weighed on crude futures and the broader markets.
On a year-to-date basis, reformulated blended gasoline futures (RBOB) continues to lead the pack. In the most recent weekly Spending Pulse report by MasterCard, gasoline demand fell 5.6 percent versus one year ago. Gasoline prices are now retracing their gains with retail prices averaging $3.84 last week and marking the first time this year that prices were lower than last year's levels. It certainly looks like the global markets are suggesting that a diplomatic resolution to the situation with Iran is more likely than a war. This could push prices for both gasoline and crude much lower considering the swollen inventory levels each possess.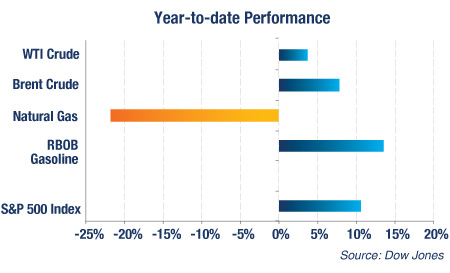 Generated by readers, the comments included herein do not reflect the views and opinions of Rigzone. All comments are subject to editorial review. Off-topic, inappropriate or insulting comments will be removed.