DSL Establishes New API Training Standard for Derrick Builders
DSL have been awarded the coveted API Certified Training Center Status, (TPCP) for its "Derrick Technician" training and competency assessment course, at the OTC in Houston, by Don Whittaker of API.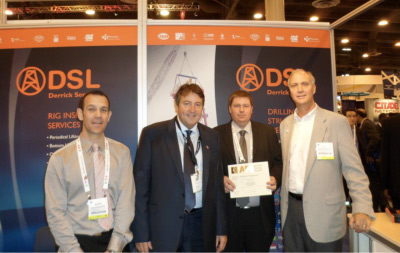 DSL receiving their API Approved Training Centre Award at OTC 2012
this week. Right to Left; Don Whittaker of API, Paul Brightman, Mike Smith
and Mark Chandler of DSL.
The course is an industry first as there is currently no other recognized training or qualification for personnel to undertake the various tasks associated with the various workscopes associated with drilling derricks such as assembly, repair, removal and installation of crown blocks and the complicated rigging procedures that are required to safely carry out these tasks.
Mike smith, managing director of DSL said, "The API certification of our facility and this course gives us immense pride in both the achievement, as well as the fact that we know that we are making a significant contribution to the further improvement of safety in our industry. The API certification of our training provides the industry with a reliable standard that can be endorsed as 'the standard' for all personnel working in derricks in the future, where we currently have none."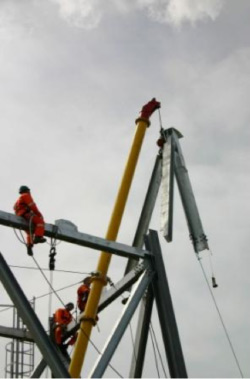 Derrick Assembly Training
Mike added, "The API certification of the DSL Derrick Technicians Training Course provides the industry with its first qualified standard to measure the competency and qualification of personnel undertaking the many potentially high risk activities in drilling derricks. It seems somewhat surreal that whilst the evolution of health and safety in our industry has made great progress in the last 20 years, that the competency and qualification of personnel working above the drill floor undertaking potentially high risk activities, has been somewhat overlooked. There is a significant perception in the industry at the moment that if you hire a rope access technician, that that person is somehow qualified or competent to do any or all of the tasks that you need Done at height. The fact is that many of these technicians have received little or no relevant training when it comes to derrick work, and measurable competency assessment is severely lacking. This course enables us to both evaluate and certify the competency of experienced personnel as well as provides comprehensive training and qualification to those that do not have sufficient experience or training."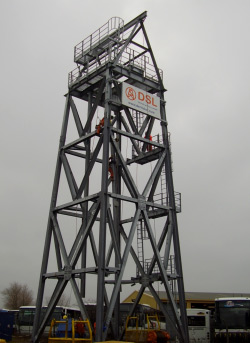 The training derrick and associated
infrastructure represents an investment
of over $500k by DSL.
The training was originally developed by DSL back in 2004 for its own employees, but the lack of industry standards has prompted DSL to achieve API recognition for the course and to make it available to the industry. It is divided into seven separate modules that can be taken either in one course, or module by module. Candidates will then be qualified to levels 1, 2 or 3 as they complete the training and competency assessment exams.
The course is currently being run from its facility in Great Yarmouth, England, where a 82-foot (25-meter) training derrick has been manufactured and assembled for undertaking the practical training elements of the course. A training structure for the DSL Singapore facility is currently being built and another is planned for its Brazil operations in the very near future. A Houston facility is also planned as additional training courses, that are currently being developed, are accredited to API, and DSL has opened an office in Houston this month as part of that process. However, competency assessment can also be conducted on site, whenever the location and operations allow.
DSL's core business is providing the upstream industry with the upgrade, refurbishment, repair and inspection of drilling structures, as well as design and manufacture, and holds API licences to 4f & 8c for these products and services. Worldwide it has in excess of 120 derrick technicians involved in this work.
Generated by readers, the comments included herein do not reflect the views and opinions of Rigzone. All comments are subject to editorial review. Off-topic, inappropriate or insulting comments will be removed.