Pazflor Moves Angola to New Heights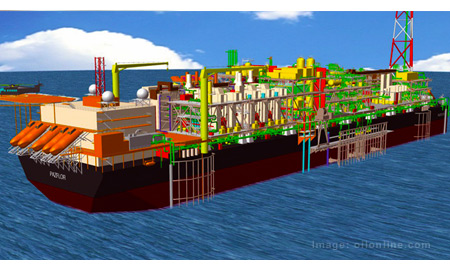 Pazflor is an innovative first, panel members remarked during an OTC session Tuesday morning about the oil project in southern Africa.
The Pazflor oil project, located approximately 90 miles (150 kilometers) offshore Angola in ultra-deep waters, the Pazflor project incorporates four fields -- Perpetua, Zinia, Acacia and Hortensia -- spanning 148,263 acres (600 square kilometers) on the eastern edge of Block 17.
Sonangol, Angola's national oil company is the Block 17 title holder. Total's Angolan subsidiary, Total E&P Angola, is the operator of the with a 40 percent interest. Partners in the license include Statoil with 23.33 percent interest, Esso Exploration Angola with 20 percent interest and BP Exploration Angola with 16.67 percent interest.
Sebastião Gaspar Martins, chairman of Sonangol P&P (Pesquisa & Produção), Sonangol's upstream wing, stated at the convention that Pazflor is considered a technological innovation because of the project's three large scale oil subsea separation and pumping units installed at 2,625 feet (800 meters) WD that connect to the world's largest FPSO ever built and the vessel's ability to process two types of oil very different in nature.
"Such an achievement has been made possible thanks to a strong cooperation between Sonangol and Total," commented Martins. "It validates the strategy chosen by Angola so far to develop its reserves and proves, again, the ability of Sonangol in working with major oil companies like Total to build on each party's know how and competences."
Due to the success of the Pazflor project and two prior fields, Girassol and Dalia, Sonangol, is continuing its exploration success in the country. Angola, Africa's second-largest oil producer, intends to take advantage of its natural resources.
Sonangol and Total recently signed three production sharing agreements to explore for hydrocarbons offshore Angola. Per the agreement, Total will survey and carry out exploration and drilling on three blocks, 40, 25 and 39, in the Kwanza Basin.
The Kwanza Basin holds promise for the consortium as it is rumored to be geologically similar to the petroleum-rich Santos and Campos Basins in Brazil. With the hydrocarbon successes of the three oil fields currently producing, this geological feature increases the possibility of finding big reserves of oil and natural gas.
"In my opinion, the Kwanza Basin is a real opportunity for local companies with proven technical and financial capability brought in from abroad," said Martins. However, "we must be part of the development of our own resources to ensure that the know-how does not totally rest with international companies."
Generated by readers, the comments included herein do not reflect the views and opinions of Rigzone. All comments are subject to editorial review. Off-topic, inappropriate or insulting comments will be removed.
MORE FROM THIS AUTHOR
SubseaIQ
Field Development Updates