Crude Recap: Investors Eye Nat Gas Wins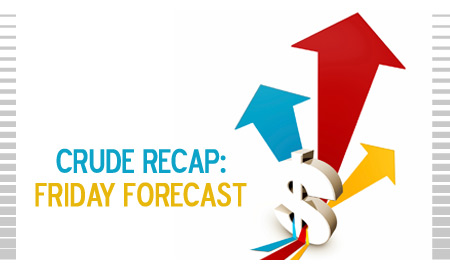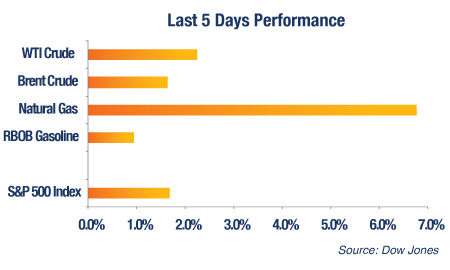 Both the broader equity markets and crude prices gained some ground over the past five trading days. Relative to the approximate 2 percent gains posted by WTI crude and Brent, natural gas futures posted considerably larger gains of nearly 7 percent. A further divergence between the oil and natural gas could be in the cards given that oil is showing signs of a topping pattern and natural gas appears to be developing a bottom. Still, many traders are voicing caution and continue to point to oversupply issues that are a headwind against rising natural gas prices.
Diary from the last five days:
4/20/2012 – A weak dollar and improvements seen in the UK and German economies lifted crude trade.
4/23/2012 – European equity markets performed poorly dropping over 2 percent on the day. Crude followed suit. Natural gas futures surged 4 percent on the day as demand from the East Coast was reported higher than usual for this time of the year.
4/24/2012 – A mild news day for the energy complex led to muted activity.
4/25/2012 – EIA weekly inventory report showed 4 million barrel increase, oil dropped after the report but managed to end the day in positive territory. Marking another strong day, natural gas settled nearly 5 percent higher than the previous day.
4/26/2012 – Natural gas was highly volatile during the day with the weekly EIA storage report providing a surge of nearly 6 percent, only to see prices settle approximately 2 percent lower for the session.
On a year-to-date basis, reformulated blended gasoline futures (RBOB) continue to lead the pack. In the most recent weekly Spending Pulse report by MasterCard, gasoline demand fell by 6.1 percent versus a year ago. Additionally, there are signs that retail gasoline prices could head lower over the summer driving season, which would be rarity if this does end up to be the case.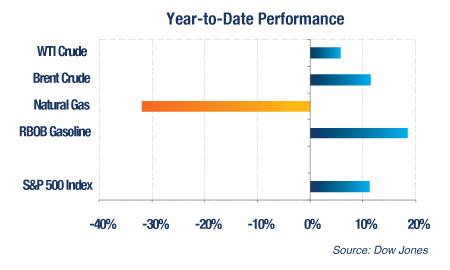 Generated by readers, the comments included herein do not reflect the views and opinions of Rigzone. All comments are subject to editorial review. Off-topic, inappropriate or insulting comments will be removed.