Compensation Tracker: Working in North America
by Jaime Kammerzell
|
Rigzone Contributor
|
Monday, April 30, 2012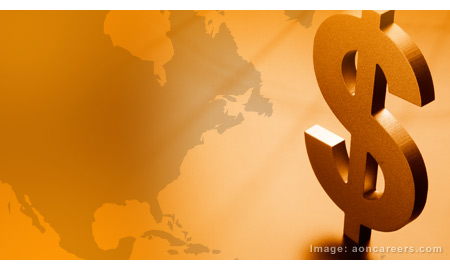 North American countries, particularly the U.S. and Canada, play an important role in the global oil and gas industry.
The U.S. is experiencing an energy boom as the Gulf of Mexico comes back to life after the Macondo oil spill and shale drilling activity skyrockets. The U.S. Energy Information Administration (EIA) predicts development of tight oil, as well as offshore GOM resources, will result in 6.7 million barrels of oil per day (MMbopd) in 2020. Equally exciting are expectations from the EIA that the U.S. will become a net exporter of LNG in 2016, a net pipeline exporter in 2025, and an overall net exporter of natural gas in 2021.
The oil and gas boom is also creating jobs. Gary Hunt's "How the US Shale Boom Will Change the World," published in February 2012, predicts more than 600,000 jobs can be directly attributed to shale gas development in the U.S. Rigzone reported in March a study by Black & Veatch for the INGAA Foundation that $229 billion in U.S. midstream investments will support more than 125,000 jobs per year and spur more than half a trillion dollars in economic output through 2035.
According to the EIA, Canada has 175.2 billion barrels of proven oil reserves, which places it third behind Saudi Arabia and Venezuela. Canada exports a significant amount of oil and gas to the U.S.; however it could soon be exporting to Asia. The country currently is waiting for approval to build the Northern Gateway pipeline, which would deliver oil from Alberta to the nation's west coast, where it would be sent to China. If approved, Enbridge Northern Gateway Pipelines says the pipeline and terminal would provide 104 permanent jobs in Alberta and British Columbia, and 3,000 temporary jobs during construction.
As Rigzone reported in January, U.S. President Barack Obama cited environmental concerns as he denied a critical presidential permit for the Keystone XL pipeline project. The American Petroleum Institute and other project proponents criticized Obama's decision, pointing out that Keystone XL could generate 20,000 direct and 100,000 indirect jobs. More recently, however, Obama signalled support for a portion of the pipeline located exclusively in the U.S.: from the oil storage hub of Cushing, Okla., to the Texas Gulf Coast.
Regardless, recruiters are looking to fill in situ oilsands, shale gas and offshore personnel in Canada.
Like Canada, Mexico is one of the top exporters to the U.S. However, oil production has decreased in recent years as production declines at the giant Cantarell field in Mexico's Bay of Campeche. In January 2011, the EIA reported Mexico had 10.4 billion barrels of proven oil reserves, with the majority coming from the country's dying Cantarell field, but reported sizable reserves in Mexico's onshore basins in the southern part of the country. The future of Mexico's oil exploration and production (E&P) will focus on the Gulf of Mexico and shale in the northern part of the country.
However, industry observers disagree on where the center of the country's activity will be located. The Oil & Gas Journal said as of January 2011 the Southern Region had 12 trillion cubic feet (Tcf) of proven natural gas reserves, which Pemex believes is the largest in the country while EIA believes E&P will take place in the Northern region, which is believe to hold 10 times as much natural gas than the southern region, the government agency revealed in July 2011.
North America Compensation
North American-based oil and gas professionals enjoyed a pay increase in 2011 -- average compensation increased to $99,175 in 2011 from $96,588 in 2010 or three percent, according to Rigzone's Compensation Tracker.
A stronger increase was seen for oil and gas professionals most often directly connected to drilling activity. Those working a rotational schedule saw a six percent compensation increase year/year from $106,162 in 2010 to $112,546 in 2011.
In 2011, a dozen positions or skills commanded six-figure earnings and had above average year/year growth. Leading the way, specialist in downhole intervention whose paychecks on average went from $101,752 in 2010 to $133,418 in 2011, a 31 percent increase. On the opposite end of the spectrum, North American-based maintenance engineers reported the largest decrease (16%) in compensation from 2010 to 2011 to average $85,424.
The Rigzone Compensation Tracker revealed average pay in North America in 2011 differed by education level of the employees. Respondents reported a compensation range from the high $80s to the low $130s.
High School -- $99,656
Some College -- $93,933
Technical College -- $87,969
Associates -- $92,620
Bachelors -- $102,869
Masters -- $109,805
Doctorate -- $132,234
First year employees working in North America told Rigzone they averaged $66,923 in 2011. Respondents with two to five years experienced said they were paid an average of $78,072. Pay increased to $105,060 with 10 years experience and to $135,076 after 20 years working in the North American oil and gas industry.
Professionals who identified themselves as working in North America reported companies with less than 20 employees paid an average of $104,105 in 2011, the survey revealed, but that compensation dropped to $91,570 for companies with 21-100 employees. Those that employ more than 2,000 employees paid an average compensation similar to the smallest companies -- $104,144.
North American-based earnings varied based on management level as well. Staff-level professionals reported a slight increase from 2010 to 2011, from $86,604 to $88,084, respectively. Likewise, mid-level careers didn't see much change either, increasing from $104,228 in 2010 to $105,796 in 2011. But a small increase is better than a decrease, which is what upper management experienced. In 2010, upper management jobs paid an average of $133,824 and dropped to $130,813 in 2011.
Onshore jobs compared to offshore jobs made a difference in compensation as well. The average onshore North American employee told Rigzone they made $99,655 in 2011 compared to offshore employees who made $98,083. Looking at the six regions worldwide, North America and Australia are the only regions that pay more for onshore work than offshore, though not by much. Rising shale E&P may be a driver in these numbers.
Likewise, schedule played a role in average compensation. For those who worked fulltime in 2011, the average earnings were $94,972, and rotation workers averaged about $112,546.
---
To get your customized compensation report, visit Rigzone's Salary Survey to share your compensation information with Rigzone.
Generated by readers, the comments included herein do not reflect the views and opinions of Rigzone. All comments are subject to editorial review. Off-topic, inappropriate or insulting comments will be removed.
RELATED COMPANIES