Compensation Tracker: Working in the Middle East
by Jaime Kammerzell
|
Rigzone Contributor
|
Monday, April 30, 2012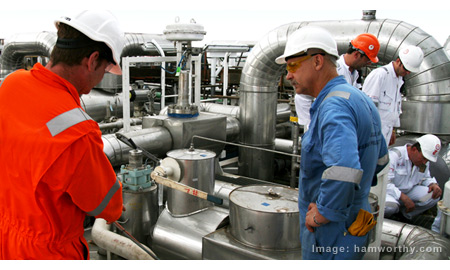 The Middle East holds an abundant amount of oil and gas. The region accounts for about 40 percent of total world gas reserves and 30 percent of total world oil production. It is a key region as it exports much of its reserves all over the world, including to the U.S.
As production declines offshore West Africa and in the North Sea, look for Middle Eastern countries to make up for the loss. New developments in Iran, Libya and Yemen are expected to ramp up oil and gas production in the future, but first need infrastructure and laborers to support this growth.
Operators are attracted to the Middle East's low development and operation costs, enormous reserves and numerous supply routes. Likewise, the region offers employees longer contracts than most other regions as well as competitive pay and a comfortable standard of living.
Aside from Saudi Arabia, which holds one-fifth of the world's proven oil reserves and is the largest oil producer and exporter of total petroleum liquids in the world, the U.S. Energy Information Administration (EIA) reports Iraq, Qatar, and UAE are attracting investors who are creating jobs in the region.
Although Iraq holds vast oil reserves, the country is constrained by the lack of investment due to years of sanctions and wars. Iraq started a multi-billion dollar upgrade to its oil export pipelines in 2011, which will help boost its production and increase job opportunities.
Qatar holds the world's third largest natural gas reserves and 25.4 billion barrels of proven oil reserves, EIA reported. NOCs, independents and majors have brought jobs to the region. Shell brought its Pearl Gas-to-Liquids plant online in March 2011, which had employed tens of thousands of workers. When construction was completed, most were out of work. However, Shell signed an agreement with Qatar in December 2011 to construct a large petrochemical refinery in Ras Laffan Industrial City, which will revitalize employment opportunities in Qatar.
The United Arab Emirates (UAE) is an important producer of natural gas (214.4 Tcf) and oil (97.8 billion barrels). Abu Dhabi possesses the majority of oil and natural gas reserves followed by Dubai. Hilalplaza.com reports that jobs in Dubai are in high demand in all sectors, as it is a major economic hub of the Middle East. If you are a western educated Arabic-speaking job seeker, hilalplaza.com reported, you have an advantage. FEED, project managers, piping and pipeline and process engineers are currently in demand.
Middle East Compensation
The Rigzone Compensation Tracker records real-time compensation information from oil and gas professionals on an ongoing basis. In 2010 and 2011, a total of 41,846 oil and gas professionals provided compensation information. Participants from 97 different positions revealed their earnings history, in which the proportions within each title did not change significantly from 2010 to 2011. However, the average compensation levels did change for certain titles.
According to respondents working in the Middle East, maintenance engineers saw the biggest increase in compensation from 2010 to 2011, to $81,404. However, not all paychecks increased from year to year. Petroleum engineers working in the Middle East saw their paychecks decrease to $77,272 in 2011.
Professionals working in the Middle East from entry-level to the most experienced saw average earnings decrease in 2011. In the first year of working in the Middle East oil and gas industry, employees reported an average pay of $51,610 in 2011. Respondents with two to five years of experience said they were paid an average of $56,652 in 2011. After 10 years of experience, average pay decreased 6 percent from $90,872 in 2010 to $85,331 in 2011. With 20 years experience, respondents reported salaries down 4 percent from $131,426 in 2010 to $126,758 in 2011.
If we look at the results based on level (staff, middle, upper), Middle East-based professionals on the lower rungs reported a 4 percent decrease in compensation from $79,727 in 2010 to $76,570 in 2011. Mid-level professionals saw a slight increase from $96,299 in 2010 to $96,814 in 2011. And pay dropped 3 percent for upper-level professionals, from $120,662 in 2010 to $117,189 in 2011.
Companies with less than 20 employees paid an average of $95,043, according to respondents toiling in the Middle East, but that number dropped to $77,606 for companies with 21-100 employees. Companies with 2,000 or more employees paid an average compensation of $97,065.
Where employees worked -- onshore or offshore -- made very little difference in compensation. The average onshore Middle East-based employee made $90,880 in 2011 compared to $90,945 offshore.
Oil and gas industry employees' salaries changed based on their work schedules. Fulltime employees reported an average compensation of $85,166 in 2011. Rotation workers averaged about $96,930 in 2011, according to the survey.
---
To get your customized compensation report, visit Rigzone's Salary Survey to share your compensation information with Rigzone.
Generated by readers, the comments included herein do not reflect the views and opinions of Rigzone. All comments are subject to editorial review. Off-topic, inappropriate or insulting comments will be removed.
RELATED COMPANIES