Chesapeake, CEO to Negotiate Early Termination of Well Program Pact
by Dow Jones Newswires
|
Tess Stynes
|
Thursday, April 26, 2012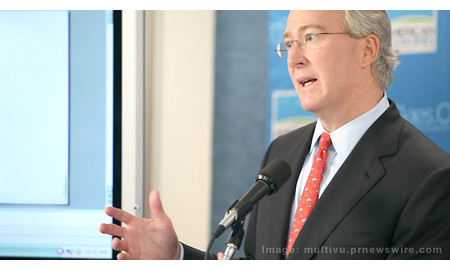 Chesapeake Energy Corp. said its board and Chief Executive Aubrey K. McClendon agreed to negotiate the early termination of a founder well participation program contract that is due to expire at the end of 2015.
The program provides McClendon, who is also the company's founder, with the right to participate and invest as a working interest owner of up to 2.5% in new wells.
The company has been under pressure recently to overhaul its corporate governance--including calls to replace its board and/or the CEO. Analysts have warned that the company's financial structure and liquidity concerns could present a risk for shareholders.
The calls for change came in the wake of revelations that entities controlled by McClendon borrowed up to $1.4 billion from a private-equity firm that has done hundreds of millions of dollars in deals with the company in the past year. The company didn't disclose the size or source of the borrowings.
Chesapeake on Thursday also aimed to clarify a statement earlier this month that indicated it was aware of McClendon's financing transactions, saying it was generally aware that he used interests acquired through the well-participation program, but didn't have knowledge of specific transactions or their terms. The company said it is reviewing financing arrangements between McClendon and any other third party that has had or may have a relationship with the company.
McClendon's companies in a statement said the total amount owed under loans secured through the founder program totaled $846 million at the end of last year. All the loans were from third parties. None was from Chesapeake or its affiliates. Total proved reserves associated with program wells were estimated at about 810 billion cubic feet of natural gas equivalent, of which approximately 45% were proved developed reserves.
Last year the companies sold interests in program wells for a combined approximately $108.6 million, resulting in a pretax net gain of about $61 million.
Also Thursday, Fitch Ratings lowered the outlook on Chesapeake's double-B ratings--two notches into junk territory--to stable from positive. Fitch said the change reflects the weak outlook for U.S. natural-gas prices coupled with the company's still aggressive spending plans for next year. Chesapeake's current spending plans are expected to result in a funding gap of $7 billion to $8.5 billion, which will be funded through asset sales and monetizations potentially valued at $10 billion, Fitch said.
In commenting on the borrowings by Chesapeake's CEO, Fitch said it stakeholders will have a higher level of expectations regarding disclosure and transparency in the future.
Generated by readers, the comments included herein do not reflect the views and opinions of Rigzone. All comments are subject to editorial review. Off-topic, inappropriate or insulting comments will be removed.
RELATED COMPANIES