Australia Pilots LNG Expedition
by Robin Dupre
|
Rigzone Staff
|
Friday, April 27, 2012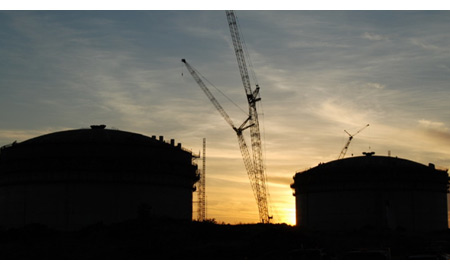 Australia, LNG - two words synonymous with the natural gas movement.
Over the last decade, global gas consumption increased at an average rate of three percent and reached a total amount of 3.3 Tcm in 2010. The International Energy Agency (IEA) projects that world gas consumption could reach 3.8 Tcm by 2016, an annual rate of 3 percent over the outlook period.
While the rest of the world is still searching for oil, Australia is leading the LNG movement with a goal to surpass Qatar as the world's biggest producer of cleaner burning fuel. The country is predicted to become the largest exporter of LNG, at just over 80 mtpa.
"Australia is expected to be the world center of LNG production from 2016 onwards, so it will be an ongoing process," stated Professor Brian Evans, Head of Department of Petroleum Engineering at Curtin University. "Add to that the advent of Floating LNG ships producing from stranded gas fields, so there is quite a long-term future for LNG."
The country's identified conventional gas resources have increased more than threefold over the past 20 years, according to the Bureau of Resources and Energy Economics' annual Energy in Australia. Around 82 percent of estimated recoverable reserves of conventional gas are located off the west and northwest coast of Australia.
With this increase in energy production, there are several countries waiting in earnest to consume what Australia has to offer.
"Global demand is expected to grow at a rate of about 4 to 5 percent each year into the next decade," said Michael Chaney, Chairman and Managing Director, Woodside Petroleum, in the company's 2011 annual report. "A key driver of this growth is the Asia-Pacific region, which is set to double its demand for LNG between 2010 and 2025."
Australia's LNG exports are delivered mainly to Japan, South Korea, Chinese Taipei and China. These markets accounted for over half of world LNG imports in 2010, with Japan being the largest importer in the world. Since the country has shut-down 80 percent of its nuclear power capacity since the earthquake, lack of domestic gas production and international pipelines, Japan is completely reliant on LNG imports to meet domestic consumption requirements.
Last year further proved this point when Australia became the largest supplier of LNG to Japan, and this trend doesn't seem to waver despite analysts predicting the country's LNG decline with the United States, Canada and China digging for shale gas reserves.
"Australia has its own reasonable share of shale gas, and it has been suggested that there may be more gas in shale in Australia than there is conventional gas, which is to be processed into LNG," said Evans. "However, the issue of shale gas anywhere is not affecting or threatening the production of LNG in Australia because it is more economic, less of a risk in the long run, and less publicly controversial to produce from existing conventional fields in Australia than to produce it from shale."
As of February 2012, several new Australian projects have been approved at a rapid pace, with six kicked off in the past 18 months, bringing the total to eight projects being sanctioned or commencing construction. Australia LNG liquefaction capacity is expected to increase four fold over the outlook period to total 85 million tones in 2017, with most of this additional capacity scheduled to come online after 2014, reported BREE.
About $180 billion worth of LNG export projects are now being built, making the costs of Australian LNG projects remarkably high. For example, Woodside's $14.9-billion Pluto LNG project, which is expected to come online in the coming weeks, was delayed by one year and exceeded the consortium's budget. In addition, some analysts estimate that Australian LNG projects are typically delayed nine months to a year and come in around 15 percent over budget.
However, this isn't stopping the Australian-based operators from conducting LNG business. Between 2014 and 2015, three coal seam gas LNG projects, with a combined capacity of 25 million tones, are scheduled to start-up: the Australia Pacific LNG project, the Queensland Curtis LNG project and the Gladstone LNG project. The remaining LNG projects scheduled for completion include Gorgon (15 million tones, to come online in 2014/15), Wheatstone (8.9 million tones, in 2016), Prelude (3.6 million tones, in 2016/17) and Ichthys (8.4 million tones, in 2016/17).
With all of these projects in the works, Australia's oil and gas sector labor market is changing. These projects are expected to add tens of thousands of jobs to the industry with specialized skills in demand, relating to offshore/undersea drilling, pipeline development, coal-seam gas recovery, and the construction and operation of LNG plants.
It estimated that more than 20,000 workers are needed in Gladstone to help with three LNG plants being built on Curtis Island. Karen Bellert from Energy Skills Queensland says civil construction and marine workers are in high demand.
"We're looking at over 20,000 people just with the camps on site, at each LNG component," Bellert said. "Just the three that have been approved have camps of over 2,000 for each, and then that's for your fly-in, fly-out, but then you have your contractors and also your local people working on the gas plant."
Even though the country is posed to play a leading role in meeting the LNG demand, and thousands of jobs are available, it's been a challenge finding workers.
"The unprecedented demand for construction labor and services is creating cost and schedule pressures, which run the risk of threatening additional projects' viability," said Chaney. "This highlights the need for improved workforce flexibility and mobility, for increased skills development and increased skill migration. While our preference is for contractors to source Australian labor on our projects, the reality is that temporary skilled migration will continue to be required to fill the supply/demand gap."
Generated by readers, the comments included herein do not reflect the views and opinions of Rigzone. All comments are subject to editorial review. Off-topic, inappropriate or insulting comments will be removed.