Brightening Employment Picture Offshore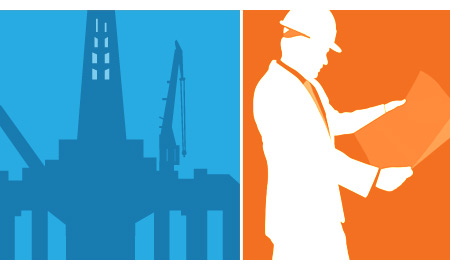 Rigzone is seeing a dramatically favorable step-change in demand growth for offshore drilling rigs occurring over the next two years. Specifically, Rigzone predicts global fleet demand will grow by approximately 51 rigs (or +10 percent) to average 591 offshore rigs during 2012. In absolute terms, this is 18 rigs higher than the 33 rig improvement posted during 2005, which at +7 percent was the single highest prior year of rig growth over the past decade.
Rigzone projects in 2013 the average number of rigs under contract will grow by approximately 28 rigs or 5 percent to 619 offshore units active during the year. If you consider that over the past 10 years the annual number of rigs under contract has grown by 47 units to average 539 during 2011, it becomes apparent that offshore employment for workers actually housed on floaters and jackups will spike significantly, too.
Using Rigzone's proprietary 5 Year Offshore Forecast (which predicts the monthly change in rig demand by water depth, type, and region), we were able to estimate the change in employment over the next year by both region and rig type. It should come as no surprise to anyone who follows the industry to learn that Latin America (due to Brazil) will see the largest change in offshore rig employment at 20 percent growth. Furthermore, the region will host half of the new offshore jobs created over the next 12 months relative to the rest of the world.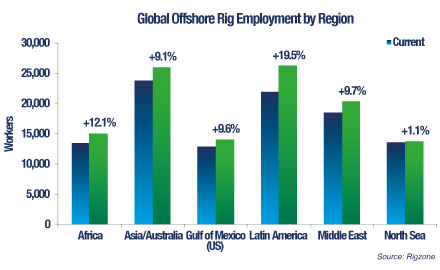 In absolute terms, Rigzone estimates that over 11,000 new jobs out of a total 117,000 will get initiated over the next 12 to 18 months. This implies that each rig supports 184 jobs directly. When you look at the ancillary services, then the employment per rig is obviously much higher. We kept our observations to just actual numbers that are housed on offshore rigs in order to provide analysis of the employment picture ahead.
Currently, we estimate globally that jackups are host to 161 workers per rig and floaters are host to 228 workers per rig during any given month. Combined, the current average direct employment per rig is 189 workers. The decrease in workers per rig over the next year is due to mix shift as jackups are seen as providing a greater share of the employment growth.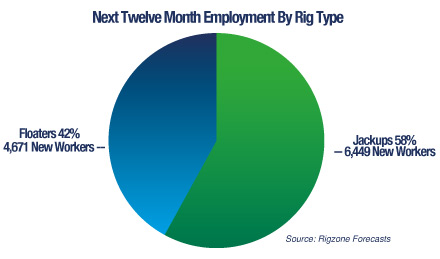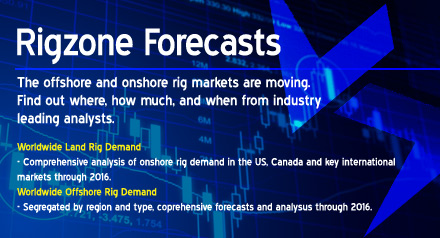 RigOutlook is quite proud of its track record for projecting offshore rig demand. Over the past 14 quarters, our floating rig estimates were accurate within +/- 3 percent. Please see the information below for more details on subscribing to our popular forecasting tool.
---
* RigOutlook provides quarterly reports that project worldwide offshore and onshore drilling demand. The reports are built upon a mathematical model that has delivered reliable predictions, including the 2006 jackup downturn in the Gulf of Mexico and the 2008/09 land rig market decline and recovery. Reports are available for one-time purchase or via longer-term subscriptions. Contact info@rigzone.com for sales and support.
Generated by readers, the comments included herein do not reflect the views and opinions of Rigzone. All comments are subject to editorial review. Off-topic, inappropriate or insulting comments will be removed.